End to ad-hoc cabling: structure underwrites Industrial Ethernet
The dynamic development of data networking technology, the rapid increase in data transfer speeds and customer demand for better compatibility continue to drive the development of new connectivity and cabling standards and products. In particular, the introduction of Ethernet into the industrial and automation world has quickly brought networking technology to the forefront. Kevin Canham examines the structured cabling strategies that are evolving to cope.
MANY PROPRIETARY industrial fieldbus systems are based on Ethernet protocols standardised in IEEE802.3. The introduction of Ethernet into industrial and automation applications has led to a critical review and reassessment of cabling strategies, and these continue to evolve. The key issue is whether ad-hoc cabling, which has been the norm in the industry, is adequate to meet future needs.
The installation of ad-hoc cabling is based on three assumptions:
• Data cabling is installed when the machines, systems and equipment are already in place. The cabling is changed if systems, or parts of the systems, are modified. In reality, this means that the cabling is replaced in these scenarios.
• The maximum data rate is 100 Mbit/s; fourwire copper cabling is sufficient.
• The cabling products are designed for this application sector. The cables and connectors have only four wires or contacts, are limited to Category 5 and are designed so that they can be easily installed on site.
Gigabit Ethernet
Looking back at the technological development of industrial solutions in recent years, a number of needs that are not compatible with ad-hoc cabling strategies can be identified. In particular, more and more new subsystems, controllers and other equipment are based on Gigabit Ethernet technology. Gigabit Ethernet runs in full-duplex mode, requiring eight-wire data cable and eight contacts in the connectors and at the interconnects. Because Ethernet and networking in general are highly standardised, high compatibility is essential for state-of-theart networks.
Users want to be able to install off the shelf network components in their networks with a minimum of effort and fuss - and above all without encountering problems. For this to happen, the cabling must be easy to handle. Ad-hoc cabling does not meet this requirement profile.
Structured cabling
The alternative to the ad-hoc approach is protocol-independent generic cabling, which has been widely used in the IT environment for more than 15 years. This form of structured cabling has been developed and standardised as part of the building infrastructure. Structured cabling is defined and described in the international ISO/IEC 11801 standard and at the European level in the EN 50173-1 standard. Despite the fact that the term 'structured cabling' is closely associated with buildings, building infrastructure and industry standards ISO/IEC 24702 and EN 50173-3, the advantages of this approach extend far beyond the original boundaries and have become an attractive alternative in other applications.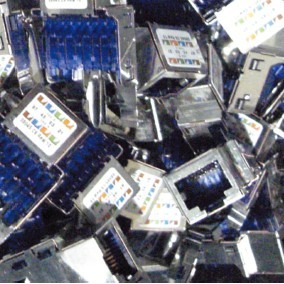 In particular, the basic concept of preinstalled generic cabling, which is not dependent on any particular protocol or service, is finding more and more adherents in the industrial and automation world.
New solutions are needed, however, to exploit the advantages of structured cabling in industrial applications. For example, industrial cabling has to be very rugged. Many of the connectors must offer IP65 or IP67 protection. In addition, to support future data rates of 1 Gbit/s or even 10 Gbit/s, Category 6A/Class EA cabling and connectors with eight wires/contacts and a bandwidth of 500 MHz will be needed (Fig. 1).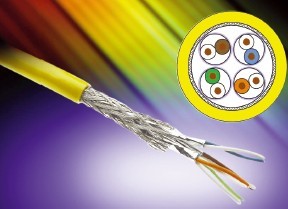 Fig. 1. Future data rates will reach 10 Gbps: Cat 6A Class EA cabling and 8-wire 500MHz connectors will be needed. The latest data cables offer transmission to IEEE 802.3an 10GBase-D.
Existing, proven interconnect technology must be incorporated into the product portfolio, and enhancements are needed to meet industrial networking requirements. The goal is to offer structural cabling which meets the needs of industrial users.
Connection technology evolves
To achieve the goals of design flexibility, accelerated data transmission speed and enhanced network availability, new connector technologies are being developed that allow rapid and cost-effective adaptations and modifications.
One such solution (Fig. 2) divides the interface level and the mating face of the connector into a universal cable terminator and a specific 'free choice' connector type . The entire installation process then becomes simple and fast, while also completely eliminating wiring mistakes. The cable terminator is designed as an HFcompatible wire end ferrule, while the data module features the desired mating face (the connector).

Fig. 2. One approach to ISO/IEC 11801 data network cabling divides the connector's interface level / mating face into a universal cable terminator and specific 'free of choice' connector type.
Terminating a data cable with this type of preLink cable terminator at each end creates a ready-to-use cabling section that can be pretested and certified. Completing the cabling section with standard industry recognised RJ45 mating faces establishes a permanent link cabling route that is immediately ready for operation.
Ease of assembly
The preLink cable terminator is designed for cables with conductor sizes of 22AWG to 23AWG and 26AWG to 28AWG. Once the cable is prepared, the terminator block is crimped on by performing a single-step crimp operation. All eight conductors are terminated with the IDC contacts, and any protruding strands are precisely trimmed accordingly. The cable terminator is then ready for use.
Independent of the mating face, the HF performance of the data cable is transferred directly to the connector without any restrictions. This system is designed to be future proofed for data transmission speeds of 10Gbps according to 10GBase-T and Category 6 transmission class EA.
Using the system can further enhance network availability, as wiring errors are completely eliminated and maintenance and repair work involving cabling can be performed with virtually no interruptions. The design also boosts cabling flexibility, as a ready-to-use data cable with these cable terminators on the cable ends allows the user to easily configure their cabling with different mating faces.
Other benefits include cost savings because of lower training requirements and reduced spare parts management. The highly simplified installation process eliminates the need for ongoing training geared toward specific products or brands.
Once the cabling is installed, it can be used for a range of communication services. It offers a long useful life that spans the lifecycle of several equipment generations, and its excellent plug and connector compatibility allows quick integration of new or additional equipment.
A practical application
Hohenloher Spezialmöbelwerk Schaffitzel GmbH in Öhringen, Germany, supplies equipment to the school and laboratory segment. The company's media lift system is installed in schools, universities and laboratories in order to supply work and training stations with various media (Fig. 3). A movable terminal is equipped with outlets and supply lines for the 230V power supply, various types of gas or even data lines.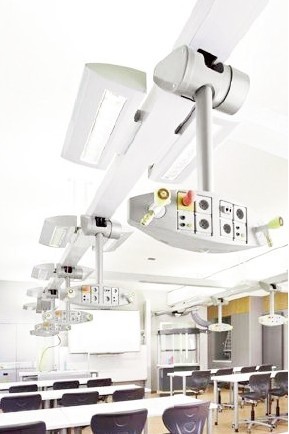 Fig. 3. Hohenloher's media lift system. This movable terminal is equipped with outlets and supply lines for the 230V supply, various types of gas and data lines.
This terminal, along with its pivot arm and ceiling channel, is pre-assembled in special manufacturing facilities. In the past, the data line lengths had to be planned exactly to suit each particular case. Cable paths with an RJ45 jack on one side and an RJ45 connector on the other were provided in order to make this process more efficient.
The intricate and cost-intensive installation processes involved are the drawbacks of this solution. Threading the cable paths into the pivot arm involves painstaking and timeconsuming work. Excess lengths that protrude from the media lift for connection in the distributor obstruct the transport to the installation site and can also be easily damaged in the process.
This is where the preLink design became important. By breaking the system down into the pre-assembled cable path (the link before the link, or 'pre-link') and the connectors, it was possible to rearrange the work sequence. Threading the cable paths through the protective tube in the pivot arm is much simpler, and the required time has been greatly reduced.
In addition, dividing the cable path into two parts means that excess lengths are no longer a problem. The decision to be made on the length of the patch cords to be connected is made according to the media lift's position at the installation site.
In consultation with Hohenloher, Harting - which makes preLink - built in a reference path for checking the function. This path was tested in the company's internal accredited laboratory. The test verified perfect functioning. The test results also showed that there was still considerable reserve capacity in the transmission channel, which provides additional data security during operation and increases the overall system's error resistance.
Kevin Canham is product and applications manager at Harting.
Ha-VIS preLink video demonstration