Get more out of HMIs through Ethernet connectivity
With the ubiquity of Ethernet-equipped automation devices, it makes sense that HMI manufacturers add Ethernet ports to their offering: an HMI cannot function as a front end to a device for which it has no means to connect. However, unlike simple serial protocols, Ethernet TCP/IP offers much more than just a communications channel over which variables are exchanged. Jesse Benefiel points out some of the other useful tasks which may be handled at the front panel once you have an Ethernet hook.
HISTORICALLY, the only way to serially connect an HMI to multiple automation components, such as a PLC, drive and bar code scanner, was to buy all of the components from the same manufacturer. While this wouldn't guarantee interoperability, it usually minimised potential conflicts when trying to share each device's data with one other. However, it also forced customers to work with a single vendor, and assuming that the vendor offered every automation component necessary for a given system, it was rarely the most cost effective route.
To address the need for multi-protocol support, HMI vendors began to provide HMIs equipped with two, three, and even four serial ports. Some models offer plug-in cards to permit the addition of even more serial ports (such as RS-232/422/485), or fieldbuses such as DeviceNet, Profibus, etc. This allows the HMI to communicate via numerous protocols, but unfortunately it requires just as many physical connections.
Unlike serial connections, Ethernet TCP/IP connections can carry multiple protocols. Today's HMIs take advantage of this capability, and the more powerful models support numerous protocols simultaneously. A simple unmanaged Ethernet switch is all that is necessary to connect an HMI to an unlimited number of devices, using various protocols. A typical feature might be up to five RS-232/422/485 serial ports plus 10-Base-T/100-Base-TX Ethernet ports.
As a result, today's HMIs feature capabilities for simplifying integration, upgrading existing equipment, data management and storage, as well as for remote monitoring and control.
Upgrading existing equipment
Since many HMIs still provide serial ports on their Ethernet-equipped models, they can be used to Ethernet-enable older machinery, which avoids the risk of replacing a PLC in a working system. The more advanced HMIs can also be used as serial servers, offering control of its serial ports to a remotely located PC. This allows an engineer to connect to, and even reprogram, serial-based equipment over the Internet.
One isn't enough
Less than a decade ago, users had only a few vendors to choose from when searching for Ethernet-enabled HMIs and PLCs, yet it quickly became apparent that a single Ethernet port wasn't sufficient. As every automation device became available with Ethernet, IT began to push back, not wanting to hand out IP addresses like candy. Further, the amount of traffic generated between an HMI and a PLC can, and sometimes does, wreak havoc on the company wide network. To resolve these issues, many companies mandate the use of managed switches in each cabinet, or on each machine. These isolate the intra-cabinet network traffic from the rest of the plant-floor network, and of equal importance, allows the machine-builder to pick his own IP addresses at the machine level, while using DHCP for the plant-side of the switch.
Modern HMIs resolve these issues without costly switches by offering multiple, independent Ethernet ports. This un-chains machine builders' hands, allowing them to use the same set of IP addresses for every PLC, HMI, etc used. Machine builders can then program their HMIs' secondary ports so that the end customer, or IT personnel, can pick their own IP address for the connection to the plant wide network.

Higher functionality and productivity: Latest generation HMIs feature capabilities for data management and storage, as well as for remote monitoring and control. For instance pushing data to an SQL server, where information can be further used by ERP/MES systems
Improving productivity
Today's global economy requires companies to become more efficient. Critical to any improvement initiative is the collection of key performance metrics, and modern HMIs are ideal for this task. They already manage and integrate the various disparate automation components, so the most advanced models offer powerful data logging capabilities. HMIs also possess the computational capability to calculate various parameters, including uptime, downtime, overall equipment effectiveness (OEE) and more. The logging of performance data, as well as operator activity, facilitates comprehensive analysis of the variables that determine a machine or process's efficiency.
This data is of limited use at the HMI itself, where only the operator can view it. Therefore, the more powerful HMIs provide the tools necessary to push the data to an FTP server for long term, safe storage, or to a SQL server where the information can be further used by ERP/MES systems.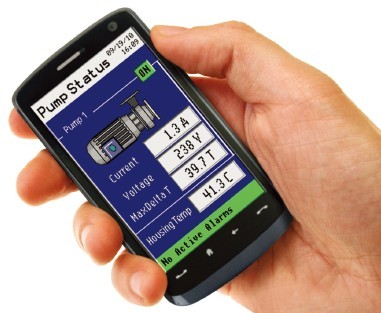 Remote access in hand: HMIs with embedded web servers facilitate remote monitoring and control through the use of PCs and smartphones.
Remote monitoring and control
As a result of many companies reducing weekend and third-shift staff to on-site operators and on-call engineers, machine or process problems and breakdowns have become more of an issue. For instance, a weekend operator may be uncomfortable using equipment that is misbehaving and may, therefore, stop production until the on-call engineer can arrive on site to advise. Worse still, the operator may continue using the machine until further damage occurs, causing significant downtime for necessary repairs.
Advanced HMIs with remote management facilities minimise equipment downtime by allowing engineers and production supervisors to monitor processes without having to be onsite. Process anomalies and pending equipment failure is communicated to engineers via email and text messaging.
Further, embedded webservers allow remote monitoring and control through the use of PCs and smartphones, allowing engineers to determine whether a machine operation can continue or if it should be shut down. The engineer may even be able to resolve the issue without (to get rid of widow): having to make an onsite visit.
Finallyˇ
With capacities for simplifying integration, upgrading existing equipment, data management and storage, as well as remote monitoring and control, today's HMIs are more functional than ever before. Featuring multiple built-in Ethernet ports, the most advanced examples greatly improve plant floor and process connectivity, facilitating OEE and other improvement initiatives.
Jesse Benefiel is product manager - Interface at Red Lion Controls.