Modular network technology brings flexibility through configurable switches
Conventional Ethernet has developed continuously from the office world towards industrial automation. In contrast to office networks, industrial automation networks have until recently been smaller and more rigid in their structure. As the networking of industrial plants has increased, more powerful components are now required, both on site and in the control centres. These include switches having higher port densities and a variety of connection technologies, writes Sven Gottwald. The benefits include lower overall costs, greater networking flexibility and protection of investments.
ALTHOUGH TO DATE most industrial switches usually had a low port density with fibre-optic ports were permanently assigned, they have recently become available in a form in which individual modules can be retrofitted for greater flexibility and security of investment (Fig. 1).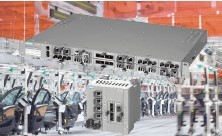 Fig. 1. Individual switch modules can be retrofitted for flexibility: Because of their high port densities and configurable modules,modern industrial switches offer users the functionality, flexibility and security of investment required for networked plants.
To meet the demands of the automation specialists, industrial network technology today must be fast, flexible and customisable. For such requirements to be realised, manufacturers have developed modular switches, which give customers the option of assembling devices tailormade to suit their own application. They are helped in this process by configurators (Fig. 2) that enable devices individually constructed from selected components to be ordered online and then assembled and commissioned on site at the plant.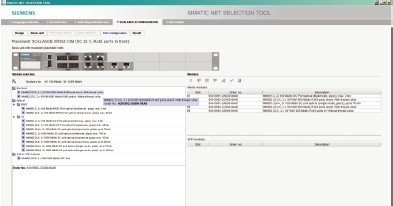 Fig. 2. A configurator:This Siemens Switch Selection Tool enables easy selection of the appropriate individual switches quickly. Direct online ordering of the devices or their components is possible.
Such designs will mean that the usually expensive manufacture of special-order switches at the manufacturer's plant will be unnecessary. In addition, the devices' modular design will make the replacement of parts and expansion work simpler. For example, replacement parts are available to order at any time as required. This means that it is no longer necessary to replace the whole unit, which saves money through the entire lifecycle of the device.
Therefore, the sensible and consistent use of modular and semi-modular switches can significantly reduce the number of types and parts of permanently configured switches.
Such modular design, therefore, offers great flexibility, while the automation network savings that can be made significantly improve the efficiency of the overall investment. These switch products also help to achieve a quicker return on investment, relative to the life of the plant, compared with conventional switches.
In order to comply with the wide variety of installation locations, power supplies and ambient conditions, there are already switches specially designed for fanless installation in 19in cabinets and that have 24V DC or 230V AC power connections with a front or rear cable outlet. With switches having a rear cable outlet, diagnosis is carried out using front panel LEDs.
Software support
However, it is not just hardware functions that need support for operation with the minimum possible number of faults, but software functions also need support. Examples cover extended redundancy functions on the switches, which play an increasingly important role in networked automation. Such redundancy examples include ring redundancy, high speed redundancy (HSR), media redundancy protocol (MRP), stand-by function, and spanning tree protocol / rapid spanning tree protocol (STP/RSTP).
The continuous development of hardware and software functionality ensures that Ethernet functions such as PoE (Fig. 3) and Gigabit Ethernet are supported and function perfectly with standard Ethernet network topologies such as star, line and ring structures.

Fig. 3. Terminal devices connect to switches using PoE: Gigabit Ethernet is also supported and functions perfectly with standard Ethernet network topologies such as star, line and ring structures.
Fast network configuration
The continuously rising demand for ports on switches in Ethernet automation networks previously made it necessary to select oversized devices to allow for the next anticipated network expansions in the most economical way. By using modular switches that allow the retrofitting of media modules on site, however, it is now possible to adapt the automation network quickly and easily at any time to meet new demands (Fig. 4).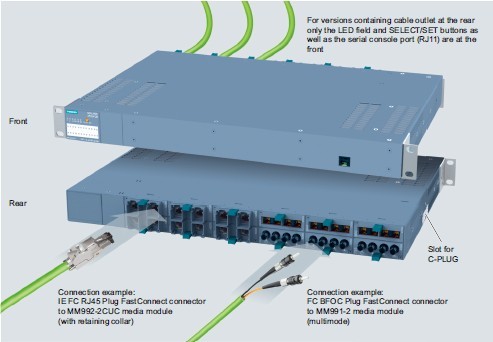 Fig. 4.Modular switches allow the retrofitting of media modules on site: Switches like this Siemens 'Scalance XR- 300 Modular meet the requirement for flexibility and future-proof design because of the plant-specific configurability.
A very important factor in ensuring network structure flexibility is the connection technology. This often varies from plant to plant, and different connection technologies or cable lengths are required in order to connect existing devices to the new networks. This problem is difficult to solve using conventional switches as their optical ports are normally permanently assigned.
Modular media modules, on the other hand, enable the right optical connections to be configured everywhere. Even a subsequent retrofit is no problem, so the user does not have to define all ports at the time of ordering, but can simply retrofit the ports later when required. This means that customers only pay for what they actually need at any given time.
The main elements of a typical installation are the industrial Ethernet switches mounted in the 19in rack IT cabinets that - together with their counterparts in the machine switchgear cabinets - form the backbone of data transmission via (for example) Profinet to the ERP and IT world.
One further criterion for protecting the original investment is the support of Fast Ethernet and Gigabit Ethernet using such media modules. Although many users today still deploy the cost-effective Fast Ethernet technology, the growing volumes of data and greater demands for transmission speed are making the use of Gigabit Ethernet technology a necessity in automation.
Summary
The use of modular switches is reducing the previously necessary variety of transmission modules in industrial plants. The benefits are reduced maintenance requirements and parts storage, which translates to lower costs overall. The possibility of plant-specific configuration using such media modules and their subsequent cost-effective expansion creates flexibility and helps to protect investments.
The use of the Gigabit Ethernet technology raises the system performance, especially in data-hungry applications, for example when connecting image-processing systems to the process-related field level, and it also establishes economic and functional security for future requirements.
Sven Gottwald is product manager at Siemens Industry Automation - Sensors and Communication in Nuremberg.