Keeping an eye on Cathedral of L'Aquila
Structural monitoring of a noted Italian cathedral seriously damaged in a devastating earthquake in April 2009 is carried out wirelessly.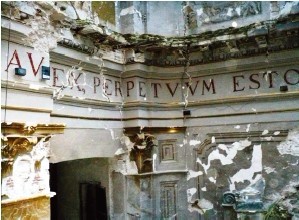 Inside the severely damaged Cathedral of L'Aqila, which needs constant monitoring.
Not all buildings that are networked are 'automated' in the conventional sense. Here is an interesting application in which the beautiful and famous 13th century Cathedral of L'Aquila in central Italy has been fitted with National Instruments' wireless sensor network (WSN) modules and wired sensors to measure structural variables. This data is wirelessly communicated to a central hub to enable appropriate corrective actions to be taken during reconstruction.
The goal is to protect and preserve the remaining parts of the structure, as well as to facilitate future reconstruction so visitors can fully enjoy the monument.
System design
To monitor parts of the cathedral that are structurally isolated from each other because of the collapse and are often outdoors because of the complete lack of coverage from the end of the nave to the apse, the company adopted a modular solution based on groups of sensors to measure the required physical variables.
The sensors were connected to WSN nodes that are linked to a centralised gateway. The individual transducers are wired to the nodes, and they wirelessly transmit measurement data to the gateway. This minimises use of cables that could be damaged during the restoration, which might disrupt construction activities.
The system includes several four-channel, 16-bit NI WSN-3202 analogue input nodes, located mainly in the most damaged areas. The sensors connected to each node include potentiometers for lesions and disconnection between masonry walls, electrolytic inclinometers, pressure cells at the base of masonry columns and temperature sensors.
The gateway collects data from distributed measurement nodes and is connected via Ethernet to a PC so that users can remotely access via a GSM modem. The PC hosts the management software in LabVIEW.
The monitoring system architecture is modular and inherently flexible so that the system can be significantly altered as required.
Currently, connection is point to point and uses a GSM phone call to log in. The plan is to add a fast Internet connection for continuous remote management, with access to a dedicated web page and the ability to activate alert thresholds on trigger events.
Once interventions are complete, monuments - such as the Cathedral of L'Aquila - located in an area with high seismic vulnerability - will be safely made available to visits from workers and public alike.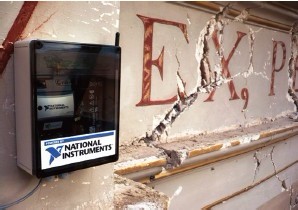 One of NI's wireless sensor network modules.
Case study provided by National Instruments