Hannover Messe 2012 show report
Hanover Fair 2012, as huge as previous editions, had plenty to see from an industrial networking perspective. Hard-wired and wireless industrial and process automation, energy efficiency in industrial processes, embedded systems, industrial IT, MES – efficient production, and intelligent metropolitan solutions were all very evident. As with last year, the talking points encompassed energy efficiency, wireless connectivity, smart grids, safety and renewable energy. James Hunt reports
Hanover Fair 2012 - comprising eight trade fairs in one - Industrial Automation, Energy; MobiliTec, Digital Factory, Industrial Supply, CoilTechnical, Industrial GreenTech and Research & Technology – had a great deal to offer Industrial Ethernet Book readers. Within the industrial networking sphere, large numbers of exhibits in many halls covered hard-wired and wireless industrial connectivity, energy saving systems, intelligent municipal networks, safety, and much more.

The 2012 edition of the vast Hanover Fair was busy from the start. For 2013, the dates will be rather earlier - 8th to 12th April.
Just as in 2011, energy efficiency played a pivotal role, as exemplified by the official show motto 'Greentelligence'. This provided an overview of all key resource-saving industrial technologies, ranging from industrial automation and IT, energy and environmental technologies, industrial supply, production technologies and services, through to R&D. All eight co-hosted fairs attempted to show that an intelligent mix of efficient processes, eco-friendly materials and sustainable products is critical to survival in today's highly competitive, dynamic international markets. In this it largely succeeded.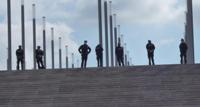 Chinese Premier Wen Jiabao and Germany's Chancellor Angela Merkel jointly opened Hanover Fair 2012. This explains the heavy security presence.
2012's Partner Country was China, and presentations held reflected the sustainable efficiency trend in industry by focusing on intelligent manufacturing processes, sustainable energy generation, intelligent electricity grids and eMobility.
As last year, Hanover Fair 2012 reflected the fact that the continued development of software solutions is changing the already diverse range of options for automation technology. Server-based solutions and embedded technologies for production automation, for example, are giving IT providers the opportunity to tap into new markets and applications.
News announcements
There was significant news at the show. ODVA announced that process measurement expert, Endress + Hauser, has joined Cisco, Rockwell Automation, Omron, Bosch Rexroth and Schneider Electric as a Principal Member. This will result in more of Endress + Hauser's products becoming available with Ethernet/IP connectivity built-in.
In 2011, ODVA announced a new machinery initiative in cooperation with Sercos International and OPC Foundation. One early result of this was the publication of a white paper entitled 'Optimisation of Machine Integration' (OMI), which outlines a strategic vision for an open and interoperable communication framework in the industrial sector. For machine builders, OMI provides opportunities for creating additional value through simplified communication between machines and from machines to supervisory systems. The white paper pointed out that, in an environment characterised by multiple networks and communication technologies, a key integration problem is how to reduce the number of heterogeneous communication and connection interfaces.
At a press event on the first day, ODVA, with Sercos and OPC, described the anticipated next steps in this cooperation in terms of the technical approach that needs to be taken. For example, how to enable standard reporting methods and tools to aid the asset management and monitoring of machines? The approach being taken is a protocol-neutral data model that standardises the reporting language for basic information about a machine. The aim is to adapt this to CIP, Sercos and OPC UA, which will allow the collection of consistent data from individual machines, or collections of them, at various enterprise levels. The hoped-for result will be a unified integration model designed to support access to information on base machine data, condition monitoring, energy and safety.
This approach was given more detail a day later by Sercos MD Peter Lutz, who also announced development of a new Safe Motion Profile in association with the ODVA. This will be in accordance with IEC61800-5-2. The Safe Motion Profile guarantees that the safety-related functions of the peripheral devices are available across the entire network in a uniform and manufacturer-independent way. It includes the safety functions defined in IEC 61800-5-2, such as safe torque off, safe stop 1 and 2, and safely limited speed, mapping them to CIP Safety objects. The specification of this profile is in close coordination with manufacturers and users and is planned to be available by April 2013.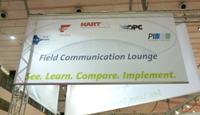 Field Communications Lounge showed field communications products, protocols and systems from many vendors.
ODVA's plans for the next year also include accelerating efforts to provide Ethernet/IP compliant products worldwide. For example, ODVA executive director Katherine Voss revealed that Ethernet/IP has been accepted as a national standard in China and Korea. EtherNet/IP and ControlNet have been adopted under the highest Chinese National Standard GB/Z. Growing its presence in the second-largest economy in the world under GB/Z 26157.6-2010, this is seen as an important move for CIP technologies previously adopted under Chinese industry standards JB/T 10308.2-2006 in 2007. The GB/Z 26157.6-2010 recognises digital data communication for measurement and control in industrial control systems. The Korean Agency for Technology and Standards (KATS) also recently adopted EtherNet/IP under the Korean Industrial Standards KS C 61784 and KS C 61158. These moves should help drive further CIP family growth into the Asia Pacific region and around the world, ODVA hopes.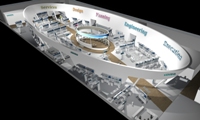 An aerial view of Siemens vast main stand – the company had several others too.
Siemens Industry, which had the largest stand at the exhibition, displayed a vast range of products and systems, but one emphasis was on industrial software to provide more comprehensive networking of individual production steps. Commented Siegfried Russwurm, CEO of Siemens Industry Sector: "Software for industrial processes, in depth vertical expertise and technology-based service are crucial to expanding our customer's productivity, and are also important factors in driving the growth of our own business."
Following on from Hanover Fair 2011's announcement by Siemens Industry that it intended to focus its growth strategy on industrial customers, the company has since been busy on the acquisition trail. Said Siegfried Russwurm: "In the last six months alone, we reinforced our capabilities by acquiring five suppliers of industrial IT and software." These are Active SA, Vistagy inc., RuggedCom Inc (as reported in the last issue of the Industrial Ethernet Book), IBS AG and Innotec do Brasil.
Russwurm also emphasised how important it is to recognise the economic chances provided by the 'green' economy, as well as China's increasingly important role.
Another announcement concerned a 'Partnership of Experts', comprising Phoenix Contact, Wöhner, a specialist in busbar system technology and Eaton. Eaton and Phoenix Contact had already agreed a strategic partnership at 2011's Hanover Fair. At SPS/IPC/DRIVES in November 2011, a further key partner for Eaton's SmartWire-DT technology was found in Wöhner. In this partnership, the companies presented supply technologies geared toward the rising needs of mechanical engineering and plant construction, concentrating on three core areas: integrated intelligent components for industrial automation; communication from the control system to the sensor/actuator; and the efficient energy distribution. Alongside efficient interconnection technology, SmartWire-DT enables the integration of distributed intelligence within the components. This helps users to optimise their processes, as greater data transparency offers many more options.
Notable themes
The Wireless and M2M Pavilion reflected one of the most important themes at Hanover Fair 2012 – that of wireless industrial networking. The exchange of data between devices via public wireless networks or user networks helps optimise business processes and resource management. The focus was on telemetry, telecontrol, telemonitoring and M2M applications. Exhibitors showcased components and solutions for WLAN communication technologies such as ZigBee, Bluetooth, and WirelessHART. Also in the spotlight was the increasing range of applications being developed for wireless M2M. This sector is clearly in line for further growth.
For example, Phoenix Contact's new Radioline wireless system has been designed for wireless signal transmission at large facilities. I/O mapping is one feature that distributes signals from up to 250 stations within the system without software. Input signals receive I/O addresses, with these being mapped to corresponding output modules. Because identical signals can also be output several times, intelligent distribution and signal multiplication can be set-up in the field. Radioline can be used for I/O signals, serial data and the implementation of I/O to Modbus. The stations can be arranged as needed in point-to-point, star, or mesh structures. Each station can also be used as a wireless repeater for other stations. The devices use this feature on the license-free 2.4 GHz frequency.

Phoenix Contact's new Radioline wireless system has been designed for wireless signal transmission at large facilities.
Other clear themes included embedded systems, smart efficiency and smart grids'. Many companies displayed various approaches to providing smart grid network connectivity.
A significant number of organisations also showcased the great importance of energy efficiency to industry and commerce for cost savings, climate protection and reducing dependence on depleted and increasingly expensive fossil fuel reserves.
Safety is also an increasingly important issue, and this is being addressed by many organisations, not least ODVA in cooperation with Sercos, which uses the CIP safety protocol from ODVA for secure communication to IEC 61508.
Just one new safety product example was Siemens Industry Automation's extension of its Sirius Modular Safety System (MSS) ASIsafe range of safety monitors to include the MSS ASIsafe basic und MSS ASIsafe Extended models. The available I/Os can be flexibly adjusted using expansion modules or an AS-Interface, allowing the quantity structure to be adjusted to relevant applications. An interface module also enables the transmission of diagnostic and status data to a higher-level Profibus network.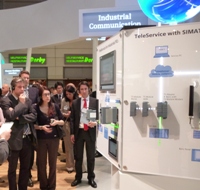 Stands showing industrial networking equipment were always busy.
Globalisation, climate change and increasing urbanisation are presenting new challenges for cities and conurbations worldwide. The key to resolving these issues lies in the expansion and modernisation of infrastructures. The Metropolitan Solutions area – now in its second year - concerned the next generation of urban infrastructure technologies. These will need intelligent urban grids, decentralised energy, charging infrastructures for electromobility applications, plus the networking and integration of previously separate building systems. For 2012, this program was extended to include security and waste management.
Fraunhofer Institute had a number of displays, which included the results of its research work into the innovative information and communication platforms that will help enable the advent of the smart metropolis – connected, energy efficient, CO2-neutral and climate adapted.

Part of the Hanover Fair grounds - the 2012 show comprised eight trade fairs in one.
---
Live News
---
Product Highlights
Here are some of the new products and solutions introduced at Hannover Messe 2012.
Industrial PCs with new processor cores
At Aucotec's stand (B28 in Hall 7), visitors will be able to see cloud computing systems - much talked about, but still in their infancy, as well as apps. The company's solution features engineering Base's (eB) three-layer architecture for highly flexible scalability. It can be managed in a private cloud as an Infrastructure-as-a-Service (IaaS). A higher configuration level is the extension of plant status data access above and beyond supplementary in-house applications, via mobile device apps.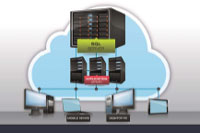 Private cloud as an Infrastructure-as-a-Service (IaaS).
---
Clarity about voltage, current and frequency
The first step to improving energy efficiency is being able to measure and evaluate the amount of power actually being consumed. The new X20AP energy measurement module from B&R is able to do just that: measure voltages, currents, frequencies and reactive components on all phases. Current and voltage measurements up to the 31st harmonic ensure a high level of precision while a fourth channel makes the module well suited for measuring leakage currents on the neutral line. Measurement value curves recorded by the module can help in many ways, such as providing the basis for optimizing traverse paths within a machine, in turn contributing to further energy efficiency.

The X20AP energy measurement module from B&R.
---
Industrial PCs with new processor cores
Beckhoff (Hall 9, Stand F06) displays its industrial PCs with efficient utilisation of Intel's core i3, core i5 and core i7 processor cores in the software. The result? Better on-board graphics and new CPU architecture for greater computing power. The cX9020 complements the latest embedded Pcs with a medium performance class Pc. It has a 1GHz ARM cortex A8 processor and is suitable for motion control.
Also from Beckhoff will be TwincAT 3 software. Multi-core support through TwincAT 3 enables machine programs to be allocated to different cores. This, in turn, enables performance increases in line with the number of CPU cores.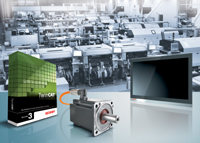 With PC-based Control and TwinCAT 3 automation software for an efficiency increase in production processes.
---
Wireless communication possibilities
Conel (Hall 8, Stand D29) is presenting proven solutions and new products, including the LTE router LR77 v2 and CDMA router CR10 v2. They are based on the established Conel 2G/3G routers and expand the application areas for these wireless solutions.
The LR77 v2 provides wireless connection of various equipment and devices via Ethernet interface 10/100 or serial interfaces to the Internet or intranet. It is designed for applications requiring large data loads, because speeds in the LTE network reach up to 100 Mbit/s (download) and up to 50 Mbit/s for upload.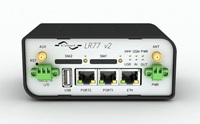 LR77 v2 is a professional wireless solution for traffic and security camera systems, LAN networks, and other demanding applications.
---
Cost-effective I/O converter
eks Engel (Hall 9, Stand H34) demonstrates the new new io-light 3300. This DIN rail mounted I/O converter extends the io-light family with a cost-effective one-channel version in a plastic housing. It allows the bi-directional transmission of digital control signals via fiber optic cable, e.g. for motor or lighting control. This allows for point-to-point connections of up to 30 kilometers, with special models for up to 100 km available on request. Operating temperature range is -20° to +55° C, with a heavy duty version covering -40° to +70° C.

The io Light 3300 is available in 20 different versions for multimode, singlemode, POF and HCS/PCF fibers, with ST, SC or E-2000 connectors.
---
ExoHand - a new kind of human-machine-interface
Festo (Hall 15, Stand D07) can always be trusted to display some real eye-catcher, like the flying dolphins or the robot bird last year. This year it's the ExoHand, an exoskeleton that can be worn by an operator like a glove. The fingers can be actively moved and their strength amplified; the operator's hand movements are registered and transmitted to the robotic hand in real time. The objectives are to enhance the strength and endurance of the human hand, to extend humans' scope of action and to secure them an independent lifestyle even at an advanced age.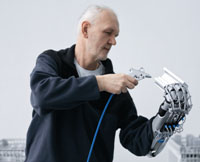 ExoHand can simulate all the major physiological degrees of freedom of a human hand.
---
Innovation in real applications
The Harting smart Power Networks concept for energy-efficient machinery and systems will play a key role at their main stand (Hall 11, stand C13. As a key technology in efficient production processes, the smartPN units shift the energy technology functions to the network infrastructure. The smart Power Networks will go on display in a live application at stand D06 in hall 8 of the German Research Center for Artificial Intelligence.
Further highlights on Harting's 800 sqm stand include Han-Fast Lock and Ha-VIS RFID, the seamlessly-integrated RFID solution for efficient production processes.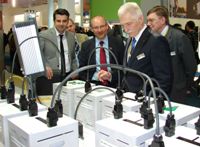 smart Power Networks are claimed to turn power distribution into the intelligent energy network of the future
---
Next generation control platform
The ECM2 Ethernet control module and platform from MKS Instruments (Hall 17, Stand B07) is a stand-alone master controller with full programmability. Designed as a fast and deterministic control platform for industrial automation applications it provides real-time master control for multiple industrial protocols. The EMC2 is expandable up to 354 DIDO, 64 AI, 16 AO, 16 temp inputs, and 4 serial ports. Multiple master & slave control networks are vailable, eg: Devicenet Master, EtherCAT Slave, etc. According to MKS, this control platform reduces energy consumption by 17% on average vs. similar PLC-based solutions.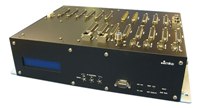 MKS claims that the EMC2 can reduce automation costs by up to 40%.
---
Distributed WSN measurement nodes
National Instruments launched its WSN C Series gateway that can plug directly into any CompactRIO chassis for wireless connectivity to distributed WSN measurement nodes. The latest wireless WSN serial nodes allow programmable interfacing into thousands of sensors and instruments. In addition, the company showed how to create complete wired and wireless measurement control systems with LabVIEW. Applications include environment monitoring, industrial measurements and control, and energy monitoring.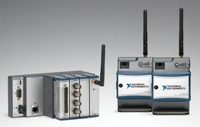 National Instruments launched its WSN C Series gateway that can plug directly into any CompactRIO chassis for wireless connectivity to distributed WSN measurement nodes.
---
Distributed WSN measurement nodes
Pepperl+Fuchs launched its IP68 / IP69k F99 series CANopen bus enabled inclination sensors, suitable for the continuous monitoring of levels, vehicles, attachments, driver's cabs, etc. These sensors, which detect the inclination angle between 0 ... 360° at resolutions of < 0.1°, can have 4-20mA current interface, 0-5V voltage interface and CANopen bus connection, as well as the J1939 protocol.
The company also showed its Dart Fieldbus, certified according to ATWX and IEC-Ex for use in hazardous areas, such as those commonly found in certain processing operations. Dynamic Arc Recognition and Termination (DART) technology is used in the FieldConnex Fieldbus Infrastructure. DART Technology is a dynamic system that provides significantly higher powers while maintaining intrinsically safe energy levels. Its use allows process automation users to benefit from the advantages of intrinsically safe fieldbus technology in hazardous areas. Per segment, DART Fieldbus supports up to 32 devices (the maximum permitted). The higher device count per segment eliminates the problem of having to design complex network topologies with many sub-segments, each requiring its own power supply, junction boxes, and barriers. All of this is permitted in the most sensitive gas group IIC.

Pepperl+Fuchs' F99 series CANopen bus enabled inclination sensor.
---
Redundant Profinet connection
A redundant control system for Profinet can be created with Phoenix Contact's new RFC 460R PN 3TX controller to reduce system shutdowns and prevent dangerous situations occurring. Two RFC 460R Profinet controllers build a fail-safe automation system; one controller controls and manages the process, while if a failure occurs, the second controller performs processes at both lower and higher levels. Both controllers are continuously synchronised.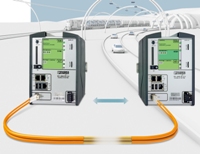 A redundant control system for Profinet can be created with Phoenix Contact's new RFC 460R PN 3TX controller.
---
Teleservice for global players
Sensor-Technik Wiedemann (Hall 11, stand F31) displays its latest teleservice module, the eSX-Tc1. This allows the monitoring and recording of vehicle/machine operating data in difficult environments. It supplies GPS position and can connect to a CAN bus to read and capture FMS protocol data or raw cAN data. Recorded data is forwarded to the eSX-Teleservice server via a wireless connection visualised through the STW internet portal.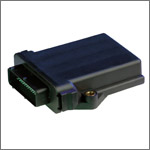 A teleservice system from STW can monitor a complete system remotely, and realize significant savings in personnel and administration.
---
'Greentelligence' through strongly networked production
Siemens' (Hall 9, stand A15) exhibit at the Hannover Messe will be focused on increased networking in industrial production. "Modern industrial companies want to interlink relevant information along their entire value creation so that they can become more productive and more efficient. As the leading supplier of industrial software and production technology, we are the key company able to meet this requirement and to create truly sustainable production processes," says Ralf-Michael Franke, CEO of Siemens' Drive Technologies Division. In keeping with its motto of "Connecting Productivity and Efficiency," Siemens will demonstrate how its customers can achieve both economic and environmental goals.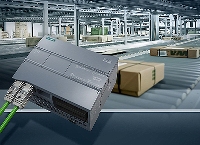 The new Simatic S7-1215C has a second Profinet interface, two analog outputs as well as fast outputs for controlling up to four stepper motors.
---
Profinet-IRT gateway
Turck (Hall 9, stand H55) is completing its range of fieldbus interfaces with a Profinet Economy gateway for the BL20 modular I/O system. The new BL20-E-GW-PN gateway allows hard real-time communication in compliance with the Profinet IRT (Isosynchronous Real-time Ethernet) specification. The gateway from the Economy series comes with extensive diagnostic and maintenance functions. The topology detection function, for example, simplifies the automatic detection of neighboring stations in the Profinet network via the Link Layer Discover Protocol (LLDP). Together with the already available gateways for Modbus TCP and Ethernet/IP, and the new Ethercat model, BL20 fieldbus interfaces are now available for the most common Ethernet bus protocols.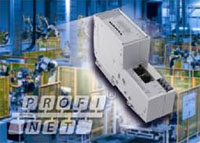 The new Economy gateway makes Turck's BL20 I/O system Profinet compatible
---
"Hard" real-time with Sercos
The new Wago (Hall 11, stand C64) Speedway 767 Series Coupler links the fieldbus level to the Sercos V1.2 real-time Ethernet fieldbus system. The 767-1311 Coupler supports all Sercos cycle times and can be integrated into the Sercos system using the standardized Sercos profiles and device description (SDDML). A wide range of WAGO I/O modules can be connected to the Speedway Coupler. Together with the new, synchronous high-speed I/O modules, Speedway allows for "hard" real-time applications with I/O cycles of a mere 250 microseconds.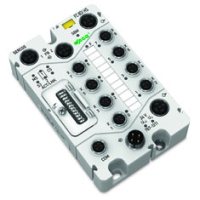 The Speedway 767 coupler is equipped with eight local high-speed digital inputs with a 10 microsecond scanning cycle.
---