Achema2012 Show Report
Achema 2012

Welcome to our Achema 2012 Show Report. Achema - held in Frankfurt a.M., Germany from june 18. - 22. - is the world forum for chemical engineering and the process industry.
Visitors heading to the fair (Photo: Dechema / Helmut Stettin)
Achema 2012 had 4,000 exhibitors from 50 countries, on 140,000 squaremeters net exhibition space. The show was attended by 180,000 visitors from 100 different countries. Automation technology played a major role at the exhibition, as it is a major factor which drives this industry forward.
Suppliers have been taken on an economic roller coaster ride for the past few years, and the economic crisis has had a massive effect on the market. However, the industry is now well positioned again and ready to capture new markets. The year of crisis did not actually weaken the industry. Automation suppliers saw the crisis as an opportunity, and they are now even more responsive to the needs and preferences of users who are of course their customers.
To an increasing extent, IT has become a driving force in the development process. Globalization is another factor in the equation. German companies have a high export quota, making them very dependent on international political and economic developments. However, many automation suppliers are able to exploit that situation to their advantage.
The increasing importance of automation system networking is also apparent. The traditional distinction between discrete manufacturing, process and building automation is becoming less and less relevant as the boundaries become blurred. Electromechanical, electrical and automation systems are more closely entwined. Intelligent power supply equipment is now integrated into automation networks, providing preventive maintenance information for controllers and SCADA (Supervisory Control and Data Acquisition) systems. The role of engineering, design, planning, data management and service software as an information provider is also becoming increasingly significant. However, technology for supplying information in a data format which can be readily transferred from one automation device to another without programming effort is often still in its infancy.
During the period 1999 to 2002, introduction of IT and Internet technology had a major impact on the industry. In the meantime, ethernet in all of its incarnations has taken its place beside fieldbus systems as a standard networking platform, and internet technologies (e.g. on-board web servers in automation equipment) have become the norm in many applications.
Wireless becoming mainstream
During Achema ON World published a research study that finds that the industrial Wireless Sensor Network (WSN) market has doubled over the past two years. Early adopters have demonstrated that WSN is secure, reliable and can be targeted at new monitoring and control solutions that were previously deemed too expensive or located in prohibitively difficult environments. Network sizes are expanding and ON World identified several deployments with over 3,000 WSN nodes. ON World's study found that 70% of the surveyed end users are planning WSN or additional deployments within the next 18 months. The survey also found that approximately an equal number of respondents prefer WirelessHART or a hybrid strategy that includes WirelessHART and ISA100.11a. Industrial wireless sensing and control opportunities are also growing for non-mesh 802.15.4, WiFi, Bluetooth/802.15.1 and Ultra Wideband. Installed wireless industrial field devices will increase by 553% between 2011 and 2016 when there will be 24 million wireless-enabled sensors and actuators, or sensing points, deployed worldwide. At this time, 39% will be used for new applications that are only feasible with WSN.
Exhibition highlights
The Fieldbus Foundation, the FDT Group, HART Communication Foundation, PI (Profibus and Profinet International) and the OPC Foundation hosted the co-sponsored Field Communication Lounge (www.fieldcommunicationlounge.com). Members participating in the Field Communication Lounge include: ABB, APAT, Emerson Process Management, Endress+Hauser, Fieldbus International, Heinrichs Messtechnik, Honeywell, Invensys, Leoni, Pepperl+Fuchs, Phoenix Contact, Rockwell, R. Stahl, Siemens, Softing and Yokogawa. Thomas Kasten, chairman of the Fieldbus Foundation German Marketing Committee, explained: "This collaborative concept by leading technology organisations was first introduced at the 2011 Hannover Fair. We received so much positive feedback from show visitors that it was clear that we would adopt the Field Communication Lounge concept again for the major shows in Germany during 2012 – and this year we welcome the addition of OPC Foundation to the group". A Fieldbus Foundation technology kiosk was dedicated to the demonstration of its latest development initiative – Foundation for Remote Operations Management (ROM). Developed in response to the increasing challenges facing remote applications within the process automation industry, Foundation for ROM offers a unified digital infrastructure for asset management. The technology enables fieldbus connectivity to remote I/O and the integration of leading industrial protocols including ISA 100.11a, WirelessHART, wired HART and wired H1 protocols into a single standard environment.
Werum (www.pas-x.com) presented its new Manufacturing IT Platform strategy for its product PAS-X. "Our product PAS-X covers these requirements perfectly. PAS-X is meanwhile far more than just an MES system. It is the central integration platform on manufacturing IT level and stands for site-wide operational excellence and compliance," says Christian Woelbeling, Senior Director of Marketing & Sales, Werum. As a modern Level 3 platform, it horizontally connects all process steps from process development through to commercial production and packaging. Vertically, PAS-X integrates the business data from the ERP level and the machine data from the automation level.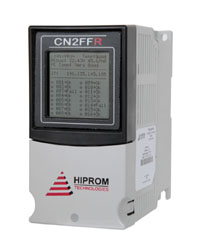 Rockwell Automation linking devices for FF H1
Two new linking devices from Rockwell Automation (www.plantpax.eu) provide PlantPAx process automation system users with connectivity to Foundation Fieldbus devices. The Allen-Bradley 1788-EN2FFR and 1788-CN2FFR linking devices provide a direct link from EtherNet/IP or ControlNet networks to the Foundation Fieldbus H1 device-level network, making the integration of Foundation Fieldbus devices intuitive and seamless.
"The Foundation Fieldbus standard is a popular choice among many process industry companies because of the wiring, commissioning and support savings a digital network offers," explained Graham Proctor, product manager, Rockwell Automation. "With these linking devices, PlantPAx system users can access data for improved diagnostics, troubleshooting, maintenance and uptime.". The 1788-EN2FFR and 1788-CN2FFR linking devices offer simplified setup into RSLogix 5000 software from Rockwell Automation, thanks to an Add-On-Profile (AOP) and auto-configure tool. The auto-configure tool helps save hours of setup time by applying the most frequently used configuration, while the AOP provides a graphical environment for more detailed field device configuration. In addition, the AOP provides built-in diagnostics, including information on network voltages and currents, internal temperature, and device status, which also can be viewed directly from the on-device display, simplifying troubleshooting for plant operators. A built-in webserver also provides remote access to network and field device data. Both devices support up to 16 field devices on a single H1 segment and feature multiple redundancy configurations, including redundant linking devices, H1 media, ControlNet media, and EtherNet/IP Device-Level Ring.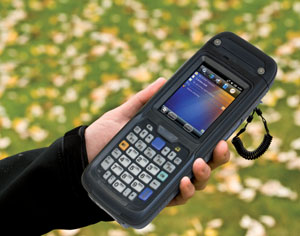 The i.roc Ci70 -Ex mobile computer has been designed to be ex-safe in Zone 1 and 2 ex-areas.
These days, work in ex-areas is also no longer possible without the assistance of computers. However, many mobile computers currently available and approved for use in hazardous areas remain far behind the technologies that have long since become standard in other fields. The explosion-prevention experts at ecom instruments(www.ecom-ex.com) have now developed a platform that right from the outset of its conception meets the demands set out in the requirements for ex-certification. Developing a device "from scratch" also allows the latest technologies – for instance, support for current WLAN standards and UMTS – to be built in from the start. And any required peripherals, such as RFID readers, bar-code scanners and HART modems, can also now be integrated into the mobile ex-computer which means that it is also possible to produce generally ergonomic designs. The i.roc Ci70 -Ex mobile computer has been designed to be ex-safe in Zone 1 and 2 ex-areas. It uses the Windows Mobile 6.5 operating system and is the only device on the market to support all WLAN standards (IEEE 802.11 a, b, g and n). A 3G module is also optionally available for the device to enable data to be transmitted via the GSM, UMTS/HSDPA and CDMA networks. The integrated GPS feature also permits the device's precise location to be pinpointed. The PDA also comes with a 2.1+EDR Bluetooth interface. A specially designed module-head system also permits a variety of RFID and bar-code readers and a HART modem to be incorporated.

Measurement, evaluation and communication – all in one module.
Until now, preventive maintenance based on data from permanent condition monitoring has rarely been practiced due to the high cost of conventional systems. B&R (www.br-automation.com) claims that their X20 module bucks this trend by maximizing machine availability while minimizing the time and money spent on maintenance. This enables owners to significantly reduce the total cost of ownership (TCO) of their machines and systems. With the X20CM4810 module, B&R is presenting their first dedicated condition monitoring tool for machine manufacturers and end users. "The innovative X20 module allows operators to permanently monitor the status of an entire system," explains Andreas Waldl, technical manager at B&R. "The results are then used to determine exactly which parts of the machinery require maintenance." This compact 2-slot module provides four input channels, each equipped with an IEPE (Integrated Electronics Piezo-Electric) interface for monitoring acceleration sensors. These interfaces are used to supply the sensors with power and to sample their signals, which are processed internally within the module to produce more than 70 parameters such as configurable damage frequency values. These are transferred directly to the CPU via Powerlink or any other standard fieldbus systems.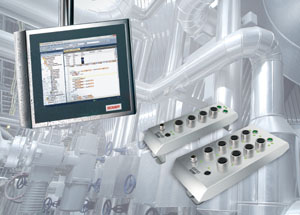 Beckhoff offers a complete stainless steel control solution for areas of application with strict hygienic requirements.
Beckhoff (www.beckhoff.com) presented the range of performance and the flexibility of the PC-based control platform for the automation of processes. From the local acquisition of energy data to system-integrated measurement technology, for example for the measurement of temperature and pressure in laboratory automation, PC-based control offers modular and flexible solutions. Beckhoff also offers solutions to increasing the productivity of packaging machines with its fast control technology, which supports all communication standards. EtherCAT – Beckhoff's real-time Ethernet system – can play its technological strengths in process automation: flexible topology possibilities, the integration of subordinated bus systems and optional redundant wiring for high system availability. High-end measuring technology can be integrated directly into the standard I/O system using high-precision EtherCAT Terminals. TwinSAFE, the safety solution from Beckhoff, guarantees the secure processing of data for applications in the process industry. It allows critical process units such as gas mixers to be safely controlled.
The Siemens (www.industry.siemens.com) presentation at the Achema focused on issues revolving around plant life cycle management. Under the booth slogan at the Achema, "Guiding you through change – Your trusted partner for lifecycle innovation", Siemens aimed to provide answers to the current challenges facing companies in the process industry: cost pressure, global competition, a continually and rapidly changing technological environment, and increasing environmental obligations. Axel Lorenz, Head of Process Automation in the Siemens Industry Automation Division, and booth manager at the Achema, said, "We're working closely with the world's leading chemical and pharmaceutical companies to enable them to get the most out of their plants. We'll be accompanying the process industry as a reliable partner throughout the forthcoming changes."
The new Comos 10 software release has a significantly expanded range of functions, which can manage the largest volumes of data for plant management, from engineering through to production. The integration of process engineering and automation has also been developed further. A new interface ensures a consistent, bidirectional exchange of information between Comos and the Simatic PCS 7 process control system. The main theme in production and maintenance is version 8 of the Simatic PCS 7 process control system, which has a multitude of new functions. Innovations range from an improved data exchange and a simplified engineering workflow through more powerful communication, redundancy and high-availability functions to new controllers and expanded functionalities in the software tools.
---
See impressions from Achema in our Facebook photo album
---
Live News