Telecontrol and teleservice provide access to all plant areas
The ability to monitor and control key remotely-based industrial assets, such as distant machines or far flung outstations, can help drive operational efficiencies. For machine builders or plant operators, keeping such assets close at hand is vital, so remote access capability should be a pre-requisite. It can even help reduce service calls by up to 60%. Siemens' Mark McCormick outlines key operational areas for consideration by companies - teleservice and telecontrol.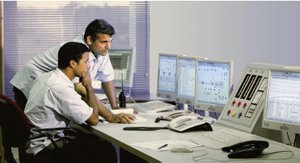 Remote monitoring via telecontrol. The benefit of enabling an engineer to remotely undertake diagnostic fault-finding via the Internet or mobile connection delivers substantial time and cost savings.
WHETHER IT IS maintaining machines and plants installed across the globe from a central point, or a requirement to scan data from distant outstations and mobile applications, or controlling plant-wide processes - the implementation of remote access technology solutions can reap benefits in terms of time and cost savings, operational efficiency gains and optimised performance from key remote plant or other assets.
Marketplace expectations are also helping to drive innovative remote access solutions. Five years ago, customers might expect that a fault on a production line or critical machine could be rectified within a day or two after an engineer's visit, resulting in expensive downtime and lost production. Now, those same customers expect faults to be identified and rectified sometimes within the hour. If the machine or plant is located some distance away, this can be a real issue. As a result we are seeing an increasing need for industrial access solutions that cater for remote access.
Critical factors
Some critical drivers are combining to ensure that industrial remote access is now centre stage for many. The vast increase in the use of unmanned plants has seen companies rely upon keeping critical assets performing at their best. Examples include oil and gas pipelines with outstations and metering stations frequently located many hundreds of miles apart, or water/wastewater treatment, power generation and distribution sectors.
Such critical unmanned assets need systems for monitoring, control and maintenance objectives. The advantages of technology that can deliver remote access to gather real-time process data, becomes self-evident in the absence of skilled and costly personnel. The benefit of enabling an engineer to remotely undertake diagnostic fault-finding via the Internet or mobile connection delivers substantial time and cost savings. Being able to keep downtime to a minimum and productivity to a maximum is a pre-requisite. At the heart of remote access is the ability to quickly identify and rectify production line faults, or develop preventative maintenance strategies to tackle potential problems before they become expensive.
Telecontrol and teleservice
Two services that help bring remote access benefits to life are telecontrol and teleservice. Telecontrol involves the connection of distant process stations to one or more central control systems. Various public or private networks can be used for communication for monitoring and control.
Event-driven or cyclic exchange of processing data is performed using special telecontrol protocols and enables the operation personnel to manage the overall process effectively from a central location, if required. The combination of Telecontrol Server Basic software - connecting the control centre to the remote assets based upon modern PLC technology with GPRS capability - offers a powerful remote access solution for either small-scale applications with a few outlying outstations. It can also meet the needs of large-scale, geographically spread plants.
Teleservice involves data exchange over the telephone line or via the Internet with distant technical systems, such as machines, plants or computers for error detection, diagnostics, maintenance, repair or machine optimisation. Teleservice offers an efficient, bespoke and resource-saving answer to diagnose distant systems, or to help plan and implement preventative maintenance.
Estimates indicate that implementing such a solution has reduced on-site service visits by up to 60%. With everyone mindful of data security - especially in the light of recent high profile examples of data loss - remote access users must always ensure they select carefully to ensure that they have comprehensive measures to prevent data falsification and loss.
For operators of plant spread across a wide, geographical area, or machine builders/OEMs trying to secure orders, being able to access remote locations to optimise performance, undertake real-time data analysis, carry out preventative maintenance, or simply keep plant running by minimising downtime are some of the critical benefits.
Telecontrol and teleservice, which are modular, flexible and secure, are providing efficient remote access to machines and plants. They are also making a tangible contribution to cost and productivity effectiveness when managing remote industrial assets.