15.05.2019


Modular proxy for Profinet connection

The Axioline P modular proxy from Phoenix Contact connects Profibus PA segments directly to a Profinet network.
Read more...

14.05.2019


Connecting serial devices to the cloud

New cloud connectivity features in the Moxa serial device servers and protocol gateways allow users to easily connect their serial devices to cloud systems.
Read more...

10.05.2019


Bluetooth market update

Supported by forecasts from ABI Research, the Bluetooth Market Update examines trends for each of the key Bluetooth solution areas.
Read more...

08.05.2019


Edge programmable industrial controllers

A new white paper from Opto 22 discusses how controls engineers can meet today's demands for obtaining, using and sharing data.
Read more...

07.05.2019


Volkswagen to cooperate with Siemens for Industrial Cloud

Siemens will be the integration partner for the Volkswagen Industrial Cloud, which will connect equipment at 122 Volkswagen plants.
Read more...

03.05.2019


Space-saving wireless safety system

The compact S-DIAS system from Sigmatek allows to implement wireless safetyflexibly, space-saving and economically.
Read more...

30.04.2019


Modbus The Manual

Rob Hulsebos, author of five books on industrial communication and cyber security, has written a book about the Modbus network protocol.
Read more...

29.04.2019


New standards for Single Pair Ethernet

The companies Phoenix Contact, Weidmüller, Reichle & Massari (R&M), Belden, and Fluke Networks announced a technology partnership for Single Pair Ethernet (SPE).
Read more...

26.04.2019


Connections for distributed utilities

A simple way to set up a secure communications network between remote sites uses the "always-on" Persistent Data Network (PDN) that is now available through ProSoft Connect.
Read more...

25.04.2019


Industrial cyber security platforms

The Lanner LEC-6041 and LEC-6032 rugged industrial cyber security platforms are designed to provide network security protection for harsh, unmanned environments in critical infrastructures.
Read more...

Sponsors: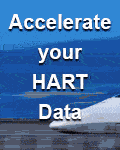 Get Social with us: