19.07.2019


Safety over EtherCAT Plug Fest

The first Safety over EtherCAT Plug Fest was a success, with numerous manufacturers of EtherCAT safety master and slave devices testing the interoperability of their FSoE solutions and exchanging knowledge.
Read more...

17.07.2019


Westermo acquires Neratec

Westermo has acquired Neratec Solutions AG, a Swiss technology company specialized in WLAN products with a focus on reliable wireless communication solutions for the train and trackside sector.
Read more...

15.07.2019


Weidmüller invests in ORing

To strengthens its strategic partnership and technological cooperation with ORing Networking Corporation, the Weidmuller Group has acquired a minority stake in ORing.
Read more...

12.07.2019


Moxa Joins the Open Invention Network

Open Invention Network (OIN), the largest patent non-aggression community, announces that Moxa has joined as a community member.
Read more...

09.07.2019


Leoni highlights importance of Gigabit Ethernet

A growing number of Leoni cables and optical fibres undergoes CC-Link Partner Association (CLPA) conformance testing for the CC-Link fieldbus and CC-Link IE Industrial Ethernet standards.
Read more...

08.07.2019


Ultra-compact edge computing IPC

The ultra-compact Beckhoff C6015 Industrial PC (IPC) is designed as a space-saving, high-performance IoT edge device to fully utilize the advantages of Industrial IoT for new and legacy systems in the process industries.

Read more...

05.07.2019


Rugged, high-performance Ethernet switches

Expanding its portfolio of High Performance Embedded Computing (HPEC) solutions, Eurotech has introduced the DynaNET 10G-01 and the DynaNET 100G-01 Ethernet switches.
Read more...

04.07.2019


Embedded module for IoT networks

The new all-in-one bus nodes UNIGATE IC2 are based on the ARM Cortex-M4 processor technology and offer a significant performance improvement compared to the proven UNIGATE IC series from Deutschmann.
Read more...

01.07.2019


Modbus-to-Ethernet/IP gateways

The family of serial device servers and gateways from Phoenix Contact is designed to enable the simple migration of existing serial devices into a modern Ethernet network.
Read more...

27.06.2019


State of the Industrial Internet Report

The organizers of the Industry of Things world conference have released the results of their survey on "State of the Industrial Internet in the European market".
Read more...

Sponsors: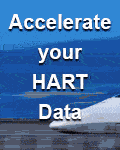 Get Social with us: