23.10.2019


Promoted content: Ethernet Trends in the Industrial OT Environment

A new white paper discusses how industrial operators are making use of Ethernet technology to increase productivity, improve process reliability and secure other valuable gains on the plant floor.
Read more...

23.10.2019


New I/o modules

With the release of new groov EPIC input/output modules, Opto 22 is further extending the already comprehensive industrial I/O portfolio for this Edge Programmable Industrial Controller.
Read more...

22.10.2019


IP 66 Industrial WLAN

With the new CU8210-M001 cabinet dome from Beckhoff, the USB port of an Industrial PC can be fed out of the control cabinet, ensuring reliable wireless connections without having to use attenuation-prone antenna cables.
Read more...

20.10.2019


Azure-ready IIoT edge gateway solution

At IOT Solutions World Congress 2019 in Barcelona, Moxa will be presenting its Microsoft Azure-ready IIoT edge gateway solution.
Read more...

10.10.2019


Tool for real-time data insights

MeasureWare from Analog Devices is a new suite of hardware measurement kits and software studio tools, that helps fulfill the growing need for precision measurement across multiple industries.
Read more...

02.10.2019


Desktop system for IoT applications

The Advantech Embedded-IoT Group has launched the new EPC-T2286 1U THIN barebone system with 8th Gen. Intel Core processors for space-limited applications.
Read more...

01.10.2019


Industry professionals are positive about 5G

New research shows that half of the industry professionals are clearly positive about 5G in manufacturing and see it as a way to obtain universal connectivity.
Read more...

30.09.2019


MQTT Publisher functionality

The new dataFEED OPC Suite version V4.60 from Softing includes the dataFEED MQTT Connector, which supports the direct integration of IoT devices with MQTT Publisher functionality.
Read more...

25.09.2019


5G partnerships for smart factories

Deutsche Telekom is further expanding its 5G ecosystem for the industry. In addition to the partnership with network supplier Ericsson, smart production specialists EK Automation, Konica Minolta and Endress+Hauser are joining the team.
Read more...

23.09.2019


Wireless pressure gauges modernise well monitoring

The Alaska Oil and Gas Association has awarded the "Alaska Oil & Gas Project of the Year for Environmental Stewardship and Innovation" to BP Alaska's Prudhoe Bay Unit Well Operating Limits Project.
Read more...

Sponsors: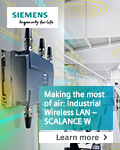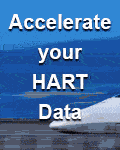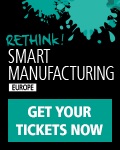 Get Social with us: