23.05.2019


Promoted content: Digital communication for Process Automation

The Softing gateways for multi-protocol process control and plant asset management help create the basis for a seamless exchange of production and plant data.
Read more...

22.05.2019


Promoted content: Easily manage wireless devices

The new monitor app JetWave Smart Remote (JSR) from Korenix offers a smarter and easier way to connect and manage Korenix JetWave products.
Read more...

21.05.2019


SoM IoT / Industry 4.0 modules

New SoM (System on Module) IoT / Industry 4.0 modules from Port now offer Profinet CCB and EtherNetIP on board, and can be easily integrated into Linux environments.
Read more...

18.05.2019


Switch for smart lighting systems

To support larger and more efficient lighting systems, Microsemi announces a cost-effective eight-port PoE switch that provides guaranteed power of 60 W per port simultaneously.
Read more...

15.05.2019


Modular proxy for Profinet connection

The Axioline P modular proxy from Phoenix Contact connects Profibus PA segments directly to a Profinet network.
Read more...

14.05.2019


Connecting serial devices to the cloud

New cloud connectivity features in the Moxa serial device servers and protocol gateways allow users to easily connect their serial devices to cloud systems.
Read more...

10.05.2019


Bluetooth market update

Supported by forecasts from ABI Research, the Bluetooth Market Update examines trends for each of the key Bluetooth solution areas.
Read more...

08.05.2019


Edge programmable industrial controllers

A new white paper from Opto 22 discusses how controls engineers can meet today's demands for obtaining, using and sharing data.
Read more...

07.05.2019


Volkswagen to cooperate with Siemens for Industrial Cloud

Siemens will be the integration partner for the Volkswagen Industrial Cloud, which will connect equipment at 122 Volkswagen plants.
Read more...

03.05.2019


Space-saving wireless safety system

The compact S-DIAS system from Sigmatek allows to implement wireless safetyflexibly, space-saving and economically.
Read more...

Sponsors: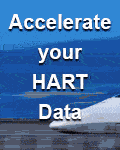 Get Social with us: