11.04.2019


Artificial intelligence for automation

To increase the productivity of its customers through self-learning machines, Festo employs artificial intelligence on the edge, on premises and in the cloud.
Read more...

10.04.2019


The business impact of TSN in IIoT

Avnu Alliance has released a new technical whitepaper titled "Avnu Alliance Business Impact Whitepaper on Time Sensitive Networking".
Read more...

04.04.2019


Infrastructure for Single Pair Ethernet

New standardised products and a connection technology system for Single Pair Ethernet (SPE) will be jointly developed by Hirose Electric and the Harting Technology Group.
Read more...

29.03.2019


Field-mountable M12 connector

The Yamaichi Electronics Y-Circ M12 product portfolio has been expanded with a new field-mountable connector for 10 Gigabit Ethernet applications.
Read more...

28.03.2019


CC-Link IE TSN integrates OT and IT

The CLPA presents its latest CC-Link IE TSN open industrial networking solution, designed to advance the integration of information technology and operational technology, one of the key requisites for Industry 4.0.
Read more...

25.03.2019


Siemens CloudConnect simplifies IIoT data transfer

The new Siemens Simatic CloudConnect 7 Industrial IoT Gateway simplifies data transfer within the Industrial Internet of Things to cloud-based solutions.
Read more...

22.03.2019


Ruggedized Raspberry Pi

netPI, Hilscher's industrialized Raspberry Pi 3 computer, is approaching its second birthday. According to Hilscher, sales have far exceeded expectations as automation professionals spot opportunities in industry.
Read more...

19.03.2019


PTCRB-certified edge gateway

The Lanner LTE-Ready Edge Gateway has received the PTCRB certification for wireless communications.
Read more...

18.03.2019


BACnet/IP Controller

Packing an MQTT interface, the Linux operating system and e!COCKPIT Engineering Software, a new BACnet/IP Controller joins WAGO's PFC200 family.
Read more...

15.03.2019


Making Industry 4.0 Secure-by-Design

At Hannover Messe, Adlink and Entrust Datacard will demonstrate how trust at the edge is vital to making Industry 4.0 a reality.
Read more...

Sponsors: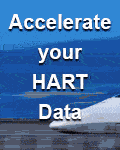 Get Social with us: