July/August 2022, Industrial Ethernet Book
The July/August 2022 issue of Industrial Ethernet Book provides coverage of Industrial Edge and Cloud Computing, and a showcase of EtherNet/IP networking solutions.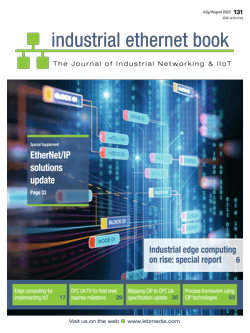 Industrial Edge computing offers a distributed computing framework that is bringing factory and enterprise applications closer to data sources such as IoT devices or local edge servers. This proximity to data at its source can deliver strong business benefits: faster insights, improved response times and better bandwidth availability.
In our special report on Industrial Edge, the Industrial Ethernet Book reached out to industry experts to gain their insights into the rise of the Industrial Edge and particularly its impact on the IIoT.
Browse this page for a synopsis and links to the key articles in this issue of IEB.