New Products
March 21, 2022
Making a secure and manageable smart network at lightning speeds
A new Ethernet switch with cost-effective and operational efficiencies can meet expectations and simplify the burden of configuration in your industrial networking.
To meet the needs of industrial fields such as Process Automation, Building Automation, and Renewable Energy, EtherWAN has announced its new hardened managed Ethernet switches – the SmartE series. It is designed with the most frequently used Layer 2 functions to offer precise and suitable network management features, while providing robust wired connectivity with an economic approach.
Mode Button Solution – Makes configuration even easier
What is a Mode Button? The SmartE series features a special physical 'Mode Button' on the device, designed to help users reduce the time of deployment and ease the burden of IP management. There are 4 operating modes that can be selected through the mode button, dealing with different scenarios.
Operating Mode 1: Reset to the factory default
When you need to solve unexpected human errors, such as:
Configuration error. (e.g. Configure VLAN by mistake, and then lose accessibility to reconnect to the switch)
Cannot access the switch, due to forgotten username or password.
You can apply 'Mode 1' to delete any stored configurations on the SmartE switch. This will reset the switch to initial factory default settings.
Operating Mode 2: Operating with a Fixed IP address
Have you ever unboxed an Ethernet switch, connected it to a laptop, but were unable to connect? Why? Because following your company's IT policy, users cannot change the Network Interface Card (NIC) configuration until an approval process is completed.
Almost every laptop's NIC default setting is 'DHCP client' – the user doesn't have to change the IP configuration in Windows. Select 'Mode 2' on a SmartE and it automatically becomes a DCHP server, and will assign your connected laptop an IP address in the same subnet. Therefore, without manually configuring your laptop, you can quickly access the SmartE switch via a predefined IP address directly. NIC settings are not required.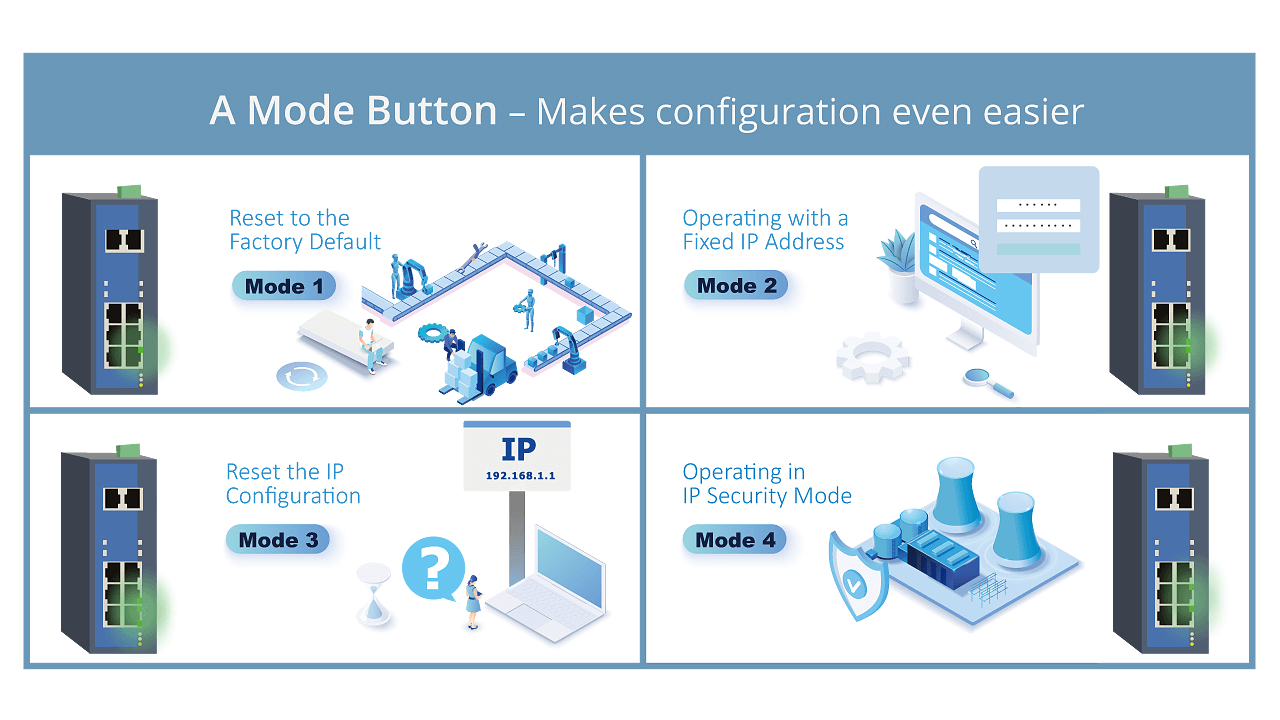 Operating Mode 3: Reset the IP configuration
When you don't remember the specific IP parameters of a switch to access it, what can you do? Select 'Mode 3' on the SmartE. It will reset the stored IP parameters (IP address, the subnet mask and the gateway address) on the SmartE switch to its defaults. But you don't have to worry about other configuration settings on the switch, the saved settings will remain in place.
Operating Mode 4: Operating in IP security mode
Using remote access to help manage devices onsite is convenient, but the remote work might present additional security risks. To prevent the risks, select 'Mode 4' to make the SmartE switch and its network environments safer to use. Operating under this mode will disable all remote management interfaces (IP, WebGUI, CLI, and Telnet) of the switch to protect the operational network, with no worries about your configured VLANs, or network redundancy (e.g. RSTP) setting, etc., which will still be running. Another benefit for inexperienced users to apply 'Mode 4' is accomplishing a plug & play redundant network environment. Users can quickly deploy switches on premises without any pre-configuration settings required, and network redundancy mechanisms are automatically enabled without any manual configuration needed.
With the Mode Button Solution, simpler and easier maintenance is achieved, while always providing reliable network connectivity. Initiate success with SmartE series at the network edge today.
Technology article by EtherWAN Systems