New Products
March 17, 2022
Moxa next-generation Industrial Ethernet networking solutions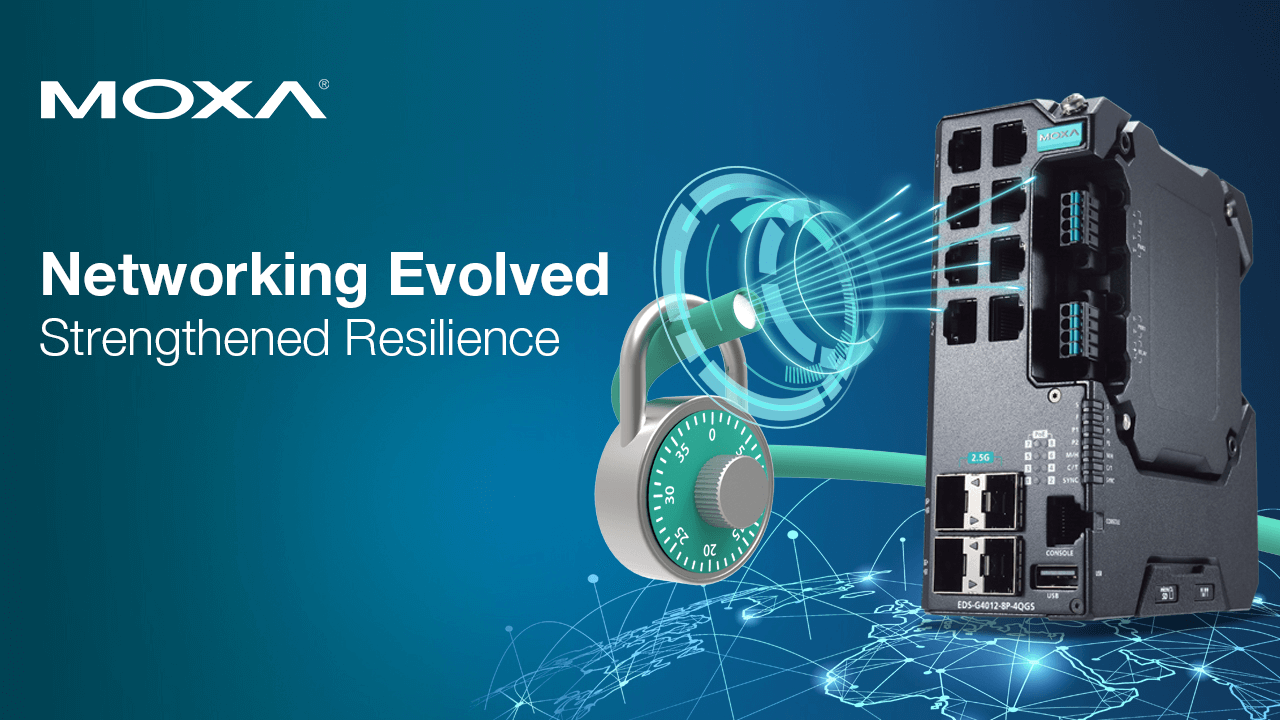 The EDS-4000/G4000 Series industrial managed Ethernet switches from Moxa unveils a new chapter of industrial networking, and next-generation industrial networking solutions that can futureproof industrial automation.
New EDS-4000/G4000 Series industrial managed Ethernet switches unveils a new chapter of industrial networking. The strengthened security, easy-to-use design, and high performance coupled with high reliability strengthen your network resilience to help you face networking challenges. With this futureproof networking portfolio, you can effortlessly accelerate your digital transformation.
As industrial automation applications continue to evolve, OT architectures require enhanced networking capabilities and network security. It became more challenging to connect devices while fulfilling a variety of requirements for critical infrastructure. Moxa's EDS-4000/G4000 Series portfolio of 68 models transforms the networking-evolved concept into tangible networking capabilities to empower to build secure, reliable, and high-bandwidth industrial networks with ease.
Evolved Networking Solutions That Strengthen Operational Resilience
While OT/IT convergence is accelerating, enhanced network security, high performance, strong reliability, and advanced usability become paramount to building next-generation industrial networks that strengthen operational resilience.
Industry-leading Network Security
The EDS-4000/G4000 Series was the world's first IEC 62443-4-2 certified Ethernet switches to be certified by IECEE due to the built-in hardened security that was developed by following the stringent software development lifecycle described in the standard. Along with Moxa's extensive network security portfolio, Moxa helps create a secure network foundation to safeguard and futureproof industrial operations.
Unprecedented Performance for Mass Deployments
As the number of connected devices in industrial operations grows exponentially, the EDS-4000/G4000 Series provides multiple interface combinations with up to 14 ports and a range of options including fast Ethernet, Gigabit, 2.5GbE uplinks, SFP, and IEEE 802.3bt PoE connectivity. This enables you to connect more devices especially in applications such as intelligent transportation systems that require high-power and high-bandwidth networking.
Multiple Industrial Certifications
The EDS-4000/G4000 Series is certified for NEMA TS2, EN 50121-4, IEC 61850-3/IEEE 16132, DNV2, ATEX Zone 23, Class I Division 23, to fulfill the needs of a wide variety of industrial applications. The EDS-4000/G4000 Series also features Turbo Ring and Turbo Chain fast network recovery to ensure smooth operations.
Advanced Usability
The improved web GUI provides a more intuitive way for users to perform configurations and network management. The rotatable power module offers flexibility to field engineers when they are installing devices and maintaining the network. In addition, the LED indicators on two sides of the device helps to easily identify the status of networking devices.
Learn more about Moxa's EDS-4000/G4000 Series below.