Technology
September 20, 2021
Wi-Fi 6: boost in efficiency for industrial applications?
The question is not whether, but how IEEE 802.11ax (also known as Wi-Fi 6) and 5G are driving wireless mobile communications in the industrial environment. Siemens supports both technologies in order to offer optimal solutions for the most diverse requirements.
Wi-Fi 6 is the first WLAN standard to no longer mainly focus on greater bandwidth, but on the more efficient use of frequencies by each individual client as the number of participants increases. The standard provides functions that need to be implemented in industrial-grade components.
Wireless LAN in the industrial environment has long been much more than the mere wireless connection of a few stationary participants. With proprietary industrial-oriented additional functions, the so-called iFeatures – such as the industrial Point Coordination Function (iPCF) – Siemens already has augmented earlier WLAN standards with real-time capability and prepared them for the most demanding industrial applications. Applications with mobile participants such as crane trolleys, automated guided vehicles and shuttle systems, high-rack warehouses / rack feeders, overhead monorails, and increasingly mobile robots in modular production environments are now established worldwide.
The technology has become an integral part of the world of automation. Even more so in the end-to-end digitalized factory with more and more IIoT devices and mobile virtual/augmented reality devices for the visualization of data and processes, e.g., for assisted work. The number of participants in wireless networks continues to rise, and with it the need for even more flexible, efficient communication. Still handling and coordination, service and maintenance must remain easy to manage for the user.
For this, the latest WLAN standard – IEEE 802.11ax – the sixth generation, succinctly dubbed Wi-Fi 6 by the Wi-Fi Alliance, brings a series of high-performance functions that can be expanded.
Communicating more efficiently
A major step towards higher efficiency is made possible by the OFDMA (orthogonal frequency-division multiple access) function, a method of data transmission already established in mobile communications but new for WLAN. Up to now, WLAN utilized the orthogonal frequency-division multiplexing (OFDM) method.
With it, only one client can communicate with the access point at a specific time and the client exclusively occupies the communication channel for data transmission.
With OFDMA, the communication channel is divided into multiple subchannels, so-called resource units (RUs). These subchannels can be variably bundled and used by different clients. In this way, data can be transmitted simultaneously and therefore at shorter intervals. This can reduce latency, especially for small packets such as PROFINET telegrams, and ultimately lead to shorter cycle and response times for automation solutions.
A WLAN with end-to-end OFDMA-capable access points and clients enjoys various advantages. For instance, more participants can communicate in a shorter time than before, or more data can be transmitted in the previous time window with the same number of participants.
This, for example, makes it possible for an automated guided vehicle (AGV) or a skillet conveyor to respond more quickly to unforeseen events, such as people in the travel range. It can therefore be operated at a higher speed without increasing the risk. In a high-rack warehouse, this means significantly higher transshipping rates.
This creates also the basis for the parallel handling of the more and more frequently arising requirements of reliable real-time in automation components and data-intensive applications such as camera transmissions.
Energy usage and wireless load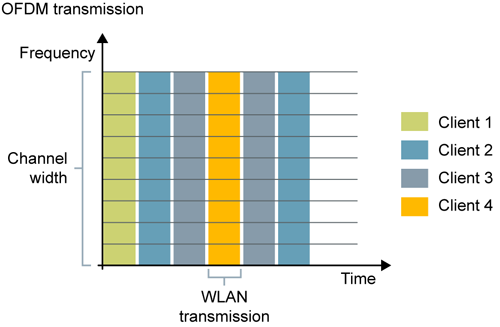 Another new function of Wi-Fi 6 enables a defined target wake time (TWT) to be stipulated for each participant so that clients are only addressed and "woken up" when necessary. The clients thus use less energy, which can result in longer runtimes and maintenance cycles for battery-powered WLAN devices.
In complex systems, however, the more important aspect is that "sleeping" participants do not transmit and thus do not occupy the communication channel. This in turn facilitates the planning and coordination of large numbers of participants and more easily leads to a stable, interference-free communication. Three different TWT modes make this part of the standard very flexible.
Reusing channels spatially closer
The aim of the new standard function "Spatial Reuse with Basic Service Set (BSS) Coloring" is the ability to reuse channels that are spatially closer together. Even if they are spatially so close that severe impairments would normally be expected. To this end, a "color" is assigned and a dynamic channel release threshold defined for each BSS consisting of an access point and related clients. As a result, the participants can communicate reliably even if the channel is in fact occupied by participants of another color, but they are transmitting with a lower power. This eliminates the waiting times for a free channel, and the channels can be reused more efficiently.
"Spatial Reuse" allows for a significantly more efficient usage of the frequency spectrum and new paradigms when planning facilities. The reusability of spatially closer channels simplifies the coordination between multiple equipment suppliers in a factory. In industrial IoT environments, a better distribution of the many clients across the different access points and thus a higher interference immunity (transmission quality) is expected to be achieved in high density areas.
Greater industrial efficiency?
The standard with its improvements alone cannot yet portray all requirements of automation solutions in the various industries.
To use OFDMA in real-time, the correct scheduling (communication planning or communication control by the access points) must be implemented, for example. The critical point in wireless communications, namely the transition of a client from one access point to another, was neither considered nor improved upon in the standard. That will require additional industrial-oriented adjustments in the manner of the already familiar industrial-oriented function iPCF for deterministic real-time communication.
Conclusion
The trend in automation is towards automation protocols with hard real-time requirements that are operated in parallel with data-intensive applications. To operate all applications trouble-free via a wireless connection, extensions to the mechanisms already existing in the standard are needed.
To not only use the possibilities of the new standard, but to go beyond it and create real added value in automation with regard to real-time and reliability – that is exactly the aspiration Siemens is already implementing with Industrial Wireless LAN and will also be implementing with Wi-Fi 6.
Kilian Löser, Product Manager for Industrial Wireless LAN, Siemens