Technology
March 21, 2022
Predictive maintenance monitors Industrial Ethernet data cables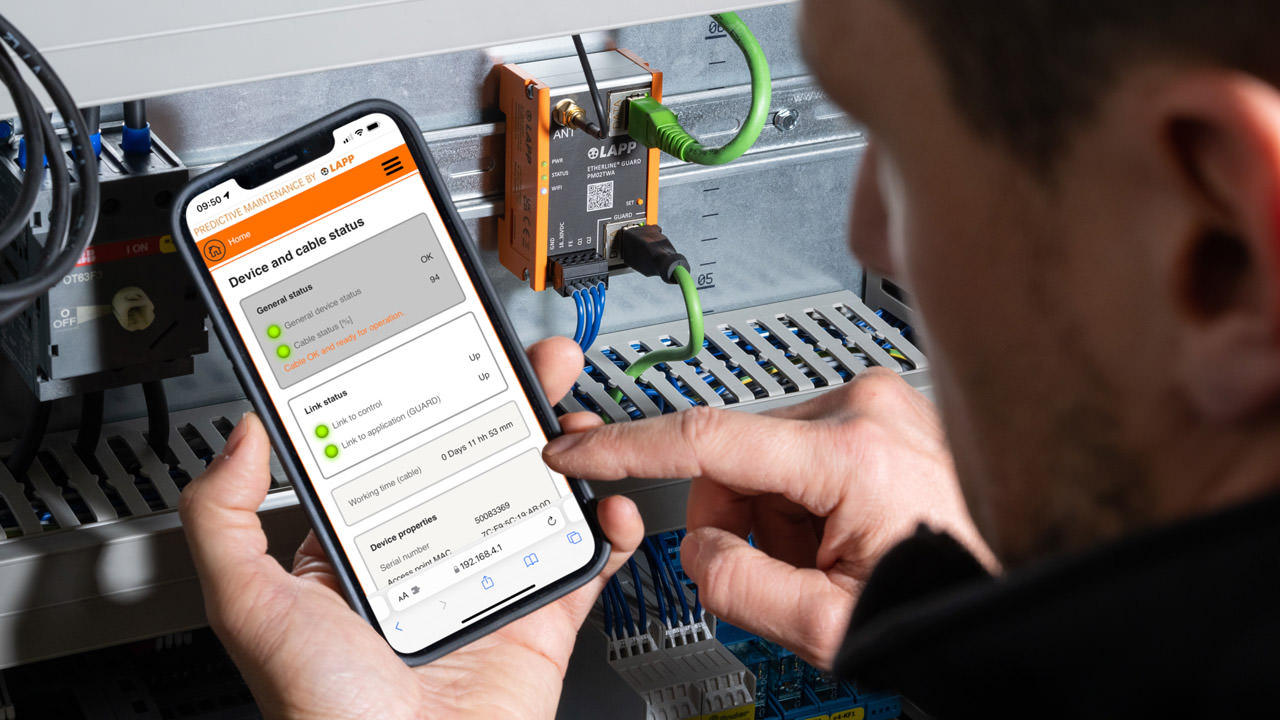 Although cables usually last for many years, in situations with highly dynamic, demanding movements with high speeds and strong torsion, it is advantageous and cost-effective to monitor the connection systems in order to avoid unexpected downtimes which impair productivity.
In Smart FactorIES, predictive maintenance is an important tool for avoiding unplanned machine downtimes. One key technology that helps to address these issues for Industrial Ethernet cables is ETHERLINE® GUARD, which monitors the service life of a data cable at risk of failure in an Ethernet-based automation technology network.
Up to now, most maintenance technicians only had two alternatives: either a reactive maintenance approach, whereby parts are only replaced once the machine has already stopped, or a preventive maintenance approach, whereby parts that are still functional are replaced at certain intervals as a precaution. To avoid unexpected production downtimes and reduce maintenance costs, Industry 4.0 and digitalisation provide an even more efficient alternative: the concept of predictive maintenance.
It is based on sensor data that is recorded and evaluated during the process and allows conclusions to be drawn about the actual aging of the part. This is also possible for connection systems such as cables or connectors. Although cables usually last for many years, in situations with highly dynamic, demanding movements with high speeds and strong torsion, it is advantageous and cost-effective to monitor the connection systems in order to avoid unexpected downtimes which impair productivity.
High-performance sensors for a wide range of applications
ETHERLINE GUARD is an innovative solution from LAPP. It is a stationary monitoring device that evaluates the current performance of a data cable and specifies it as a percentage. ETHERLINE GUARD thus contributes to realising a "digital twin" within production facilities by providing important performance forecasts for a data cable. Until now, cables have not been taken into account in these models.
This is based on data from the physical properties and the related data transmission using sensors. The real-time status display enables the wear limit of a cable to be detected and the optimum replacement time to be planned in advance. LAPP especially recommends ETHERLINE GUARD for data cables in accordance with the transmission standard 100BASE-TX (up to 100 Mbit/s) in accordance with IEEE 802.3, but also for EtherCAT, EtherNET/IP and 2-pair PROFINET applications, such as the ETHERLINE TORSION Cat.5 or the ETHERLINE PN Cat.5 FD.
These cables are used in many industries in the last few metres or at the process level of an application and are therefore often part of cable chains or torsion-proof cable routing, such as those used in robot arms. ETHERLINE GUARD is ready for mounting on top-hat rails and is intended for installation in control cabinets with protection class IP 20.
Two compact versions
ETHERLINE GUARD is particularly space-saving and slightly larger than a matchbox (49 mm wide, 76.5 mm high and 36 mm deep). The device is operated with 24 V DC, is intended for a temperature range of -40°C to +75°C and is resistant to vibrations and shock in accordance with DIN EN 60529. An easy-to-use SET button is provided to call up a wide range of functions, such as teach-in or to activate the access point.
ETHERLINE GUARD is connected to a data cable node between the critical application or between the cable to be monitored and the controller side. For this purpose, the device has a GUARD/data port for the data cable to be monitored with RJ45 connector, which is routed from the critical application to the device, as well as a DATA port for the data cable with RJ45 connector, which is routed from the device to the controller. The maintenance data can be transmitted to a higher-level controller by connecting a third data cable to the LAN socket (PM03T variant) or by using the antenna connection for WiFi (PM02TWA variant). Both variants can be configured for cloud communication with MQTT. The external SMA antenna connection guarantees a safe transmission path when the device is in the control cabinet, for example.
The antenna is then simply mounted outside. ETHERLINE GUARD is also equipped with a five-pin terminal for single core wiring. The terminal contains connections for the power supply, for connecting functional earthing (FE) and for the digital outputs Q1 (push/pull switching output) and Q2 (PWM modulated output signal), which are used to output the cable status.
Easy to put into operation
In addition to the standard LEDs, there are three centrally arranged multi-colour diagnostic LEDs on each RJ45 port: PWR for operational readiness, STATUS for the status of the data cable to be monitored and COM for Connect (LAN version) or WiFi (WiFi version). The developers at LAPP purposefully only provided simple diagnostic and adjustment options with the device.
he ETHERLINE GUARD web interface offers easy and convenient access if a user wants to adjust any further settings or function parameters, or if they want to find out more about the graphic status history for the cable. Here, for example, you can also find the settings for connecting the device to a controller level via MQTT. In addition, the device can be set to a new status using a firmware update if, for example, additional functions are developed and the range of functions are expanded in the future.
ETHERLINE GUARD is easy to put into operation – it requires no expert IT knowledge. This is carried out using automated and self-learning parameterisation ("teach-in") in just a few minutes. This starts simply by pressing a button or using the web interface. Another advantage is that no brand-new data cables or changes to the cable design are required for the application. This means that a retrofit into the existing network structure is possible at any time.
ETHERLINE GUARD is available as a cable-bound LAN variant "PM03T" and as a wireless WiFi variant "PM02TWA". Thanks to the two variants and the wide range of different connection options, users can decide how the required status information is to be transmitted to the higher-level process level. The cable status can be identified quickly on the device itself from one of the LEDs visible from all sides. The type of display is based on a traffic light system. It is always lit green when the cable is working perfectly and is within the specifications. If the web interface signals the yellow range or the STATUS LED flashes red, the first signs of wear have already occurred and action is required. The cable should at least be checked in this case and replaced immediately if necessary. If the LED is permanently red, the end of its service life is reached, and now at the latest, data transmission is limited.
Reliable IIoT communication
The patented predictive maintenance algorithms from LAPP make it easy to identify irregularities in the analysed data. The two digital outputs Q1 and Q2 enable the cable status to be output as a switch signal or as a pulse width modulated analogue signal, whereby the alarm threshold for the switch output Q1 can be specified by the user. Both the LAN and WiFi variants can output the cable status via MQTT. The LAN variant has the LAN-RJ 45 connection, while the WiFi variant communicates wirelessly. This guarantees reliable IIoT communication. The data can also be read easily using the access point, for example, with a mobile terminal device. It is also possible to save all data from several years on a (micro) SD card.
The current performance of the data cable is specified in percent for both variants. ETHERLINE GUARD continuously calculates the cable state and triggers an alarm if the performance or transmission properties of a cable deteriorate and there is a risk of failure. The alarm threshold is set to 80 percent ex works, but can be individually adjusted between 99 percent and 21 percent.
New process for radical and disruptive innovations
LAPP presented an initial prototype of ETHERLINE GUARD in its futureLab at the Hannover Messe 2019. This was an initial laboratory model. It was a first for LAPP to present a concept idea rather than a finished product at a trade fair.
This was based on a new innovation process, called Innovation for Future, which for the first time, also enables radical and disruptive innovations. In contrast to the classic Stage-Gate process, three prerequisites must be fulfilled at the same time: a technical solution must be developed, it must be discussed with at least one potential customer, and a business model must be developed that primarily describes the target customers. The crucial difference is the role of management. Instead of just saying yes or no to a development stage at defined intervals, managers are now called upon to contribute ideas. They build networks for the innovation team and provide the budget, which means not only money, but also freeing up time. The Innovation for Future process gives the freedom to also drive innovations outside of the core business.
The early introduction of ETHERLINE GUARD to potential customers – the device was still called the predictive maintenance box back then – was extremely helpful for LAPP in the development process. Thanks to direct customer feedback, it was possible to prevent the innovation from being developed bypassing the market. As early as 2020, ETHERLINE GUARD was used by three pilot customers from the medical technology, automotive and intralogistics sectors, as well as in the LAPP service and logistics centre.
Insights from pilot projects
During the pilot projects, the LAPP development team was able to gain some important new insights. The results with regard to the ageing process of Ethernet cables were particularly exciting. Contrary to the general view that a wire break in a copper conductor causes the end of the lifespan of a dynamically moving data cable, it became apparent that in most cases wear and tear and changes in the insulation layer are responsible for the deterioration in the transmission properties of data cables.
The reason for this is that the propagation speed of electromagnetic waves is not determined by the copper, but mainly by the insulation. The insulation layer is applied to the conductor in a three-stage extrusion process, in which different functional layers are generated. This high technical complexity enables a very low permittivity value to be achieved.
To put it simply, the lower the permittivity (also known as dielectric conductivity), the less interference on the electrical field of the conductor and, as a result, the higher the speed of an electromagnetic wave in a core. For this reason, polyethylene or polypropylene with low relative permittivity values are used as insulation materials for data cables. Special processes such as foaming are also used to introduce air bubbles into the insulation material to further reduce the effective permittivity. If a data cable is now subjected to permanently high mechanical and dynamic loads, this insulation layer will change. For example, this results in a local capacitance change, which in turn changes the local characteristic impedance of the cable. At these interference points there are undesirable reflection effects or unacceptable differences in signal propagation delay, which in turn impair the data transmission properties. These effect occurs some time before the copper wire actually breaks.
However, LAPP was also able to gain important insights regarding customer behaviour: Many mechanical engineers are rather reticent when it comes to using an IIoT-capable device with wireless connection and prefer a wired to a wireless solution. For this reason, LAPP decided to offer the two variants of ETHERLINE GUARD described, with and without a wireless module. At the same time, simple operation yet complex functionality were important to customers. The monitoring device should work intuitively, but should be as small and cost-effective as possible.
Important step on the way to the Smart Factory
ETHERLINE GUARD is particularly suitable for data cables that are exposed to constant "stress". This includes movement at high speed and acceleration, changing motion sequences, rotations with very high axial angles of rotation, short cycle times and small bending radii. The device is also used in critical processes, where a downtime would result in high to extremely high downtime costs or even personal injury.
Stefan Hilsenbeck, Senior Engineer Advanced Technology, Lapp Holding AG