Digital transformation creating smarter cities
Pervasive wireless connectivity and IoT technology offers great potential for the development of smart cities. But it also requires a new approach to wide-area networking (WAN) that leverages elastic, software-defined edge networks that is built on top of advanced 4G and 5G cellular services, as well as public WiFi.
MUNICIPALITIES OF ALL SIZE around the world are embracing digital transformation and have launched Smart City initiatives to make service delivery more efficient, improve quality of life, develop new sources of revenue, protect the environment, and respond to a changing threat landscape.
As a result, cities and towns are deploying a wide array of smart technologies, connected devices, in-vehicle solutions, cameras and sensors within their infrastructure and services, such as streets and roadways, first responders, power and water systems, garbage collection and snow removal, and social services.
In less than a decade, Smart Cities have evolved from concept to reality with millions of Internet of Things (IoT) devices deployed across municipalities around the world and connected using 4G LTE and municipal WiFi.
Here are just a few examples of these deployments: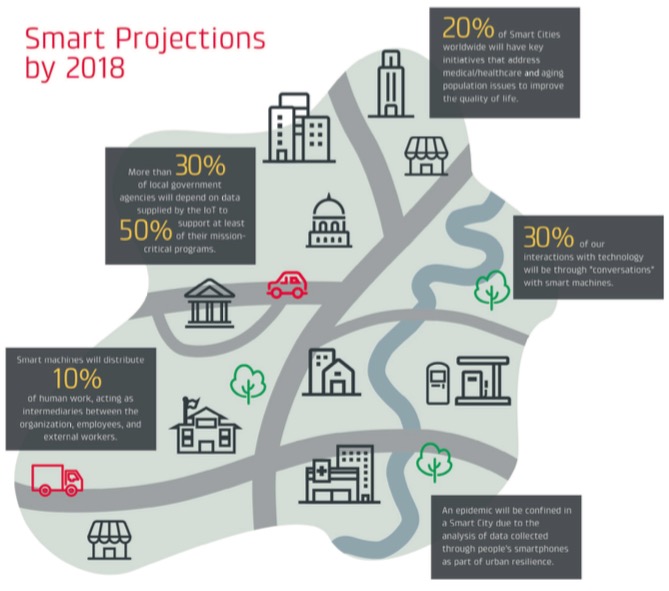 Industry predictions from Gartner analysts speak to the importance of Smart Cities in years to come.
Water and energy
The ability to monitor and manipulate water levels, and related systems remotely using wireless connectivity, can save substantial staff time and accelerate emergency responses. Water managers can collect and analyze water usage at various access points to predict usage patterns, quality and demand challenges on the horizon.
Smart energy grids enable utilities to more effectively manage demand curves, implement more intelligent consumption-based pricing models, and help boost energy conservation. Smart meters are the endpoints of the grid and provide real-time consumption data and energy regulation to aid with peak demand and reward energy-efficient customers.
Connected monitors, sensors and regulators that span from energy plants to meters allow detection of problems and demand surges, and more control of energy flow across the grid.
First responders
Today′s first responder rely on 4G LTE connected in-vehicle and mobile networks to access critical data and applications and to stay coordinated with command centers and other agencies.
These mobile networks have been key to the modernization police systems, replacing paper processes and reporting, which has historically consumed countless hours for officers and commanders, with mobile and online apps. Additionally, dispatchers can remotely examine incident scenes and determine the number of officers to deploy for backup.
Officers can improve crowd control at large city events with real-time video monitoring via tablets and mobile phones. Body-worn cameras can provide a level of transparency and accountability not possible before. Mobile fingerprint scanners can speed up the investigation process in the field and license plate recognition monitors at freeway intersections can notify authorities of stolen vehicles, BOLO (be on the look-out) suspects, AMBER alerts and illicit activity.
Thanks for the speed and reliability of today′s 4G LTE networks, paramedics can consult via video with doctors in real-time and exchange vitals while in route to the hospital, saving countless lives.
For firefighters on the way to a blaze, wireless applications can provide them with immediate access to building schematics, HazMat data and traffic information, shaving minutes off critical response times and giving them vital information en route to the scene. Smart clothing can detail each firefighter′s location, body position, heart and respiratory rates, as well as body temperature.
Protecting sites and buildings
Advanced remote surveillance can capture and analyze video footage to prevent problems such as theft, illegal dumping and suspicious activity. This can save agencies hundreds of thousands of dollars.
Sensors can warn managers of structural problems in buildings, bridges and dams to forewarn and prevent catastrophes. On-site sensors can improve maintenance of plants and facilities with immediate information about machine and parts failure.
Traffic and parking
Updating commuters in real-time through mobile devices and digital road signs can minimize traffic jams and accidents. Cloud-connected traffic signals can dynamically respond to congestion around event venues and create "green tunnels" that quickly move traffic out of the area.
4G LTE connected parking lots and meters reduce congestion, help people find open spaces and enable demand-based pricing while requiring fewer meter enforcement personnel and paper ticket processing.
In addition, drivers can pay for parking with mobile phones so they don′t need to interrupt a lunch or business meeting to "feed the meter".
Branch networks are undergoing change. Cloud applications and IoT devices demand direct Internet access while voice and video traffic is on the rise. Temporary sites, like portable construction offices, are common and are driving enterprise WANs to their breaking point. Elastic Edge technology provides a blueprint for next-generation Edge Networks that deliver pervasive broadband connectivity, cloud-like agility, and software extensibility.
Trash and recycling
Wireless technologies are streamlining the collection, sorting and disposal of trash. 4G LTE and WiFi-enabled, solar-panel trash bins can notify waste management teams when they need to be emptied, streamlining the collection process and reducing the amount of money spent on fuel and vehicle repairs.
Fleet management
Local governments have large fleets of cars, trucks and buses that require in-vehicle networks for employees and passengers. At the same time, these fleets need to be monitored and managed using Automatic Vehicle Location (AVL) technology to track location and vehicle performance. Alerts about vehicle locations, engine diagnostics, idle time, fuel levels and more, can help fleet managers manage the utilization, maintenance and safety of their vehicles.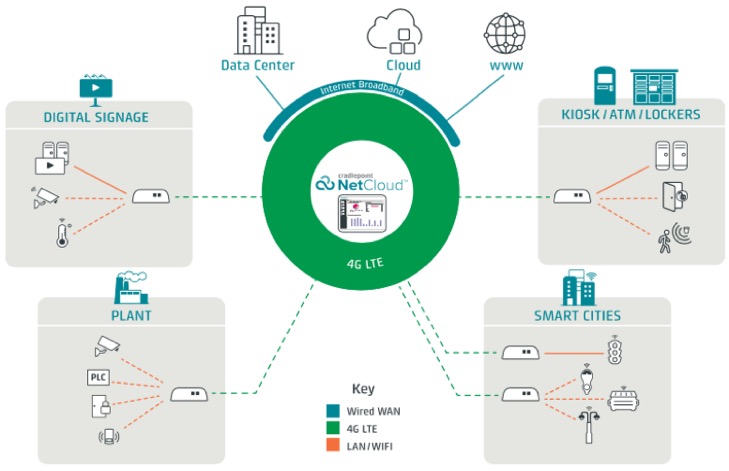 The potential of IoT is accompanied by IT challenges, including the diversity and widespread distribution of IoT devices, the need for a pervasive and elastic wireless WAN with more intelligence at the edge, and far-reaching security implications.
Public transport
Public transit agencies are providing 4G LTE connected in-vehicle networks on buses, light rail and commuter trains to provide Internet WiFi access for commuters and to connect on-board POS terminals and digital signage as well as security cameras. Real-time location updates allow operations team to maintain schedules and provide riders with advance notifications of delays or route changes.
Smart Cities need an elastic edge
Local governments are proving to be early adopters of digital transformation and the use of pervasive wireless connectivity and IoT technologies to better serve their communities, improve public safe, expand services and drive greater efficiencies.
This requires a new approach to wide-area networking (WAN) that leverages elastic, software-defined edge networks to connect people, places and things and built on top of advanced 4G and 5G cellular services, as well as public WiFi. To manage all of these endpoints, IT teams will need to rely on cloud-based management systems that provide orchestration, automation and analytics capabilities, letting them scale-up the WAN without the need to add more resources.
Ken Hosac, Vice President of Business Development at Cradlepoint.