PubSub extension and TSN highlighted at Hannover Fair
Publish-Subscribe, TSN and OPC UA are seen as enabling data interconnectivity and information integration interoperability in the rapidly growing world of the IIoT, Industrie 4.0 and M2M applications.
THE OPC FOUNDATION ANNOUNCED the release of the long-anticipated Part 14 of the OPC UA Standard, known as Publish-Subscribe or "PubSub" for short. Release of the OPC UA PubSub specification is significant because it broadly extends the use-cases where adoption of OPC UA is feasible and preferable.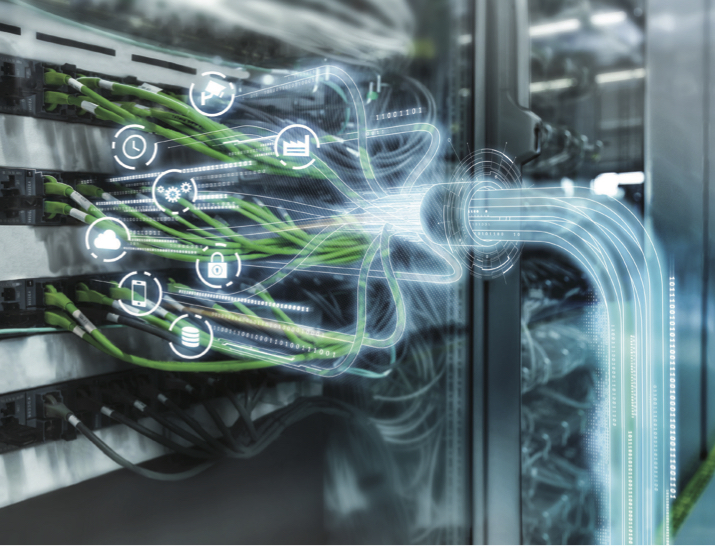 At Hannover Messe 2018, Siemens highlighted a model using OPC UA PubSub (Publisher/Subscriber) together with TSN for machine-to-machine communication. First Siemens' products are expected to be available towards the end of 2018: network components, processors, software processors and network management with TSN functionality.
PubSub Extension
PubSub fully integrates into the existing OPC UA technology but enables further adoption of OPC UA at the deepest levels of the shop-floor where controllers, sensors, and embedded devices typically require optimized, low power and low-latency communications on local networks. First implementations could be realized in 8-bit controllers using just 2kB SRAM. On the other hand, PubSub also enables the use of OPC UA in highly scalable cloud-based applications where a virtually unlimited number of edge data sources such as sensors can supply data securely to internet-based broker applications over public Wide Area Networks (WANs).
The OPC UA open standard has emerged as the de facto platform for implementing secure end-to-end data exchange between third party systems and for facilitating interoperability between third-party devices and applications. With its rich data modeling capabilities OPC UA Client/Server provides the largest eco system for industrial interoperability. The new PubSub extension (Part 14) takes it to the next level reaching out to an even broader scope of applications.
More specifically, PubSub enables the use of OPC UA directly over the Internet (Wide Area Networks) by utilizing popular data transports like MQTT and AMQP while retaining its key OPC UA end-to-end security and standardized data modeling advantages. Similarly, PubSub also enables use of the User Data Protocol (UDP) for establishing low-latency, loss tolerating connections on LANs.
The release of OPC UA PubSub is an important basic milestone to be tunneled through real time channel Time Sensitive Networking (TSN) which will open further scenarios.
Thomas Burke, OPC Foundation President explained, "By extending the reach of where OPC UA can be used both in-and-beyond the enterprise, the Pub-Sub specification helps firmly position OPC UA as a fundamental standard for enabling the implementation of universal data interconnectivity and information integration interoperability in the rapidly growing world of Industrial Internet of Things (IIoT), Industrie 4.0 (I4.0), and Machine to Machine (M2M) applications."
PubSub and TSN at Hannover Fair
Siemens showcased a trade fair model to demonstrate the advantages of Time-Sensitive Networking (TSN) and PubSub at the recent Hannover Fair.
The trade fair model consisted of two robots, each of which communicated over Profinet with a Simatic controller while also demonstrating synchronized motion. Synchronization is ensured by a TSN network using a TSN-based OPC UA PubSub.
According to Siemens, the vital underlying element is Publisher/Subscriber (PubSub) principles. A publisher such as a machine control sends data to the network, which is then available to all subscribers. The subscribers "decide" for themselves whether they require this information. Bandwidth reservation ensures data transmission within the TSN network in an exactly predictable form and irrespective of the network load.
The model illustrates the advantages of OPC UA with TSN: TSN combining existing standards and optimizing Ethernet with an extended Quality of Service (QoS) mechanism, time synchronization, low transmission latencies and seamless redundancy. Users placing heavy demands on reliable communication will benefit particularly from the outstanding advantages of QoS prioritization.
Reserving bandwidth and predictable latency periods ensures that each application is given the communication facilities it requires. The model also demonstrates the coexistence of TSN communication and standard Ethernet communication, whereby data is transmitted from the controller via a communication processor into MindSphere.
Siemens also affirmed that TSN has reached the required degree of technical maturity (including standards), and first components are available on a hardware basis. Siemens and other manufacturers are now able to extend their existing industrial networks to include new applications.
News report with contributions from OPC Foundation and Siemens.