Shaping the future of oil & gas smart predictive maintenance
The recent "lower for longer" pricing environment has forced the oil and gas industry to focus on measures to improve operational efficiency and reduce operational expenses. This transformation has emerged as a driver for the adoption of condition-monitoring solutions.
IN LIGHT OF A CHALLENGING VOLATILE MARKET situation in the oil and gas market, one tool considered as a source of positive change is the Analyzer System Manager (ASM). ASM promotes a more efficient use of limited man power, thanks to its automatic and central remote monitoring capabilities, enabled by industrial communication networks.
Our modern society and the rising prosperity in emerging markets will have a significant influence on the increase of global demand for refined products for the years to come. This is a good reason for downstream companies to encourage innovation and the ability to adapt to new challenges. Moreover, due to intense competition, volatile costs of raw materials, aging assets and retirement of highly experienced personnel, downstream companies are continuously challenged to increase productivity and improve marginal operational efficiencies.
There is a wide variety of final products that can be obtained from refining one barrel of crude oil. For example: diesel, jet fuel, kerosene, LPG (Liquified Petroleum Gases), lubricants, gasoline, olefins, paraffin and other petrochemicals. But before all these useful refined products can ow from refineries to regions of consumption, it is necessary that the crude oil runs through a complex process. In this, the hydrocarbon chains have to be broken up, combined and rearranged. This can be achieved by using fractional distillation, which consists of more than 15 specialized plants and is one of the most important refining processes today.
The efficient separation of hundreds of hydrocarbons contained in crude oil requires a reliable on-line monitoring of the distillation profile of each of these streams. This is where analytical measurement technologies play an important role. With this, the main objectives are to optimize processes and resources, monitor and improve product quality and fulfill emission control guidelines to comply with legal requirements.
Depending on the process complexity, it is possible to have one to more than 200 gas analyzers per refining plant. Here is where plant managers and operators face tough questions: Are the gas analyzers providing reproducible and reliable data? Is there a systematic bias in the results? Do the process conditions have an influence on value anomalies during measurement? Do the gas analyzers need to be calibrated? Is the data sufficient and trust-worthy?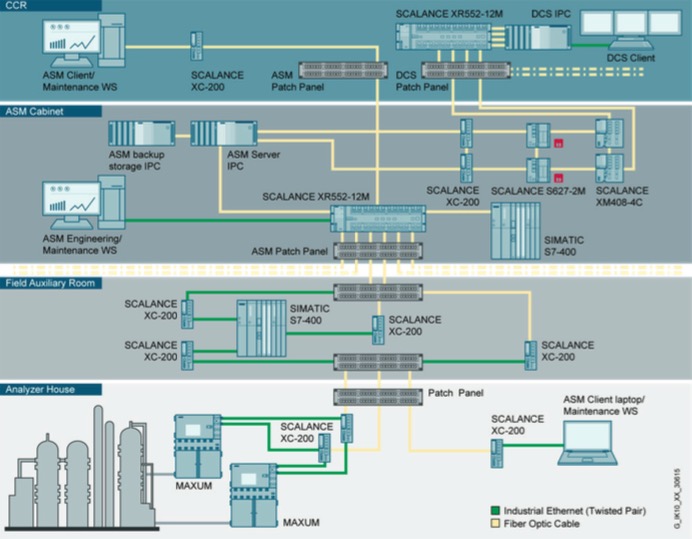 Industrial communications enable monitoring and predictive maintenance of gas chromatographs.
Smart operational intelligence
In order to fulfill the required levels of accuracy, repeatability and reliability of gas measurement, it is important to have a regular maintenance program for gas analyzers in place. AMADAS (Analyzer Management and Data Acquisition System) has proved downstream operators to fulfill these requirements, while offering additional opportunities for value creation.
Operators and plant managers demand one central AMADAS capable to monitor and control a wide variety of gas analyzers, even if they have been procured by different vendors. Additionally, in order to reduce maintenance efforts, it is necessary that the AMADAS is able to generate a performance based automatic and transparent evaluation of the gas analyzers. Here is where large amounts of valuable data are generated, meaning that this information has to be available any time.
With such an extent of isolated applications in plants, facilities, suppliers and sectors of the refinery, it is common to have lack of information, transparency and flexibility.
In the long term, a highly fragmented data landscape generates siloed operations, poor collaboration across the organization, obstruction of operational visibility and as a consequence less agility for decision making.
Analyzer system manager
During the last years, there has been a particularly strong growth in the demand for AMADAS systems in the traditional process industries and oil and gas has not been an exception. Based on expertise and long tradition of more than 50 years in gas analytics and process automation, Siemens successfully developed its own AMADAS system.
ASM is a PC-based HMI (Human machine interface) system which is able to monitor analyzer values, evaluate against reference media and provide a transparent view of all the gas analyzers installed in the plant. With this, ASM has the potential to save approximately 30% of the daily walking distance and time by receiving the actual status at a central place. This time can be used for different activities. For this reason industrial communication networks are a vital prerequisite to enable a reliable and secure data transmission. It means, from the field level through the central data acquisition units up to the reporting and management levels.
From the maintenance point of view this perspective is required in order to achieve centralized monitoring, validation, reporting and manage all maintenance relevant activities of the entire analytical systems. For plant managers, this provides creditable and high-quality measured values for intelligent decision making.
With this, plant operators and managers are able to generate Key Performance Indicators (KPIs). For example: online time, availability time, checking time, Cpk (process capability index), MTBF (Mean Time Between Failures), MTTR (Mean Time to Repair), time in calibration and time in breakdown. Displaying these KPIs in customized summary reports provides a smart transition to a proactive maintenance program in just a few clicks.
Industrial communication networks
Today, one of the world′s largest refineries with a crude processing capacity of more than 1.2 million BPSD (barrels per stream day), has more than 200 Maxum gas chromatographs installed and integrated into the ASM and DCS systems. The ASM software gathers the operational data of the process analyzers and provides a green/yellow/red alarming scheme via a dashboard. This is used to alert the operator about the current status of the gas analyzers for management purposes.
The transparent integration and reliable data transmission was possible thanks to a holistic network architecture based on the industrial network components of the Scalance X family. Additionally, in order to provide plant operators with complete information about the status of the communication network, the Sinema Server Network Management software (NMS) was installed.
Sinema server offers to plant operators, the possibility to have a complete physical map of the communication networks installed in the plant. This includes the diagnostic values of individual network nodes, being decisive when it comes to localizing and eliminating the cause of a network fault. The determined network diagnostics can be easily integrated via OPC (open platform communications) and web mechanisms into the HMI/SCADA or DCS systems. The possibilities of having an event-based signaling system for transparent network diagnostics, or even standardized network documentation reports, are some benefits that Sinema server offered to this refinery.
From process data to information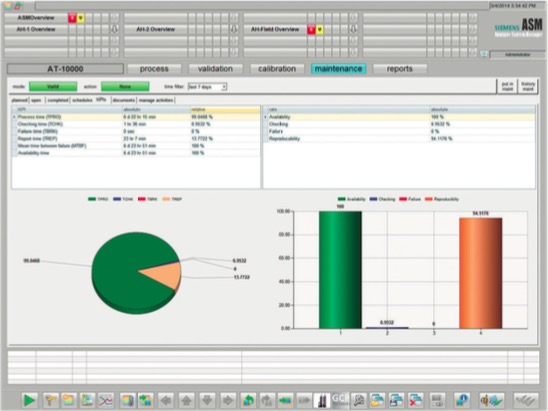 Analyzer System Manager provides an effective visual display of application data.
A leading national oil refining company based in the Middle East handles the responsibility of refining, gas liquefaction and distribution of petroleum goods within the local market. For one of its recent strategic projects, which involved the upgrade and integration of two of its biggest refineries, Siemens provided a one-stop-shop ASM solution. A crucial requirement was the capability of integration into the existing installed base of process analyzers including 3rd party appliances. The decision was based on the ASM capabilities to integrate Siemens analyzers and 3rd party products in its own homogeneous environment.
Another critical requirement was to provide continuous reliable operation 24/7 at 365 days/year. An industrial communication network required to manage such a complex system, needs to fulfill specific prerequisites, which conventional networks are not able to deal with. For example: resilience to single point of failure based on redundant architectures, fast recovery time in case of failures and undelayed data transmission. Additionally, modularity is required in order to ensure easy adaptability of communication to support ongoing optimizations and changes.
A large petrochemical conglomerate which operates more than 25 production sites in Europe and Asia, selected Siemens for the procurement of a one-in-a-hand ASM solution. This strategic project involved the construction of a petrochemical complex to carry out deep hydrocarbon processing for the production of polymers. In such industrial applications, the state-of-the-art TCP/IP communication and Industrial Ethernet standard hardware, simplify the communication between all gas analyzers, field auxiliary rooms, engineering, operating and maintenance stations. Using standard components provides a transparent connectivity from the field up to the ASM for example for monitoring of measurement quality. In fact, this enables operators to improve the prediction of plant downtimes and outage times.
Moreover, the possibility of having visualization and operation from simple single-users or distributed multi-users systems, permits the evaluation of measuring-reliability by monitoring the gas analyzers with different validation routines. This increases the uptime of the gas analyzers, while enabling a statistical evaluation of the operating conditions and key performance indicators such as error rate, frequency of maintenance and availability. Additionally, operators and managers are able to document the performance of individual gas analyzers up to the entire system in the plant.
Transparent data management
Along these projects Siemens has demonstrated its expertise in the oil and gas industry, providing a comprehensive ASM solution from which downstream operators are benefiting. In fact, ASM is based on standard components and one-in-a-hand in-house equipment. This not only eases maintenance, but also permits an integration of a wide spectrum of analyzers with various communication protocols on a common user interface.
Transparent data management is a critical aspect to ASM applications, which require not only a seamless integration, but also a stable and reliable data transmission. Industrial communication is an important building block of the ASM concept, as it permits seamless process data integration from the field level, through the central data acquisition units up to the management levels.
Valuable skilled man-hours are consumed by walk-by maintenance inspections in the plant to simply confirm that a sample system is working properly. This is an important aspect in the decision to go for ASM, as it pays off quickly. However, the system not only reduces maintenance costs due to device-specific planning for the implementation of required preventive or corrective tasks.
It also enhances productivity and efficiency, as it is possible to document the performance of individual gas analyzers for verification, documentation and improvement purposes.
Olmo Castaneira Rios, Process Industries and Drives, Process Automation, Industrial Communication and Identification, Siemens.