OPC UA, Profinet and Time-Sensitive Networking
Is three too many? Or can we benefit from the interplay of OPC UA, Profinet and TSN? All offer individual strengths and weaknesses, and applications will be diverse using these technologies for Industry 4.0 / IIoT networks. And customers will choose the application protocol that best meets their individual requirements.
DURING THE PI CONFERENCE IN FRANKFURT in March 2017, the Pro bus Nutzerorganisation (PNO) caused a shock by announcing that in the future, Profinet will adopt Time-Sensitive Netoworing (TSN) technology even on field level. This means that the IEEE 802 Ethernet standards will be used across the entire Profinet world, even for applications with hard real-time requirements.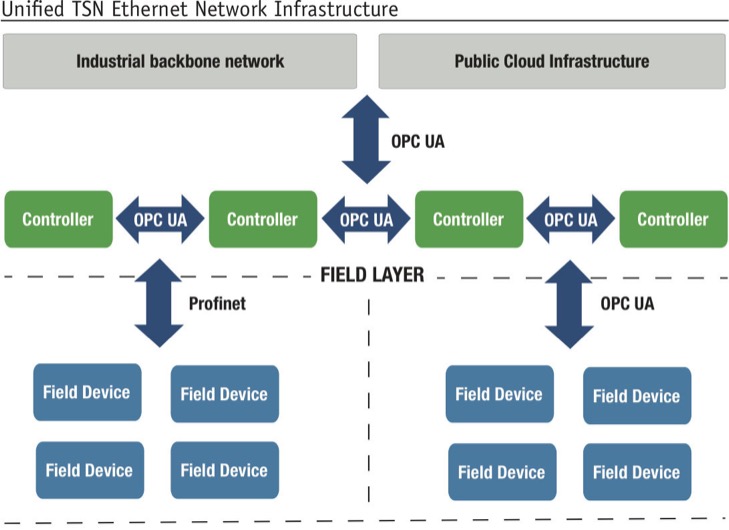 Communication architectures: OPC UA, TSN and Profinet.
Emergence of OPC UA TSN
At the same time, we see how an initiative, generally known as "OPC UA over TSN," is gaining more and more momentum. This became apparent, when at the official 2017 SPS IPC Drives press conference, a large number of supporting companies announced that they had made progress in the development of this technology, for example in test beds.
However, at the same time the PNO has also emphasized that OPC UA represents a universal standard and an important element in its own communication architecture. All these simultaneous developments lead to the logical question: "How does all this fit together?"
Part of the answer can be found in the way that the protocols at application level, for instance Profinet IO or OPC UA, can be partially decoupled from the foundation network technology used for the transmission. With TSN, the IEEE 802 Ethernet standard offers, for the first time, a degree of determinism which meets the requirements of even the most demanding automation network applications. This results in a situation that is compareable with that of a classic IT network, in which a powerful layer 2 transmission technology acts as the basis for a flourishing ecosystem of different application protocols for diverse applications. So, both Profinet and OPC UA can be transmitted over the same network infrastructure, can coexist, and can be implemented in a wide variety of applications each according to the requirements made by the application for/to the network services.
The difference is in the details; the PNO will use TSN Ethernet in the entire network infrastructure and different application protocols are implemented in different areas of the network. More specifically, the PNO will require OPC UA and TSN for controller-to-controller communication flows while for communication flows to the field level, it will rely on Profinet transported via TSN.
In contrast to the approach chosen by the PNO, "OPC UA over TSN, " utilizes one single layer 2 transport technology—TSN Ethernet—together with one single application protocol in the entire network: OPC UA. Here, there is no differentiation between controller-to-controller communication and communication flows to the field layer.
Of course now the obvious question is: "Who is right? Is there a superior solution?"
Looking at TSN
Let′s first consider the use of TSN, a technology based on international standards and widespread consensus. Its adoption represents an important step towards universal and pervasive automation networks. This means that protocol gateways that were needed to translate and relay messages between networks with different transmission technologies are now a thing of the past. Potential customers investing in network infrastructure can now be sure that they will not be betting on the wrong horse when they install new network infrastructure components.
Industry 4.0 and the IIoT can only function if communication is allowed to take place freely without technical barriers. TSN and the IEEE 802 specifications on which it is based provide a real guarantee for this.
The second part of the answer is not all that simple because, as usual, things are not completely black or white. Undoubtedly, there are benefits for customers and manufacturers alike if just one application protocol and one transport protocol are used. Generally speaking, there will be limited implementation costs combined with the theoretical maximum achievable market size and the maximum possible interoperability. On the other hand, entire automation ecosystems such as Profinet (or other Industrial Ethernet protocol suites) have a massive user base and a very well-worked out chain of processes and tools for instance for configuration and commissioning.
In many cases, these toolchains and the value they represent are not directly or completely transferable to another application protocol.
Once again, a comparison to the IT world can be made: here, we have the situation that a large number of application protocols re operating on an underlying, standardized network technology — usually IEEE 802 Ethernet and TCP/UDP over IP. This has not been harmful to the IT world. In fact rather the opposite is the case: the market is lively and dynamic and different manufacturers outperform each other with new, innovative products and services. The world of Industry 4.0 and the IIoT needs this as well: sustainable innovation, which is not necessarily guaranteed through total harmonization, but instead through the correct amount of harmonization, standardization, and - in turn-the necessary freedom for manufacturers to differentiate and innovate.
A superior solution
So what is the superior solution? Profinet with TSN or OPC UA over TSN? Both approaches are expected to be very successful and will serve the automation market of the future, together with some other application protocols that are already established in the market.
All systems will offer their individual strengths and weaknesses, which will be as diverse as the old and the many new applications that will be created in Industry 4.0 / IIoT networks that provide customers with added value. And the customers have the freedom to choose the application protocol that best meets their individual requirements.
Dr. Oliver Kleineberg - Global Chief Technology Officer (CTO) of the Core Networking Business within Belden′s Industrial IT Platform.