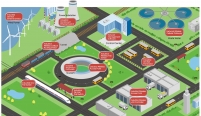 Industrial IoT webinars
The world is becoming more connected, and IIoT technologies like cloud monitoring offer unprecedented opportunities for innovative companies. Analysts predict that Trillions of dollars will be spent by companies as the IIoT rolls out over the next decade.
To help users get an in-depth understanding of IIoT technology, WoMaster is launching a series of free educational "Master in IIoT" webinars. The monthly webinars that run from August through the end of 2018 will cover Smart City system integration, Smart Vehicle and Fleet management, Wireless redundancy over ERPS v.2, LoRa & LoRa WAN , and Smart environmental cloud monitoring. Registration is free and participants can obtain a "Master in IIoT World" certificate.