Durable cables aid in production of biscuits and breads
A leading manufacturer of furnaces for biscuit and bread production designed new cabling systems and connections for its newest production lines. These systems are capable of producing around 4,000 kilograms of biscuits per hour: 24 hours a day, seven days a week.
POWERFUL SYSTEMS FOR MANUFACTURING biscuits and bread are provided by the Italian company, Polin, a manufacturer of furnaces for biscuit production. For its connection solutions, the long-established company in Verona, Italy is relying on a complete package of industrial data transmission solutions.
Thousands of delicious confectionery products are kneaded, stamped, baked, cooled and packed every hour in a biscuit factory. Wide conveyor belts transport the baked goods from station to station. In biscuit production, for example, they are taken to rollers that thin the dough and then finally to stackers in which the finished biscuits are stacked one after another. In the meantime, they are baked in ovens that are as long as an underground train.
These ovens accommodate thousands of biscuits at a time and, afterwards, the biscuits all come out perfectly cooked. A lot of experience is required for a perfect synchronisation - something that Ing. Polin E C. S.p.A., manufacturer of industrial bakery equipment, can claim to have.
Founded in 1929 in Verona, Italy, the company built tunnel ovens as early as the 1930s. Today, the ovens and machines from Verona are in demand around the world in the production of biscuits, bread and sweet baked goods due to their high quality and efficiency. Polin designs and produces tailored solutions that offer high productivity, operational continuity, as well as time and cost optimisation.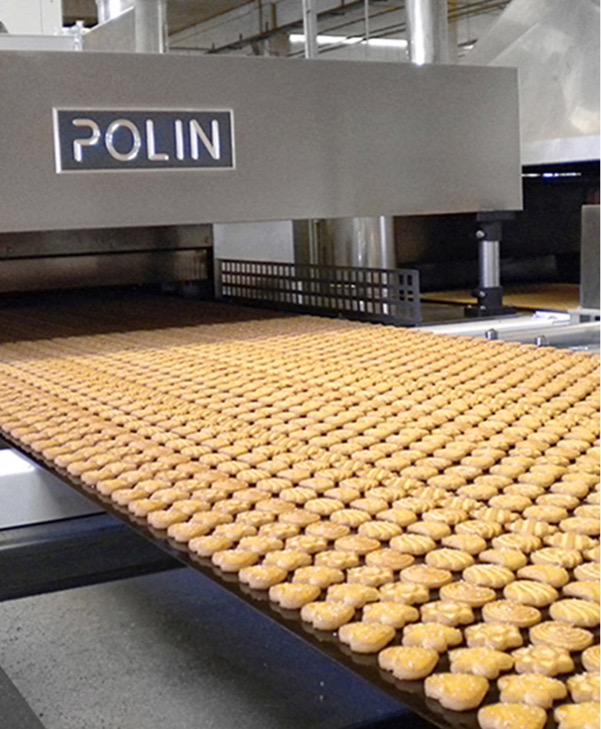 The Italian company Polin, manufacturer of furnaces for biscuit production, relies on effective connection solutions.
4,000 kilograms of biscuits/hour
The systems from Verona are also in demand in Asia. Recently, Polin built a production line that produces around 4,000 kilograms of biscuits per hour: 24 hours a day, seven days a week.
Even for a company with as much experience as Polin, this was challenging. To meet the challenge, Polin is only using particularly powerful and robust components. For example, for the automation side, the company is relying on the expertise of Automation System Srl, which is also based in Verona and has been designing and producing software and hardware solutions for industrial automation since 1999, including for Polin′s baking systems.
Complete system solutions
Automation System recommended working with LAPP on the connection systems. Together these automation experts designed the cabling system and the connections for the new production line.
It consists of three parts: 60 meters of cable are inserted in the machine that shapes the biscuits from the dough, 104 meters of cable are used in the oven and 150 meters of cable are installed in the cooling system. LAPP succeeded in satisfying all customer requirements.
Alongside ÖLFLEX control cables and pre-wired ÖLFLEX CONNECT servomotor cables, LAPP supplied a complete package of industrial data transmission solutions. The package comprises the following components: ETHERLINE Cat.5 data transmission cables for industrial networking of PROFINET applications, the associated EPIC DATA RJ45 and M12 industrial connectors, ETHERLINE patch cables and the ETHERLINE ACCESS U05T and U08T industrial switches.
A system stopping and tonnes of dough or burnt biscuits having to be thrown away is not an option.
Longevity, shortened delivery
"We recommended LAPP as a supplier because we were convinced that its quality and broad product range would certainly meet the special requirements Polin had for this project," Massimo Urbani, owner of Automation System said.
LAPP technology offers both high quality and longevity. A cable defect leading to a system stoppage, and tonnes of dough or burnt biscuits having to be thrown away was not an option. Furthermore, technology options were able to offer convincing solutions for all the required components including industrial data transmission -all from a single source and with a high level of product and solution expertise.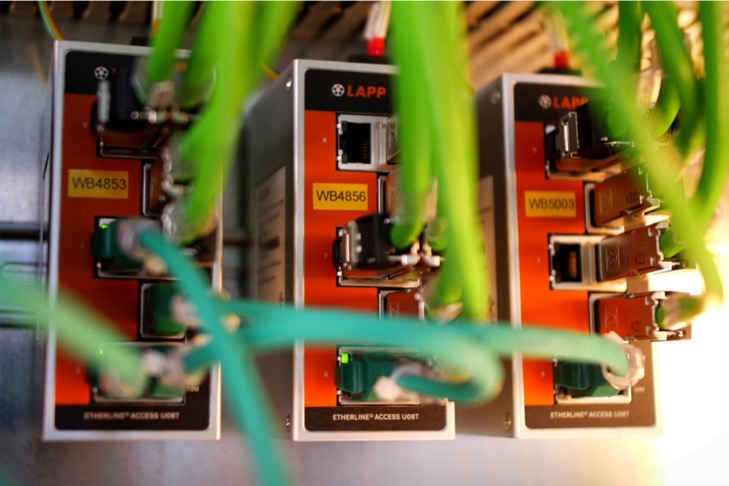 In addition to numerous LAPP data lines and power cables, ETHERLINE ACCESS switches were also used.
"The extensive consultation given when selecting suitable components gives us real added value," said Urbani. Another advantage was being able to make online purchases with very short delivery times. This shortened the time before a new system is launched on the market. Extensive certifications (IEC/EN, UL/UR, CSA, EAC) also guarantee immediate operational capability in various applications in the food and beverage industry.
"Our experts′ close collaboration with our customers and partners is a basic principle for LAPP. Their satisfaction is the top priority," Marco Artoli, Product Manager at LAPP Italia, reveals the secret to success. "The search for outstanding quality was what connected Polin, Automation System and LAPP in this challenging project, and our complete solutions in the field of industrial communication impressed the customers."
In addition to numerous data lines and power cables, ETHERLINE ACCESS switches were also used in the application.
Application article by LAPP.