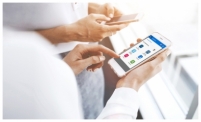 Extracting actionable insights from available data
Based on its recent analysis of the global industrial Internet of Things (IIoT) platform for the power generation sector, Frost & Sullivan recognizes Germany-based Uniper with the 2020 Global Product Leadership Award. Uniperīs IIoT platform, Enerlytics, delivers a comprehensive, real-time view of asset performance by capturing data from multiple sources and performing streaming and batch analytics.
These actions are made possible through its five core clusters of asset maintenance and reliability management, asset performance management, asset risk management, asset market optimization, and asset planning, and valuation. It further builds value into its solution with the plant performance tracker (PPT) and a thermodynamic modeling suite (TMS).
"Enerlyticsī five clusters enable better access to data, data manipulation, and data sharing with a broader audience in an ecosystem. The company then leverages its engineering expertise to extract actionable insights from this data," said Vasanth Krishnan, Senior Analyst at Frost & Sullivan. "Uniperīs advanced multi-dimensional anomaly detection algorithm can model the entire power station, not just the main shaft line. Operators train models on "good" data and create alert limits around them. When an alert occurs, Uniper reviews it and sends it to the site with a full diagnosis and suggested course of action. This process, utilized within the Predictive Maintenance Hub (PMH) application, enables Uniper to break down a complex system into its constituent components to model and monitor."
Meanwhile, a customerīs whole plant and subsystems can use Uniperīs TMS both online and offline for what-if and root cause analyses. These models offer insights for expected performance based on design data, actual performance based on live data, target performance based on design data incorporated known degradation, and the delta between the above levels. Uniperīs TMS ultimately helps operators understand plant performance in relation to design, and then identifies the root cause of any issues with the support of Uniperīs experts.