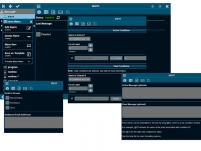 Graphical interface for control systems
BASview3 from Contemporary Controls is a stand-alone, embedded, web-based graphical interface for process automation and building automation systems. It can be accessed from any web browser, providing supervisory functionality to any BACnet/IP or Modbus TCP system. By using Contemporary Controls BASrouter or BASgateway products, additional protocols such as BACnet MS/TP and Modbus RTU are supported.
The BASview3 is housed in a DIN rail mounted metal enclosure and it is 24VAC/VDC powered for convenient installation. A 10/100 Mbps Ethernet connection is all that is needed for communication.
Supervisory features include animated graphic screens, scheduling, historical trending, runtime accumulation and email alarms. BASview3 will automatically toggle outputs and change setpoints on schedule, collect runtime and trend data, and monitor alarm conditions. As an embedded device, BASview3 uses Flash memory for internal storage to maintain its ruggedness. The BASview3 is totally self-contained, requiring no external application for its use. Multiple, simultaneous web browser users can access the device.
The BASview3 is designed for small to medium buildings or processes that require a simple-to-use graphical interface with no licensing requirements. It can handle up to 2000 nodes – a combination of devices, points, schedules, alarms, trends, etc.