Traffic controllers get the green light by Ethernet backbone
Traffic congestion costs the Los Angeles and Orange county region $9.3bn annually, and traffic accidents cost $10.85bn. LA County Public Works has been leading Intelligent Transportation System (ITS) projects in three geographic areas, each comprising approximately 20 cities. As part of this, LA County's Advanced Traffic Management System provides second-by-second monitoring and control of traffic signals. Greg Conley explains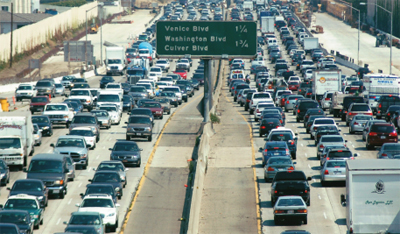 THE CHALLENGE was to extend the ATMS to all intersections in LA County's domain and to create an electronic package that would provide a 'one size fits all' solution to integrating ITS with traffic signal control equipment from a myriad of manufacturers. Systems Integrated (SI), the project main contractor, proposed a solution which created an Ethernet backbone to allow traffic controllers to communicate securely with LA County's traffic management centre.
The contract from the LA Department of Public Works involved network-enabling several hundred traffic light controllers to create the framework necessary for remote management, diagnostics and control. The hundreds of traffic light-controlled intersections were spread over an area that overlapped with the twenty municipalities within the county.
The two main project requirements were to create a private network connecting each traffic intersection back to LA County's ATMS; install an interface board in the traffic controller cabinet to provide a single unifying interface that could communicate back to the Traffic Management Centre via Ethernet on one end, and operate serial or Ethernet to various local traffic control hardware on the other.
The original system design called for an Ethernet-based radio scheme incorporating a radio-to-T1 connection for every eight intersections. SI proposed an alternative solution: create an Ethernet backbone that would allow all of the traffic controller-enabled intersections and their incumbent equipment – camera-based loop detection devices, pavement embedded loop devices and traffic controllers – to communicate over one private TCP/IP packet-based network.

The Lantronix device server module used to provide the network connections
After reviewing several options, SI decided to integrate a Lantronix XPort compact serial server module capable of network-enabling virtually any electronic device. It was a good fit for several reasons. The traffic system cabinets are very small so additional gear would also have to be small. The XPort device measures 34x16x14mm which could be easily embedded on SI's universal interface board. Inside the traffic controller cabinet, the network interface is cabled to a small Ethernet switch connected to the LA County wireless network. The Ethernet connector consists of interface magnetics, RJ45 connector and status LEDs, all contained within the XPort device server shell.
Network software
The XPort RTOS provides several functions to give the ATMS access to monitoring and control tasks. SI supplied a software-based communication protocol interface at the ATMS system site to arbitrate the connection, transferring data to and from traffic controllers through the device server. The RTOS implements a raw listening TCP/IP socket where application software can connect. Once a connection is arbitrated, any data posted on this raw socket is transferred by the XPort to its serial port for transmission to the traffic controller. A reply from the traffic controller is then routed by the device for transmission back to the SI communication protocol interface software.
In addition to the primary device server serial communication function, the RTOS provides a built-in web server for configuration of the unit via a standard browser. It also presents an equivalent configuration interface via Telnet protocol. Other supported network services include SNMP, UPD/IP, ARP, ICMP, TFTP, DHCP, BOOTP and AutoIP. The SNMP support, in particular, was important to the ATMS system rolloutas it provided an endpoint compatible with the LA County network monitoring and management software. The XPort served as a proxy to the non-network-enabled traffic controllers for purposes of determining network connectivity, critical in large distributed networks.
Because a security breach in the system could wreak havoc on traffic patterns, security was a major concern. To mitigate this possibility, all configuration interfaces on the device server are username/password protected using 256- bit NIST-certified AES encryption. The embedded Ethernet module with ease of implementation allowed SI to reduce the time and cost of development, a saving passed on to the County.
Results
Using a single radio system instead of multiple radio systems resulted in a substantial cost savings. With 200 intersections on one T1 (as opposed to eight), the County saved upwards of $6000 per month. Leveraging SI's approach, the Department of Public Works was able to complete the project for 38% less than the cost of a solution using telephone lines and 78% less than a fibre optics-based solution. This achievement helped the Department of Public Works earn a Top Ten Quality and Productivity Award from the County of LA.
Greg Conley is marketing manager, Systems Integrated Inc