History of the IIoT and why it matters for the future
The Industrial Internet of Things, through the cooperation of industry groups and technologies such as Time Sensitive Networking, are making interoperable, converged networks possible. McKinsey & Company claims the impact of IoT applications in factory settings could be as much as $3.7 trillion in 2025.
ALTHOUGH THE IIoT IS A RECENT BUZZWORD used to describe the emerging Industrial Internet of Things, the network technology behind the scenes of manufacturing, transportation systems and on the electrical grid have been evolving rapidly for over a decade.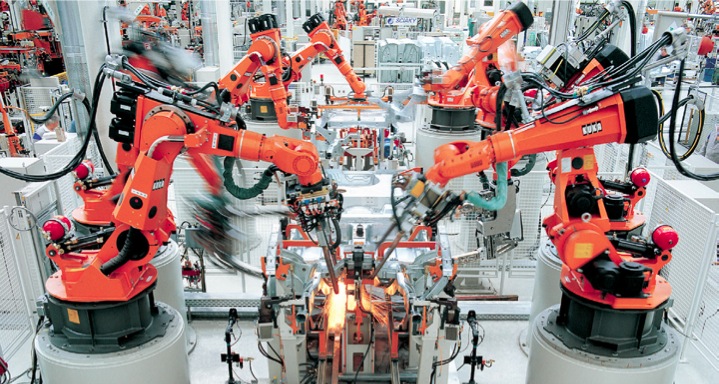 Time Sensitive Networking (TSN) is a core component of deterministic communication and is being driven by investments across markets in the IIoT.
Smart systems and shared data
The Industrial Internet of Things (IIoT) brings opportunity to create smart systems that share data between devices across the enterprise and in the cloud. As awareness surrounding Internet of Things (IoT) standardization continues to grow, more eyes are being drawn to interoperability and network infrastructure solutions, including Time Sensitive Networking (TSN). A standard from the IEEE 802 committee, TSN enables transmission of raw data in a time critical fashion in addition to reducing latency and increasing robustness on a network. To support new capabilities of IoT-enabled infrastructure, designers, engineers, and end-users need to rely on time synchronization and reliable networking.
We look to important milestones in the history of IIoT to provide context to why standard networking protocols like TSN are necessary for progression in the future for end-users, decision makers, and more in the evolving Industrial market. The future of IIoT networking success is dependent on a strong, interoperable network that organizations like Avnu Alliance are helping to create.
To prepare for this, Avnu Alliance selects and certifies a set of underlying mechanisms to meet a given market′s requirements, creating a common infrastructure that others can build on top of to enable convergence between Operational Technology (OT) and Information Technology (IT).
This convergence increases connectivity to industrial devices and enables a faster path to new business opportunities including big data analytics and smart connected systems and machines.
History of IIoT - why it matters
Pre-2009: Real-time Ethernet and efforts to build common foundation were not prioritized. The IIoT Industry was still creating their own unique approaches and network protocols. There are many Industrial networking protocols like Profinet, Ethernet/IP, Ethernet Powerlink, EtherCAT, Modbus-IDA and SERCOS III but do not offer flexibility and interoperability and are individual solutions-based.
In 2009, Avnu Alliance is formed to drive open standards based deterministic networking through certification, and adds first promoter members.
2011: Major automotive manufacturers like BMW and Hyundai offer wide scale Ethernet for in-vehicle automotive networking. Broadcom and NXP Semiconductors are leaders in providing technology.
2013: IEEE 802.1 task group completes AVB standards, it is noted that streaming data can also be used in Automotive & Industrial applications, changes name to TSN to better reflect new scope of standards.
2012-2013: Avnu Alliance announces liaison relationships with automotive networking associations: JASPAR′s "Next Generation High-Speed In-Vehicle Networking Working Group" and the GENIVI Alliance.
November 2014: Markets and Markets report announces Industrial IoT Market will be worth $319.62 Billion by 2020
December 10, 2014: Avnu Alliance launches support for Industrial Market with announcement of three new members leading the industrial networking space - Belden, General Electric, and National Instruments.
2015: Automotive industry adoption of Ethernet for in-vehicle connectivity accelerates with Jaguar and Volkswagen offering it in select models.
June 2016: First TSN plugfest with Avnu members is conducted with NI, Cisco, TTTech, Schneider Electric, Analog Devices, Kuka, Intel, GE and Ixia participating.
August 3, 2016: Avnu member National Instruments announces Early Access Technology Platform for Time Sensitive Networking in coordination with Cisco and Intel, available to select customers and partners.
September 22, 2016: Avnu announces Ruetz Systems Solutions, the first European recognized test facility (RTF) for automotive TSN standards, as an authorized test house for Avnu certification.
January 11, 2017: National Instruments opens Industrial IoT (IIoT) lab to foster collaboration between IIoT leaders to improve interoperability, and serve as a working showcase for latest IIoT technologies, solutions, and system architecture including TSN. Demonstrations include an on-site Industrial Internet Consortium (IIC) test bed.
April 24, 2017: Cisco announces availability of TSN support on its IE-4000 platform.
2017 on: General Electric predicts investment in the Industrial Internet of Things (IIoT) is expected to top $60 trillion during the next 15 years. Source: GE Announces Predix Cloud. With IIoT, there is a strong reliance on open standards to enable secure, predictable, reliable, and uninterrupted flow of information from sensor to cloud.
TSN is a core component of the deterministic communication and is being driven by investments across markets. Avnu Alliance defines the market-specific profiles of TSN and certifies for interoperability, giving members and other protocol organizations a common foundation on which to build their deterministic network solutions.
According to McKinsey & Company, "the potential value that could be unlocked with IoT applications in factory settings could be as much as $3.7 trillion in 2025, or about one third of all potential economic value that we estimate."
Time Sensitive Networking ensures the predictable delivery of time-critical traffic and integrates both with existing applications and standard IT traffic to strengthen interoperability between multiple vendors and systems.
IIoT is growing, how to prepare
Avnu Alliance members are helping prepare for this increasing need for network interoperability through initiatives like the recently published the "Theory of Operation for TSN-enabled Industrial Systems" best practices document describing the system architecture and requirements for an industrial model that enables multiple industry group, vendors and protocols to share a TSN network. The document introduces the fundamental mechanisms needed for a system architecture to build on, including time synchronization, quality of service using scheduled transmission and network configuration and walks through the requirements for several industrial use cases including how to enable and integrate non-TSN technologies where needed.
Avnu members created this document to help designers and engineers in the industry understand the real-world application context and build a TSN network configured for multiple vendor and industry groups.
The IIoT promises a world of smarter, hyper-connected devices and infrastructure where manufacturing machines, transportation systems, and the electrical grid will be outfitted with embedded sensing, processing, control, and analysis capabilities. Once networked together, they′ll create a smart system of systems that shares data between devices across the enterprise and in the cloud.
As the need for time-synchronized communications continues to grow, Avnu Alliance will work with leaders in the IIoT to ensure that more companies are able to successfully use solutions like TSN in industrial settings and beyond.
Albert Mitchell works for Cisco, and is an Avnu Alliance Industrial Segment Member.