Technology
May 20, 2023
Looking at the future of Industrial Ethernet technology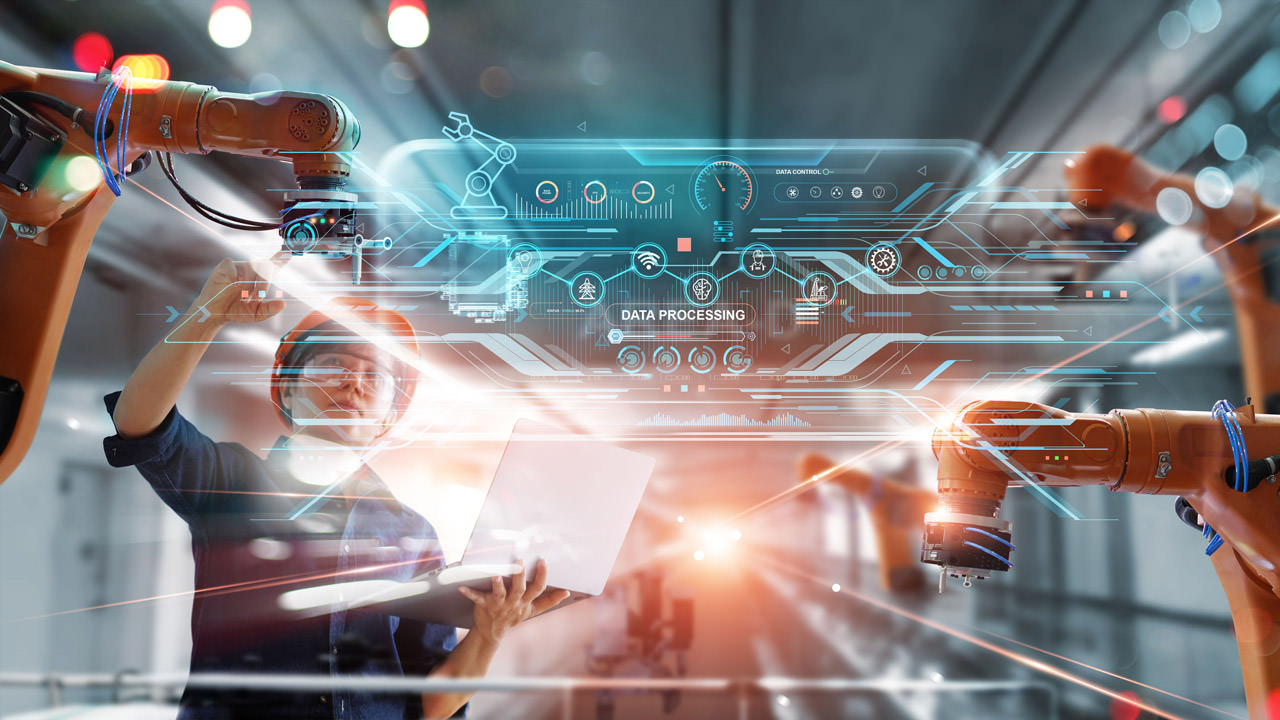 Join us in celebrating 50 years since Bob Metcalfe invented Ethernet technology, but "industrialized" Ethernet is also celebrating its own milestone after passing the quarter century mark. So IEB reached out to industry experts for their perspective on the future of Industrial Ethernet and what to expect moving ahead.
THE FUTURE OF INDUSTRIAL ETHERNET TECHNOLOGY may have never been stronger than it is right now. Fifty years after Ethernet started to make its mark, the industrial version to Ethernet is moving past the quarter century milestone with a solid foundation and perhaps an even brighter future.
In this special report, the Industrial Ethernet Book reached out to industry experts to gain their insights into the megatrends driving Industrial Ethernet technology, new applications and the challenges facing automation engineers.
Industrial Ethernet Dominant
Enabling technology for IT-OT convergence and cloud computing solutions.
"Industrial Ethernet will dominate the automation connectivity market for the foreseeable future given its high speed, robustness, and extensibility," Dr. Al Beydoun, ODVA President and Executive Director, told IEB. "The trend of increased data flow from field devices to the edge or cloud and back for production optimization will continue to help manage growing cost, quality, flexibility, and output pressures. Ethernet can also aid in enabling IT/OT convergence through the usage of the TCP/IP Suite, object-oriented programming, and use commercial off the shelf hardware with communication networks like EtherNet/IP."
Beydoun said that, as Artificial Intelligence (AI) and Machine Learning (ML) find more applications to solve in the industrial space, there will be increased value in having Ethernet all the way down to the lowest level of automation devices. Single Pair Ethernet will be a critical enabler of connecting simple, low-cost devices to the network to enable more effective optimizable feedback loops that will help improve key metrics like OEE.
Additional focus on sustainability will also drive the need to make data-driven business decisions better and faster than ever, and these improvements will be easier to accomplish with the increased bandwidth and flexibility of Ethernet. He added that electronics are also poised to migrate from simply being a phone in the pocket of an engineer or maintenance worker to becoming a wearable that will provide the most value when directly linked into the plant-wide Ethernet network.
Impact on smart manufacturing
"Industrial Ethernet networks that are media independent, such as EtherNet/IP, are able to take advantage of wireless connectivity enabled by 5G and Wi-Fi," Beydoun said. "Automated Guided Vehicles (AGVs) that rely on wireless control are allowing for flexible production lines that can divert components to customization areas, remove a faulty product off the line, or change the order of completion depending on product demand and supply availability. Additionally, private 5G networks can control not only AGVs and other robotics across large physical areas, but can also help to collect data from sensors across a plant to monitor device health and operation status."
Future physical layer technologies such as Li-Fi, which uses modulated light for communication, will be able to withstand high electromagnetic interference and offer significantly increased speeds relative to Wi-Fi. Communication networks that are media independent, rely on IEEE 802.3 standards, and are cooperating across standard development organizations to improve the end user experience will be best prepared to take advantage of new technologies such as Li-Fi.
Beydoun said that ODVA has been collaborating with leading standards development organizations on a number of initiatives – including security through the Industrial Ethernet Security Harmonization Group (IESHG), TSN testing through the "TIACC" TSN Industrial Automation Conformance Collaboration), energy management through the "Power Consumption Management" group, and more – to ensure that EtherNet/IP is best prepared for the future of automation.
Additionally, as AI and ML continue to take up bandwidth on the network, it's also important to have a lightweight network that doesn't add an unnecessary burden, which EtherNet/IP offers since it was developed in a time with far less computing and transport resources. It's also important for a communication network to be able to meet broad group of needs, which EtherNet/IP accomplishes via networks extensions for safety, security, motion, time synchronization, and energy efficiency, versus being focused on a single solution/benefit.
Industrial Ethernet technology
Beydoun singled out Single Pair Ethernet as a technology to watch in the future in terms of its impact on industrial applications and IIoT initiatives.
"Single Pair Ethernet (SPE) is a groundbreaking enhancement to Ethernet that enables the last mile of connectivity to the smallest and simplest of devices," Beydoun stated. "The path to digitalization will require SPE to fully connect automation devices to the network at an acceptable cost and appropriate level of capability. SPE will open the door to reduced wiring, complexity, and increased data for both diagnostics and operational improvement. The Industrial Internet of Things (IIoT) will be realized as a result of SPE connecting both contactors and push buttons in cabinets as well as temperature, level, and flow sensors in the field. EtherNet/IP supports both in-cabinet resource-constrained device connectivity with SPE as well as Ethernet-APL for process applications."
He added that security is also going to be a critical piece of taking IIoT to its full potential by ensuring that when devices are connected to Ethernet that the benefits of the additional data and remote connectivity are able to be taken advantage of without exposing unprotected assets to bad actors.
"While no security system is ever foolproof, multiple deterrents, known as a defense in depth architecture, will help make a target not worth the time and effort. These deterrents can include firewalls, approved listing, deep packet inspection, zones and conduits, and device level security. CIP Security offers device level security for EtherNet/IP as a last line of defense for critical automation applications where loss of life or limb, environmental disasters, or production shutdowns could occur. CIP Security is also available for resource-constrained devices," he said.
IIoT and enterprise connectivity
Beydoun said that IIoT wouldn't be able to offer the same benefits without the high bandwidth and shared IT architectures that Industrial Ethernet offers. Industrial Ethernet solutions such as EtherNet/IP share many of the underpinnings of standard Ethernet including TCP/IP and can work across HTTP, FTP, SNMP, and DHCP to better connect the work cell to the broader infrastructure. This allows data to be transported more easily from the factory floor to the edge, Historian, MES, CMMS systems, and the cloud for analysis and action.
"The amount of data and the speed that it needs to be transported to be useful to improve processes has become possible at an acceptable cost as a result of Ethernet," he said. "Industrial Ethernet solutions, such as EtherNet/IP, also offer many security features found in standard Ethernet that are leveraged for banking and other secure consumer transactions such as TLS and DTLS.
TLS is used for TCP (e.g. diagnostics) and DTLS for UDP (e.g. I/O) messaging. Together, TLS and DTLS allow for confidentiality through message encryption and via message integrity and authentication. Industrial Ethernet security options, like CIP Security for EtherNet/IP, make it safer to move data up from the plant floor and back down again for optimization."
In fact, given the increasing speed and reliability with which data is being transported today via Industrial Ethernet, industry is currently looking at the viability of using virtual machines for control. This would still benefit from lightweight and reliable communication protocols, but could open up the door to hardware independence that would make updating control applications a much easier process on a large scale.
While this may not be possible for more time sensitive applications, it may prove to be advantageous in situations where update times are more spread out and/or devices can run independently if connection is lost temporarily.
Challenges for automation engineers
Controls engineers are tasked with keeping a very complex system up and running on a very demanding schedule. Downtime is never acceptable, regardless of how expensive lost production is per hour at a given plant. Industrial Ethernet allows for additional diagnostics to help troubleshoot issues in less time, which can be used in conjunction with sensor data to detect aberrations from normal operation in the edge or cloud to detect if premature device failure may be imminent.
Additionally, asset management can be made easier with new capabilities like LLDP that can allow for automatic topology and device identification. Further, Ethernet makes it easier to upgrade networks over time as new capabilities are needed on the plant floor given the higher capacity in terms of both devices and bandwidth. Device commissioning can also be done remotely at a rapid pace with Ethernet, which helps free up time for other value-added tasks.
"EtherNet/IP helps to provide the right data at the right time both by offering the Big 12 network diagnostics that expose data related to network health and device loading as well as process device profiles and an OPC UA companion specification that can provide operational information with the appropriate context," Beydoun said. "Additionally, LLDP is supported by EtherNet/IP, which will help aid in asset management as well as to prepare for Time Sensitive Networking (TSN). Furthermore, EtherNet/IP supports FDT, FDI, and xDS device descriptions to improve the experience of both device vendors and end users as well as to prepare for a future driven by Industry 4.0 and IIoT."
Growth in key markets
Driven by data analytics, production efficiencies and sustainability/net zero initiatives.
According to Mike Berg, Senior Business Development Manager at Panduit Corporation, "we are seeing supply chain recovering and project activity increasing and expect continued demand and growth in structured cabling across manufacturing and warehouse automation."
Berg said that the strongest growth is in Automotive, EV Battery, Semiconductor and Electronics, Medical Devices and Logistics segments.
"Our project demand is tied to an overall need to connect devices across the factory and is driven by three key factors: (1) companies seeking better use of data analytics, (2) providing production efficiencies through use of automation, mobile robotics and IoT / IIoT devices across facilities. And (3) increasingly companies prioritizing sustainability and net zero initiatives, driving an adoption of technologies across plant floors that provide energy use efficiencies today and in the future greater use of renewable energy sources powering facilities," Berg stated.
Impact in the factory
Industrial Ethernet products solutions are continuing to evolve and offer technical benefits that are impacting smart manufacturing operations.
"As we help build that network infrastructure for facilities we find a much greater number of IoT devices on plant floors, including Wireless Access Points (AP) that support devices and communications for real time data monitoring, deployed as a mesh across the facility; As well as a proliferation of cameras across facilities, for example a 1 million square foot automated warehouse can have over 3,500 cameras inside and outside the facility, for both security and equipment monitoring," Berg said. "The impact is that industrial network designers are planning for a greater number of Category 6A cabling runs, which is preferred to support both wireless AP and device Power over Ethernet (PoE) demands of up to 99 watts (4PPoE). Demand for Cat 6A nodes will grow as WiFi 7 is adopted and looking further to the future there is potential increased demand for fiber connectivity to devices as well."
Berg added that, from the controls perspective, the ability to use Ethernet across the factory floor is ever-increasing. The recent introduction of Single Pair Ethernet (SPE) is enabling greater data throughput (10Mbps) to sensor devices, longer distance reach (1000m) and power capability (using power over device line) enabling the latest process control systems using Ethernet APL and building automation systems using 10BASE T1-L technology.
These emerging applications will provide data from the edge effectively and better enable manufacturers pursuing real time data analytics and troubleshooting tools and brings the concept of digital twin to reality. The capability of the SPE technology also has strong promise to reduce complexity deploying IIoT devices across plant floors, as more SPE devices become available.
He added that, for a very long time, it has been challenging for manufacturers to implement and use optical fiber across their facilities, limiting performance and distance capabilities in Industrial Ethernet applications. Distributing fiber across the facility required additional planning to ensure proper deployment and protection for reliability and extra cost for terminations in equipment that is only compatible within IT cabinets.
"As the market has evolved industrialized optical fiber solutions are now available, including versatile dielectric armored fiber cable which is strong enough to run across a facility using common j-hooks," Berg said. "Terminations are now easier to deploy with DIN rail mountable boxes built to accept common fiber adapter panels and even fiber cassettes—enabling fiber to deploy within any controls cabinet while ensuring robust performance and long-term durability."
"Industrial Ethernet has grown so strongly across plant floors because of its ability to simplify deployments, address real time data needs, and having versatility to enable future growth," he added. "For automation engineers the core benefit of Industrial Ethernet is providing connectivity (and sometimes power as well) between automation systems with the least number of wires required. Choosing Ethernet simplifies network design and operation, eliminating the support and translation of legacy networks used in OT networks. And with the ability to provide an enhanced suite of robust security measures found in IP networks."
Emergence of SPE & TSN
Evolving toward a unification of industrial connectivity around Ethernet.
According to Peter Canty, System Applications Manager, Industrial Connectivity & Control Group at Analog Devices, the current state and outlook for Industrial Ethernet Solutions is that "all the tier 1's in Process Control and Factory Automation are investigating the benefits of Industrial Ethernet with many now developing their first products to bring to market."
"Single Pair Ethernet is being seeded into the market with Process Control being a strong first adopter. The long reach (>1km), the ability to support intrinsically safe applications and cost benefits of providing data and power on a single pair of wires are proving very attractive for both brown field and green field installations," he said.
Canty added that industry organizations such as Profinet International, ODVA, Fieldcomm Group and SPE Alliance are providing strong advocacy for the unification of industrial connectivity around Ethernet. Display stands at tradeshows are now showing real products, not just prototypes.
"With IEEE now working towards a compatible 100BASE-T1L standard, the future for SPE in industrial applications is bright. The outlook is very positive as Time Sensitive Networking (TSN) also begins to gain traction and becomes the enabling connectivity technology to fully realize the Intelligent Edge," he said.
Next generation technology
Canty said that next generation Industrial Ethernet switches are migrating to TSN to enable the transmission of real-time and non-real time data on the same cable. Barriers are being broken down across the OT network as the adoption of seamless edge to cloud ethernet connectivity removes gateways, data islands and silos. The goal of "Plug and Produce" interconnectivity is being realized as more vendors develop and test products at interoperability events.
"With 10BASE-T1L, Ethernet connectivity is realized over a single pair of wires. This provides several key benefits: substantial reduction in cost of cabling since only a single pair of wires is required instead of four. Connectors are simplified and easier to wire up, reducing material and installation costs. Compared to traditional Fieldbus technologies, Ethernet over 1km of cable enables the acquisition of orders of magnitude more data from remote instruments, thus providing more in-depth knowledge about the edge of the network (pressure sensors, flow meters, depth gauges etc), enabling more actionable insights and intelligent management of the OT. And SPoE (Single Pair Power over Ethernet), as the name suggests, provides power to edge nodes over the same pair of wires as the data, providing further cost benefits, making Industrial Ethernet a more sustainable connectivity solution," Canty stated.
He said that while 10BASE-T1L is an exciting new physical layer, the other major innovation is happening right now at layer2; new TSN functionalities are available for industrial networks.
"TSN allows for better and more efficient network engineering and promises low latencies even in a loaded, converged network. All this without the need for proprietary hard- and software solutions. And, yes, 10BASE-T1L is TSN compatible!"
IIoT and enterprise connectivity
"There are many applications that benefit from Industrial Ethernet – from motion control to flow metering. Yet, the basic principle that enables all these applications is the ability to communicate in real-time with bounded latencies. In distributed automation systems the control loops are closed across the communication system. If communication fails by losing packets, by delaying packets or by introducing too much jitter, there is a negative effect on the quality of the control loop. This can be as catastrophic as utter failures of the entire system. Industrial Ethernet ensures bounded latencies even under heavy loads," Canty said.
Moreover, it offers additional capabilities to achieve high availability systems by adding redundancies. Examples of these in the Profinet world include media redundancy using Ring topologies such as MRP and System redundancy such as S2 where two or more controllers can operate on the same data.
Canty also said regarding engineering challenges that customers face, Industrial Ethernet addresses the four major challenges in an automation system:
Fast, reliable communication with bounded latencies in a decentralized automation world
Moving from fragmented, diverse and siloed communication systems to a unified, ubiquitous, packet based system built on different (flexible) physical layers. This needs to support a vast variety of applications ranging from traditional 10/100/GigB Ethernet to emerging Single Pair Ethernet or Fiberoptics solutions.
Seamless connectivity to the internet without complicated to configure gateways. This enables remote service access, telemetry and the use of all the tools available on almost any modern platform – from phone to laptop to cloud services on tablets, to phones etc.
Achieving this migration in a cost effective and sustainable way. SPE provides a path to retrofit and upgrade to Ethernet using already installed wiring. SPoE provides a power delivery path over the same pair of wires.
Industrial Ethernet & TSN
Sharing the same converged network architecture along with other Ethernet traffic.
John Browett, General Manager at CC-Link Partner Association Europe, told the Industrial Ethernet Book that "until recently, industrial Ethernet was divided up into separate protocols that were generally not interoperable and could not share the same network infrastructure. Moreover, in some cases, they were also not deterministic."
"This led to significant costs for end users and machine builders as often separate networks were needed for different functions. Furthermore, this lack of transparency often made it harder to understand processes and operate them in the best way. Systems were also often harder to maintain, impacting uptime."
Browett said that these issues are now being addressed by Time-Sensitive Networking. TSN offers the potential for all these protocols to share the same converged network architecture along with other Ethernet traffic, while ensuring deterministic performance and greater process transparency due to easier OT/IT convergence. This is leading to major vendors incorporating TSN in their products in order to offer concrete solutions. In turn, these have been adopted globally by major end users.
TSN also provides a way for gigabit bandwidth to be adopted in end user solutions. This increased bandwidth over current 100Mbit solutions means that the "explosion" of data being seen in applications planning to use Industry 4.0 principles will be handled in the most effective way.
Evolution of Industrial Ethernet
Browett added that they are seeing a trend towards the adoption of TSN in a wide variety of industrial Ethernet products. These include most of the key parts required by machine builders to construct their systems. Products already available include PLCs, HMIs, servo drives, inverters, I/O systems, and so on. TSN allows these to all share a common converged network with a variety of other devices that may just be using standard TCP/IP communications, such as printers, barcode readers, vision systems and so on. Hence building systems is becoming easier and less expensive as the need for multiple networks to handle all these different types of traffic is removed.
"A specific example of how TSN is delivering technical benefits is related to systems that use high speed motion control, such as high-speed packaging machines or printing presses," Browett said. "Until now, multiple networks were required to handle various machine functions such as motion, general control, safety and so on. TSN allows control of motion loops at the microsecond level, while also integrating other machine functions onto a single converged network architecture. The result is a transparent process built at lower cost, maintained more easily and with no loss of performance."
IEEE 802.1 TSN
Browett said that TSN is defined by the suite of IEEE 802.1 standards. Since these originated from the professional broadcast and AV industries, some of the standards do not necessarily have industrial use cases. However, two of these standards have been adopted in these industrial use cases to provide solutions that deliver a converged, deterministic network architecture.
The first is IEEE 802.1AS. This provides a common time base across a network, providing synchronization across all devices. This means that the amount of time required for traffic to flow across the network is precisely defined and understood, providing the basis for determinism. The second is IEEE 802.1Qbv. This works with AS to define queuing mechanisms that determine the priorities of different traffic types and hence their access to the network. This ensures that different traffic types cannot conflict and further enhances determinism.
"Some observers have commented that TSN is not a mature technology because its standards are still evolving. All technology evolves and applications need to be built today. The IEEE has a history of providing backwards compatibility as standards develop over time. Moreover, industry activities such as IEEE/IEC 60802 and TIACC will ensure TSN will continue to provide standardized solutions in the future," Browett said.
IIoT and enterprise connectivity
Browett said that, as TSN allows different traffic types to be converged onto a single network, this also offers the possibility to improve the connectivity between OT and IT domains of an enterprise. In the past, process data was often trapped in "silos" that made understanding different parts of the process difficult. This was typically caused by equipment and installations taking place at different times with different technologies.
TSN offers the potential to increase transparency by providing a way for this data to be collected and shared over a single network architecture. This in turn makes it easier for it to be provided to enterprise IT systems, possibly after being filtered first by edge servers to collect the most salient process information.
The result is that processes can be better managed and operated, as companies will have a greater understanding of what is going on in them. They can more easily take the data produced, process it into actionable information and then feed it back in order maximize optimization.
"One of the key issues faced in the past was a variety of incompatible ways to get information out of systems and share it within them," Browett said. "The adoption of Ethernet on the shop floor has meant that a standard physical layer is available for nearly all application types, providing the foundation for single, converged network architectures as offered by TSN."
He said that this common physical layer has also allowed a vast array of products and solutions to be provided by an equally large number of vendors. This has maximized the flexibility of options for addressing application challenges. These also come in ruggedized formats for reliable use in demanding shop floor conditions.
"It's widely accepted today that industrial Ethernet is the way forward for virtually all application types and has been embraced across virtually all industries and the applications within them," Browett said. "This trend will continue in the future, being further driven by additional capabilities such as those provided by TSN."
Ethernet has won
Wireless and cybersecurity represent the two most important evolutions of Ethernet technology today.
Paul Brooks, technology business development manager at Rockwell Automation provided a succinct conclusion on the impact of Industrial Ethernet: "Ethernet has won. Today, it is foolish to look outside Ethernet technology for industrial automation information infrastructure. But we need to consider why Ethernet has won to understand its outlook."
"First, it is easier to design, deploy and maintain than other approaches. For example, unmanaged switches that just plug and work, and network segmentation through routers that allow clear demarcation of responsibilities between IT and OT (what that demarcation is, is for them to locally agree. Second, there are skills easily available in the market, from small scale segments using the same technologies and tools in most of our houses to plantwide architectures using IP technologies taught in most universities and certified by most major IT suppliers (none of which removes the need for experience in how plants work). And third, it is one element of a system architecture that enables solution deployment unifying Ethernet, IP networks, WiFi and 5G (and other cellular technologies). Together, these break the rigid implementations of the Purdue model that left information stranded far from the point of use," Brooks said.
Brooks said that wireless and cybersecurity represent the two most important evolutions of Ethernet technology today. Both are central to enabling the cloud-native smart manufacturing architectures that we know we are accelerating toward. (1) A wireless example is the machine builder running a digital twin of equipment in their own cloud, using wireless enabled AR headsets to allow on-site maintenance technicians to compare real world machine operation to design ideals. Is it Ethernet, is it WiFi, is it 5G, is it on-prem, is it cloud? Or is it all the above? (2) A security example is the pharmaceutical manufacturer with a validated process that wishes to ensure and enforce use of known firmware images in controllers and devices, only interacting in known communications patterns and only being modified by known and authorized personnel with audited change control.
"It is worth noting that no Ethernet or communication protocol layer security can deliver all this user's needs, but without network and communication protocol layer security, other security mitigations have huge holes," he added.
Gregory Wilcox, principal application engineer at Rockwell Automation said that, with the rise of autonomous mobile robots, there is an increasing need for not just real-time communication, but also functional safety communications between static and moving equipment.
"Functional safety can be solved with 5G, as follows: The common industrial protocol (CIP) natively uses internet protocol (IP) protocol data units (PDUs)," Wilcox said. "As such, CIP services like CIP Safety are physical/data link layer independent. CIP Safety (functional safety) can utilize low latency wired and wireless networks since CIP Safety follows the black channel principle as laid out by IEC 61508. Time stamps are used with time expectation to detect if packets are lost, delayed, repeated, or transmitted out of order. Ethernet, Wi-Fi and private 5G provide the reliability and low latency required to support CIP Safety traffic."
Industrial Ethernet solutions
Brooks said that another important emerging technology is the data diode, which allows external experts to gather information from on-prem systems (dependent on local IP routing from a local gateway to an end-point) and then transmit it, using paths and technologies completely under their own control (e.g., machine builder deployed 5G connectivity), to their own cloud infrastructure and applications.
This can be done with little risk* to the end user of either unpermitted data going from the end-user's plant to the supplier's cloud, or any plant operations being directly affected in an unplanned/unmanaged manner by the external expert. Again, networks and communications are only part of the solution, but without their contribution, there can be no solution. *No risk is not achievable; we can mitigate all known risks, use current best practice to protect against unknown risks, and deploy cross-industry class leading technologies with broad adoption to reduce time from breach to fix.
Challenges for automation engineers
According to Brooks, automation engineers represent one stakeholder group in an ecosystem that includes data scientists, network architects and cybersecurity practitioners. The challenge that is unique to the automation engineer in this ecosystem is stranded data.
Data can get stranded in two ways: (1) There is no connectivity from the point that data is generated to the point that it is used. This is where automation engineers need to focus on Ethernet and IP connectivity to the lowest level in the system, which is the device that interacts with the physical world. Rockwell Automation would advise buying EtherNet/IP capable drives and flowmeters (and any other end device) to enable the connectivity from cloud to device, allowing the network architects and cybersecurity practitioners to convert potential connectivity to implemented connectivity. (2) The data is presented as variables with no context.
For example, there is little point in knowing that a flowmeter has a variable set to 12.374 if you don't know if that is temperature or flowrate (and normalized or raw flowrate) and if that flowrate is liters per second or gallons per minute. And at a higher level that the flow represents the output flow of homogenizer #6 on line 6 which is currently making orange juice to recipe #17.
"Automation engineers can focus on how they organize and present data," Brooks said, "so it is easy for a data scientist to integrate data from many different sources with a unified concept of context."
Al Presher, Editor, Industrial Ethernet Book