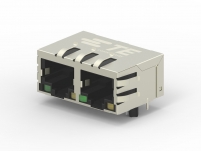 RJ45 jacks with Integrated magnetics
TE Connectivity has launched a new range of RJ45 jacks with integrated magnetics, specifically for industrial applications. TE's standard portfolio includes 1x1 straight and R/A, 1x2, and 2x1 form factors, tab up and tab down, and jacks with and without LEDs. These new RJ45 jacks support voltage mode as well as current mode PHY chips, providing customers with solutions for almost every industrial Ethernet application, like programmable logic controllers (PLCs), motion controllers and high-end industrial computers.
TE's RJ45 jacks with integrated magnetics are made specifically for the industrial market and have a product life cycle aligned with the industrial applications, lowering maintenance costs. Improved reliability results from the jacks' ability to endure continuous operating temperatures up to 85 degrees Celsius, while conventional RJ45 connectors usually cap out at 70°C. Increased gold-plating thickness limits contact corrosion over the connector's lifetime, increases the vibration resistance and improves the number of mating cycles. Electromagnetic interference (EMI) performance is improved due to a higher number of EMI springs (panel ground), with ten springs in the stacked configuration.
TE's RJ45 jacks with integrated magnetics support a cost-effective, infrared-reflow PiP (pin in paste) soldering process with high-temperature LCP (liquid crystal polymer) material, eliminating the need for an extra assembly step when compared to wave solderable RJ45s.