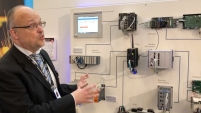 Video: Experts explain TSN
What is IEEE 802.1 TSN Time Sensitive Networking and how will it affect the future of manufacturing networks? Industrial Ethernet Book asks leading experts from B&R, Beckhoff, Cisco, EPSG, Moxa, Renesas and TTTech.
TSN is a set of IEEE standards that add determinism to standard Ethernet, making it suitable for time-critical applications. Will TSN become a replacement or an addition to real-time Ethernert protocols such as EtherCAT, Profinet or Powerlink?