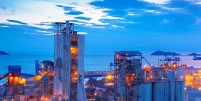 Advanced analytics partnership
e-matica, a systems integrator and applications development firm and Seeq will partner to deliver advanced analytics solutions to their customers. The partnership aims to accelerate digital transformation by harnessing diagnostic and predictive analytics to enable greater operational efficiency and deeper insights across organizations.
Seeq software applications, Seeq Workbench and Seeq Organizer, enable manufacturing organizations to analyze, predict, collaborate, and distribute insights to improve production outcomes. Seeq is designed to run on-premise, on Microsoft Azure or Amazon Web Services cloud platforms, or in mixed on-premise and on-cloud deployments.
e-matica has provided process improvement to their clients for over 20 years in industries like power generation, oil & gas, pharmaceuticals, specialty chemicals, and others. "The decision to enter into a partnership with Seeq is in line with our growth strategy aimed at offering innovative solutions to help our customers improve their operations. Our customers work with data from different sources and have the need to analyze them effectively and efficiently—time is a key factor! Seeq makes it possible to find insights and share critical information quickly," says Luca Spingardi, e-matica Business Development Executive.