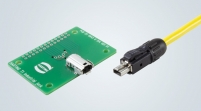 Single Pair Ethernet Industrial Partner Network
The SPE cooperation between Harting, TE Connectivity and Hirose has been expanded with the addition of Würth Elektronik, Leoni, Murrelektronik and Softing IT Networks. The seven companies have established the Single Pair Ethernet - Industrial Partner Network.
Single Pair Ethernet is a major infrastructure building block for the IIoT and Industry 4.0. In order to advance the technology for the rapidly growing IIoT market, seven companies have joined forces. Harting, TE Connectivity, Hirose, Würth Elektronik, Leoni, Murrelektronik and Softing IT Networks are the founding members of the SPE Industrial Partner Network. The partners are united in their support of the T1 Industrial interface according to IEC 63171-6 as a uniform Media Depended Interface (MDI) as defined by ISO/IEC JTC 1/SC 25/WG 3 and TIA42 in 2018. For the reliable establishment of the entire future SPE ecosystem, standards for transmission protocols, cabling and device components will also be jointly supported. Therefore, all members of the partner program are in close exchange and intensive cooperation with IEEE 802.3 and IEC SC46C for uniform transmission standards and copper data cables.
For future users, the organization wants to be a first point of contact for all questions and concerns regarding the construction of SPE networks and devices. Users will be supplied with news and information via different information channels. The partner network wants to provide transparency and clear recommendations for the development of future IIoT applications, and to act as a central information and exchange platform for interested parties.