sps ipc drives 2013 Show Report: Welcome to the real world

Unlike Hannover Messe, the sps ipc drives fair is not about visionary strategies and grand concepts like 'Industry 4.0'. No Angela Merkel and Vladimir Putin talking about innovation and partnership, no prime time news reports.
The show has a distinctively blue collar flair, with visitors looking for practical solutions for their everyday challenges, and exhibitors delivering exactly that. A trade show about real world manufacturing automation.

Related stories





sps ipc drives 2013: The exhibition covered 13 large halls and had more than 60,000 visitors.

Practical automation solutions
Mike Granby, president Red Lion Controls, put it in a nutshell: "What is today called 'Industry 4.0' or 'Connected Enterprise' is simply what we have been doing for the last ten years". Over many years companies have developed and implemented the communication infrastructure solutions to enable what is now presented as the next industrial revolution. Not one giant leap, but many small steps forward. sps ipc drives showed many examples of this evolving, somewhat unspectacular development.
One of these would be the new Flexy router from eWON. With conventional M2M routers a customer had to decide upon installation which network he wanted to use for data transmission. Flexy uses a modular design with expansion boards, making it easy to switch between 2G, 3G, LTE or WiFi communication, and to change the fieldbus connection to the machine when necessary. "The concept of flexibility is not new in industry. It is already widespread for PLCs, but this is a first for the router itself," said eWON CEO Serge Bassem.
Another example of continous development came from Innovasic. Tom Weingartner, VP Marketing and Sales, had come to Nuremberg for the launch of their fido5000, Real-time Ethernet, Multi-protocol (REM) Switch. fido5000 can be paired with any processor and supports PROFINET, PROFINET IRT, EtherNet/IP, ModbusTCP, EtherCAT, SERCOS, and POWERLINK all in a single silicon solution. It also incorporates Innovasic's PriorityChannel Technology that ensures real-time Industrial Ethernet messages are processed on-time regardless of the amount of network traffic. These capabilities make it easier for device manufacturers to adapt their products to the heterogenous network environments in the manufacturing industry.
The new switch configuration software from eks Engel is also designed to make life easier for automation professionals. It runs on PCs, tablets and smartphones and can be fully customized to suit a users individual needs. The user interface can easily be adapted to a given corporate design, and the menu can be composed from modular building blocks for switch diagnosis and management. "The menu structure can be customized with functions like QoS, network redundancy, diagnosis, automatic alarms and much more. Functionality that is not needed is simply removed from the dashboard, making the user interface easy to understand even for operators who are not IT professionals", explaine project manager Christian Gieseler.
There were of course many more innovative products introduced at the show. For a comprehensive overview take a look at our sps ipc drives photo album below:
An international exhibition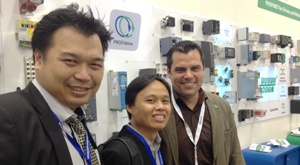 Representatives from Representatives from Malaysia, Indonesia and Singapore at the Profinet booth. sps ipc drives is truly international with exhibitors from 43 different countries.
Major Industrial Ethernet protocols
All the organisations representing the major industrial ethernet protocols were presen at sps ipc drives and announced new features and initiatives.
The CC-Link Partner Association (CLPA) announced the appointment of the first European member to its board of directors and the expansion of its Gateway to China business support programme to cover all of Asia. Gateway to Asia is the expansion of the CLPA's proven Gateway to China programme to embrace Japan, Korea, Taiwan and India, and other growing economies in the region. The G2A supports European automation companies to develop their business in Asia through promotional activities such as exhibitions and advertising, business introductions, development and technical support for CC-Link products, and local support. "G2A provides a bespoke service for each client, that reflects their needs and development plan," explained John Browett, General Manager CLPA Europe. "It will help European companies accelerate their business ambitions throughout a very exciting region of the global economy by using CC-Link's market leading position as an enabling technology." Many European members of the CLPA have already participated in the G2C programme, including Balluff GmbH, which has just been announced as the first European company to join the CLPA's global board of directors.
This year's sps ipc drives was a special milestone for the EtherCAT Technology Group (ETG): Exactly 10 years ago the organization began its activities at the 2003 trade show with 33 official founding members. Almost in perfect timing with this anniversary, the ETG recently reached yet another milestone: the Chinese machine manufacturer Sany Heavy Industry Co., Ltd. has become the 2,500th ETG member. Looking to the future of the organization, the EtherCAT Technology Group team plans to continue opening up new regional and vertical markets. Martin Rostan, Executive Director of the EtherCAT Technology Group, explained: "The remarkable success of the past 10 years shows that we were right with our strategy and could even convince entire industries to standardize on EtherCAT. The semiconductor manufacturing industry, for example, made its decision in favor of EtherCAT as a system bus for a new generation of silicon wafers. On a regional level we also achieved some significant results: In Japan, for example, EtherCAT is the only fieldbus technology that is not from Japan but has become a de facto standard there."
'One network for all' was the motto of this year's Ethernet POWERLINK Standardization Group (EPSG) exhibit. "At the 2013 SPS IPC Drives show, anyone can see by the densely populated multi-vendor wall at the EPSG booth that POWERLINK ranks at the top of the list of real-time communication systems", said Stefan Schönegger, managing director of the EPSG. "Every day, the number of new POWERLINK-compatible products is growing across all automation segments."
The ODVA announced that the next edition of the CIP Safety Specification will include services for safe motion applications. With the addition of these services to CIP Safety, users will be able to deploy networked motion control systems using EtherNet/IP and Sercos III in applications requiring safe motion functions such as safe torque off and safety limited positions. "CIP Safety provides users with a proven approach to functional safety that is supported by multiple vendors and two leading consortia, ODVA and Sercos International," stated Katherine Voss, president and executive director of ODVA. "The extension of safe motion to CIP Safety will further accelerate adoption and innovation in motion control systems using EtherNet/IP and Sercos III."
PI (PROFIBUS & PROFINET International) presented its new "PROFINEWS" news app. The PROFINEWS app can be downloaded free of charge for Apple and Android devices from the App Store an Google Play Store. Users can use the PROFINEWS app on smart phones or tablets. With the new PROFINEWS app, users will receive up-to-date information about PI and its technologies directly on their devices anytime anywhere in the world. Readers can always catch up on the latest news quickly regardless of their location and a push notification service informs users automatically about important topics. Articles of interest can be shared directly with colleagues. In Tech Tips, readers will receive practical advice on the use of PI technologies from selected PI experts.
The stand of Safety Network displayed a number of newly certified products, including the Moxa EDS-208-M-SC and EDS-408, and Harting Ha-VIS Fast Track FTS 3060-A Ethernet switches. The latter guarantees priority handling of safety data over all other network traffic. One focus of the organisation is to support members with a series of Automation Security Bulletins. The first issue, entitled "Use managed switches", illustrates why it is really worth using network switches with built-in management functions in every application – including small ones. These guidelines are the result of the "Security Workgroup", supported by members of the organisation, who share their expertise for the benefit of all users of SafetyNET p. The aim of the working group is to support users of SafetyNET p in their everyday work, in order to develop machines and applications that provide both safety and security.
Sercos International presented a multi-vendor solution with a roll-to-roll process that requires perfect alignment of track transport and processing units. Control-based Motion Logic Control (IndraMotion MLC) from Rexroth, which uses the Sercos automation bus, with integrated tension controller and winder functions were claimed to reduce engineering costs by up to 40 percent. netSWITCH for Sercos III from Hilscher allows any Ethernet telegrams from outside of the Sercos ring to be channeled parallel to Sercos real-time telegrams by using a time slot process. This makes it possible to couple standard Ethernet devices, such as a PC for servicing purposes, to the Sercos network and allows these devices to communicate bi-directionally with any number of Sercos participants via their IP channel.

The big guys
All the big names in automation were present with huge stands. Siemens Industry Automation occupied almost the entire hall 2 (and should consider providing Segways for visitors to make their way around the stand). Industrial Communication featured prominently within the 'Making Things Right' theme, including a giant model of the new Scalance XM-400 Ethernet switch. Two new product lines expand the portfolio for wireless data transmission in cabinets and at field level. The compact Scalance W761-1 RJ45 access point and the Scalance W721-1 RJ45 client moduleare designed to implement wireless machine networking out of the cabinet, with cost and space savings, for example, in conjunction with the Simatic ET 200SP distributed I/Os. The components feature IP20 housings and support transmission rates of up to 150 Mbit/s. The second product line comprises the Scalance W774-1 RJ45 access point and the Scalance W734-1 RJ45 client module and is designed for transmission rates up to 300 Mbit/s. These devices are enclosed in a compact and robust aluminum housing, provide a slot for the Key-Plug W700 iFeatures swap medium and support Power-over-Ethernet (PoE). Additional functions, known as iFeatures, such as iPCF, can be activated via key-plug in a later delivery stage. The design, based on Simatic S7-1500, permits fast and flush installation directly adjacent to the new Siemens controls or the powerful Simatic ET 200MP distributed I/Os.
'1 µs' said a big sign at the entrance of the B&R Automation stand. It refers to the cycle time of B&R's new I/O technology reACTION, designed for extremely time-critical automation tasks. This new approach allows subprocesses to be managed using standard hardware - within the requirements of IEC 61131 - while cutting costs by reducing the load on the controller and optimizing performance to match demands. With reACTION technology, programs created in the function block editor are executed directly on I/O modules from the X20 and X67 series, eliminating internal data transmission and allowing response times to be reduced to as low as 1 µs. B&R takes advantage of the Automation Studio 4 development environment's ability to allocate software modules to distributed hardware and utilize the surplus capacity of logic components in the modules.
The Google Glass for industrial automation was quite a show stopper on the Beckhoff stand. This technology study for a new concept of machine operation uses the Google Glass head-up display for information plus digital camera. This allows status or dialogue messages or additional information such as documentation, web pages or videos to be called up. The service technician, for example, can read the properties, history or current status of the sensor or actuator by reading in a QR code on the motor or limit switch. Andreas Thome, Product Manager PC Control, said that Google Glass has the potential to change or at least to supplement the operating philosophy on the machine, and give an example of the fusion of Internet technology and automation technology within the framework of Industry 4.0.

sps ipc drives 2013 Video Gallery
A selection of videos from the sps ipc drives 2013 trade show.
---
Live News
---
SPS/IPC/Drives Product Highlights
Here are some of the new products and solutions introduced at SPS IPCDrives 2013.
Servo terminal with One Cable Technology

The servo terminals from the EL7201 series for the Beckhoff (stand 7-406) EtherCAT I/O system integrate a complete servo amplifier for motors up to 200 W in a standard HD terminal housing. A new advancement in this area, the EL7201-0010 version supports the 'One Cable Technology' (OCT) equipped on the AM8000 servomotor series instead of the traditional resolver interface. OCT combines power and feedback signals in one standard motor cable. Material and commissioning costs can be significantly lowered as a result. The EL7201-0010 allows monitoring of numerous parameters, such as overvoltage and undervoltage, overcurrent, terminal temperature or motor load. EtherCAT, as a high-performance system communication, and CAN-over-EtherCAT (CoE), as the application layer, enable interfacing with PC-based control technology. The latest power semiconductors guarantee minimum power loss and enable feedback into the DC-Link when braking. 16 LEDs indicate status, warning and error messages as well as possibly active limitations.


The EL7201-0010 servo terminal supports the 'One Cable Technology' (OCT), which combines power and feedback signals in one standard motor cable.
---
Higher scalability and faster response time

With Scalability+ Bernecker + Rainer (stand 7-110) aims to establish a new philosophy for scalability. This new approach opens allows machine builders to perfectly tailor an automation solution directly to the needs of a specific machine. Hardware and software solutions can be selected to best fit the current requirements. If it becomes necessary during development that the components or solutions need to be scaled up or down, this can be done at any time without losing a single bit of the work that has already been done.
The show is also the venue for B&R to unveil reACTION – an innovative technology that is claimed to reduce cycle times to unprecedented levels. This new approach allows extremely time-critical subprocesses to be implemented using standard hardware – all within the requirements of IEC 61131– while reducing not just the load on the controller, but overall costs as well.


Scalability+ is designed for machine manufacturers to perfectly adapt automation systems to the needs of the machine without having to make compromises along the way.
---
Products and services for efficient automation networks

Belden (stand 10-120) is presenting a range of new products and services at SPS IPC Drives. As well as enhancing the productivity of systems and machines, these innovations can also be used to implement additional applications. The BE43802 Belden data cable is a railway-approved Cat 7 cable that complies with class TX (EN 50155:2007) heat-resistance requirements. It also provides extra bandwidth for additional Ethernet applications that can bring enhanced comfort and safety to passengers. Innovations from the Hirschmann product range at the fair include a new version of the Industrial HiVision network management software, the OpenOCTOPUS online configurator, and HiLCOS 8.8 WLAN firmware. A further highlight is the 24x7 Technical Support Plan, a worldwide all-round service for networks. New products from the Lumberg Automation product range also being showcased at the Nuremberg event include ruggedized I/O modules from the LioN-R series for Profibus DP.


The Belden The 24x7 Technical Support Plan promises to significantly increase the availability of Ethernet networks based on Hirschmann or GarrettCom equipment, and to enhance the productivity of business processes.
---
Slim form factor Ethernet switches

The new Essential Line from eks Engel (stand 9-401) consists of five industrial Fast Ethernet switches. These are only 3 cm (about 1.18 inches) wide, saving valuable cabinet space. If installation depth is an issue the switches can even be side mounted on a DIN rail. The Essential Line includes one model with eight 10/100 BASE-TX ports and four versions with additional fiber optics connectors. Possible combinations are 8 TX/2 FX, 4 TX/2 FX, 4 TX/1 FX and 4 TX/3 FX. The fiber optics connectors are available for single-, multimode-, HCS-fibers and POF. This allows for Ethernet connections up to 30 km (18 miles). All models are EMC-hardened and have an operating temperature range of -40°C to +70°Cn. The stainless steel housing measures 155 x 30 x 100 mm. The fiber optics versions support BiDi technology which allows to use a single fiber with SC-connector for bidirectional data transfer. Versions with ST and E-2000 connectors are also available.


The Essential Line Fast Ethernet switches are only 3 cm wide, saving valuable cabinet space.
---
Modular industrial M2M router

To satisfy the need for multiple connections in industry, eWON (stand 6-337) is launching Flexy: a flexible modular industrial router with expansion boards. Industry today must cope with the constant and rapid development of communication technologies. Barely two years ago, the latest thing was 2G (GPRS), but now everybody talks about 3G or even 4G (LTE). WiFi wireless technology is now also very widespread in industry. "When a manufacturer approves and deploys a solution, it demands a continuity period of at least ten years," says Serge Bassem, founder and CEO of eWON.
eWON Flexy is designed to satisfy this need to upgrade communication technologies without the need to switch products. With its concept of basic modules that can contain up to four expansion boards, Flexy offers its end-users an almost unlimited number of possibilities: from a simple serial, MPI, or Profibus gateway to Ethernet, to the WiFi LAN router with redundancy via 3G modem.


Flexy is a modular router with a basic modules that can contain up to four expansion boards.
---
Security Router with 3G mobile interface

The industrial mGuard security appliances from Innominate (stand 9-532) are now available in mobile versions. interesting for machinery and plant engineering with a high export share: with combined 4 GSM and 5 UMTS/HSPA frequencies and the US CDMA2000 EV-DO standard, the new mGuard devices provide an almost global coverage. Provider redundancy with 2 SIM cards is supported. Via GPS/GLONASS, location information for mobile applications and global time synchronisation for stationary systems is provided. Using the integrated COM server, serial devices can also communicate worldwide securely over Ethernet and VPN connections, without additional protocol converters. The integrated managed switch and dedicated DMZ port support the setup of secure local network structures, such as with separation of production and engineering network.


The new mGuard security routers support 4 GSM and 5 UMTS/HSPA frequencies, and the US CDMA2000 EV-DO standard.
---
Next generation industrial Ethernet switch

Innovasic (stand 6-210) announces its next generation of Industrial Ethernet switch identified as the fido5000, Real-time Ethernet, Multi-protocol (REM) Switch. The fido5000 REM Switch can be paired with any processor including any ARM CPU or Innovasic's fido1100 communication controller and supports PROFINET, PROFINET IRT (version 2.3), EtherNet/IP, EtherNet/IP with Beacon-based DLR, ModbusTCP, EtherCAT, SERCOS, and POWERLINK all in a single silicon solution. Unlike other standalone switches that leave protocol integration up to the user, the fido5000 REM Switch comes with a driver for each protocol to easily configure the switch and integrate the protocol stack. While EtherCAT and POWERLINK do not technically use a switch, the fido5000 can be configured to meet all of the performance and connectivity requirements for these protocols.


The REM Switch incorporates Innovasic's PriorityChannel Technology that ensures real-time Industrial Ethernet messages are processed on-time regardless of the amount of network traffic.
---
Real-time solution with image processing and servo drives

The real-time extension 'RealTime Suite' from Kithara (stand 6-119) contains a highly deterministic preemptive real-time multi-tasking system, as well as additional modules for automation, hardware access and image processing in real-time. Thus it can transform a PC with the Windows operating system into a productive platform for machine engineering and testing rigs, automation and robotics, image processing, control systems and measurement acquisition. The more than 20 different functional modules include an EtherCAT master, which can be used to implement challenging automation tasks and machine controls. CAN and CANopen are also supported. Special drivers are able to receive images from GigE Vision cameras directly in the real-time context. By embedding image processing libraries, for example HALCON or OpenCV, image processing in real-time can be implemented. At the exhibition the capabilities are demonstrated with an integrated solution with GigE Vision image acquisition, image processing with the HALCON library and an EtherCAT master for controlling servo drives and I/Os.


The 'RealTime Suite' supports all current Windows operating systems, including Windows 7 and Windows 8. The real-time application can be programmed in C/C++ or Delphi as well as embedded in C#.
---
Cellular router for industrial applications

The new cellular router UR5i v2 Libratum from Lucom (stand 6-430) Libratum has been developed for industrial applications which require high levels of data security. This is achieved by VPN technologies such as IPSec, Open VPN, L2TP, GRE. By using UMTS/HSPA+ this industrial router enables fast rates of data transmission. It enables data transfer with a maximum download speed of 14,4 Mb/s and a maximum upload speed of 5,7 Mb/s – thus being particularly suitable for video transmissions, for connecting LANs and for various mobile devices. Libratum can connect a large number of terminal devices to the Internet or Intranet. UR5i Libratum utililises embedded Linux and supports network standards such as HTTP, DHCP, NAT, VRRP, SNMP, DynDNS, SMS, NAT/PAT, Telnet, SSH or Remote Control via SMS. Additional hardware features include an extended operating temperature range of -30°C to +70°C, two Ethernet 10/100 ports, two SIM cards and optional WiFi.


The new cellular router UR5i v2 Libratum allows maximum upload speeds of 5,7 Mb/s.
---
M12 jack for field assembly

A new product introduced by Metz Connect (stand 9-440) is an M12 jack for field assembly for future-proof and high performance 10 Gigabit-Ethernet cabling in communications cabling and for automation control units. The jack is offered in two variants as X-coded version: with or without flange. The flange variant is suitable for installation in equipment, machines or plants and the variant without flange is used for free line connections.
In accordance with Cat.6A, these M12 jacks are suited for data transmission up to 10 Gigabits. Due to complete metal shielding with a robust zinc die-cast housing, the M12 jacks for field assembly can also be used for difficult transmission conditions without problems. In plugged state, the M12 jacks offer protection class IP67, unplugged jacks can be protected with a dust cap as option.


Due to complete metal shielding with a robust zinc die-cast housing, the M12 jacks for field assembly can also be used for difficult transmission conditions.
---
Modbus RTU/ASCII/TCP to EtherNet/IP Gateway

The Moxa (stand 9-231) MGate 5105-MB-EIP is an industrial Ethernet gateway for Modbus RTU/ASCII/TCP and EtherNet/IP network communication. To integrate existing Modbus devices onto an EtherNet/IP network, the MGate 5105-MB-EIP can be used as a Modbus master or slave to collect data and exchange data with EtherNet/IP devices. The latest exchange data will also be stored in the gateway. The gateway converts stored Modbus data into EtherNet/IP packets so the EtherNet/IP scanner can control or monitor Modbus devices (MGate supports both EtherNet/IP adapter and scanner). It is configured via web or Windows utility and provides complete packet analysis and diagnosis information for maintenance. The gateway enables easy I/O data maintenance via web interface, it has a microSD card for configuration and system log backup, and it is available as wide operating temperature model for -40 to 75°C. The gateway´s Modbus port has 2 kV built-in isolation protection, and it comes with built-in Ethernet cascading for easy wiring. It also supports Moxa's MXview industrial network management software via the MXview Plug-in.


The MGate 5105-MB-EIP gateway converts Modbus data into EtherNet/IP packets so the EtherNet/IP scanner can control or monitor Modbus devices.
---
New Profinet Switches

Among the new products of Phoenix Contact (stand 9-310) are two Profinet switches. FL SWITCH LM 8TX-B is designed for PROFINET networks in machine building and meets the requirements of PROFINET Conformance Class A. In addition to its eight RJ45 ports, the switch has a PTCP filter which is activated by default. In combination with the Quality of Service (QoS) function, this enables the cost-effective creation of large PROFINET networks. Furthermore, the Lean Managed Switch range offers numerous functions for creating and diagnosing high-availability, redundant networks.
FL SWITCH IRT IP TX/3POF offers IP65/IP67 protection to enable distributed PROFINET fiber optic networks in the field. Thanks to the use of ERTEC technology, the switch is optimized for PROFINET applications. Using cut-through switching technology, you can achieve short latency when forwarding packets. Thanks to an integrated PROFINET I/O device, the switch can be fully configured and monitored from the PROFINET controller. In addition, the device has three polymer fiber ports which can be used to create interference-free fiber optic structures that can be diagnosed.


The new switch offers a variety of functions for creating and diagnosing high-availability, redundant networks.
---
Up to 24 Gigabit Ethernet ports in a flexible modular format

The modular N-Tron NT24k managed Gigabit Ethernet industrial switch series from Red Lion (stand 8-518) offers up to 24 Gigabit Ethernet ports and a flexible modular format for different configuration options. Available in rackmount and DIN rail models, the NT24k switches provide versatility to customers through Gigabit and 100Base connectivity options in both copper and fiber. With all Gigabit capability and a versatile array of connectivity options, the NT24k switches deliver configuration flexibility that meets industrial networking requirements across industries such as factory automation, utilities, video surveillance, security, transportation and alternative energy. The NT24k includes expanded shock and vibration tolerances and an extreme operating temperature range. It also offers redundant power input options, configuration backup and an onboard temperature sensor to ensure maximum reliability.


The NT24k offers a full set of management features include Web browser management, SNMP, Jumbo Frame support, port trunking, port mirroring, DHCP client, 802.1Q VLAN, 802.1p QoS and more.
---
New firmware for TPS-1 PROFINET chip

Renesas (stand 6-234) and KW-Software (stand 7-540) will provide the new firmware version 1.2 in December after continuous system and IOP testing with market leading PROFINET makers. This version supports multiple new features, including support for shared and highly modular devices, plug and play, extended logbook, FX/TX media converter and more. The firmware V1.2 feature set is based on the PROFINET specification version 2.3. It supports all real-time classes and fulfills the most stringent netload requirements easily. Due to the separation of application and real-time Ethernet, minimum integration efforts are needed to achieve the most robust PROFINET implementation. With the increasing number of PROFINET enabled nodes, KW-Software and Renesas enable their customers to benefit from this favourable market environment by providing the technology at a highly competitive price.


Dozens of PROFINET products are already based on the TPS-1 chip. The new software package is designed to further increase the attractiveness of the product.
---
Versatile switch in a compact design

Siemens Industry Automation Division (stand 2-201) is expanding its portfolio of Industrial Ethernet switches with Scalance XM-400. The new product line comprises two basic devices for connecting up to 16 network stations, such as controllers from the Simatic range. Both devices are equipped with electrical RJ45 ports and optical SFP slots which are designed for bandwidths of 1 Gbps. Siemens also offers port extenders, which can be connected without the need for tools, that extend the basic devices with additional connections for up to 24 network stations. This means that users are able to configure switches to suit all applications, which reduces the costs per port as well as the space re-quirements. An optional key plug also activates Layer 3 functionality which supports static and dynamic routing and enables the storage of configuration data. Scalance XM-400 is used to structure Industrial Ethernet networks and to connect automation components via networks in plants in the manufacturing and process industries.


Siemens is expanding its portfolio of Industrial Ethernet switches with SCALANCE XM-400. The product line comprises two basic units and port extenders for connect-ing up to 24 network stations.
---
New I/O modules with VARAN interface

A a lot is happening with the new S-DIAS I/O system from Sigmatek (stand 7-270). In addition to the digital input and output modules, analog I/O and combined modules are now also available in compact dimensions of 12.5 x 103.5 x 72 mm. Other new additions include special modules for thermal elements, axis positioning, current regulation and measuring technology. Safety is fully integrated and already TÜV-certified. The S-DIAS I/O system communicates over the real-time Ethernet network VARAN with 100 Mbit/s. Per VARAN interface, 64 modules with 1,280 I/Os can be connected. The update time is under 60 µs. In addition to the fast data exchange, the new I/O generation provides a high package density with up to 20 channels per module, mechanical stability and vibration resistance, as well as toolless mounting and comfortable handling.


The S-DIAS series is designed as an alternative for applications, where until now, only special circuit board solutions had to be used due to space restrictions.
---
Data logging and data visualization in a single unit

The newest member of the Softing echo product family is on display onstand 7-580: echograph combines data logging and data visualization functionality into a single unit, supporting a wide range of interfaces to controller systems from a multitude of manufacturers. Through these interfaces the device periodically polls process and manufacturing data and visualizes the data on any network enabled desktop PC, laptop, tablet PC or smart phone via a HMI which is based on native web technology – with no need for an OPC Server or a complex SCADA system. To increase data security, process data can be stored on an SD card for subsequent analysis. In case of critical changes or faults in system operation, echograph sends alarm messages directly via its integrated mail client and allows rapid troubleshooting. echograph thus gives plant operators a quick and easy way to assess the manufacturing situation on the spot and take appropriate action.


echograph combines data logging and data visualization functionality into a single unit, supporting a wide range of interfaces to controller systems from a multitude of manufacturers.
---
75 percent less space required

The new connectivity system "Industrial Mini I/O" from TE Connectivity (stand 10-210) is a small, compact and reliable wire-to-board I/O interface that permits reliable high-speed connections in various applications and angles, and requires up to 75 percent less space than conventional connectors. This increases the design flexibility on PCBs and makes it possible to reduce the size of overall applications significantly. With two points of contact for reliable connections, the connector is designed for industrial and high-vibration environments, allowing for increased reliability compared to other I/O alternatives. A compact latching feature provides a high retention force of up to 98 N which protects the plug from accidental pull and unmating. This pre-vents unnecessary downtime, unstable connections and unnecessary consequential losses. In addition, the Industrial Mini I/O is available in two polarized versions to prevent mismating. The four most common applications for the connectivity system are industrial communications, motion and drives, PLCs, and robotics, or anywhere that design engineers need to reduce PCB space by 75 percent.


A compact latching feature of the Mini I/O provides a high retention force of up to 98 N which protects the plug from accidental pull and unmating.
---
RJ45 plug with integrated power contacts

One of the goals of Yamaichi (stand 9-420) during the development of the new Y-ConProfixPlug was to create a RJ45 connector which is able to transmit 10G Base-T, easy to handle and fulfils the stringent Category 6A according to the ISO/ IEC 11801 standard. According to Yamaichi, the dimensions of the Y-ConProfixPlug are the smallest of all available plugs on the market. Even in rows or clusters the plug fits into every RJ45 multiport jack. A unique feature is the power transmission of up to 3.1A via the special integrated power contacts while being fully compatible with the standard RJ45 connections. Yamaichi Electronics offers the plug with optional additional power contacts, so the customer has the full flexibility to choose. Regarding the cable dimensions, the Y-ConProfixPlug supports different outer cable dimensions as well as different wire types. The connector is designed in such a way that it can be reused up to 5 times with different AWG and diverse types such as solid and stranded wires.


The Y-ConProfixPlug offers optional power transmission of up to 3.1A via the special integrated power contacts while being fully compatible with the standard RJ45 connections.
---