Applications
November 18, 2021
Connecting container cranes across the globe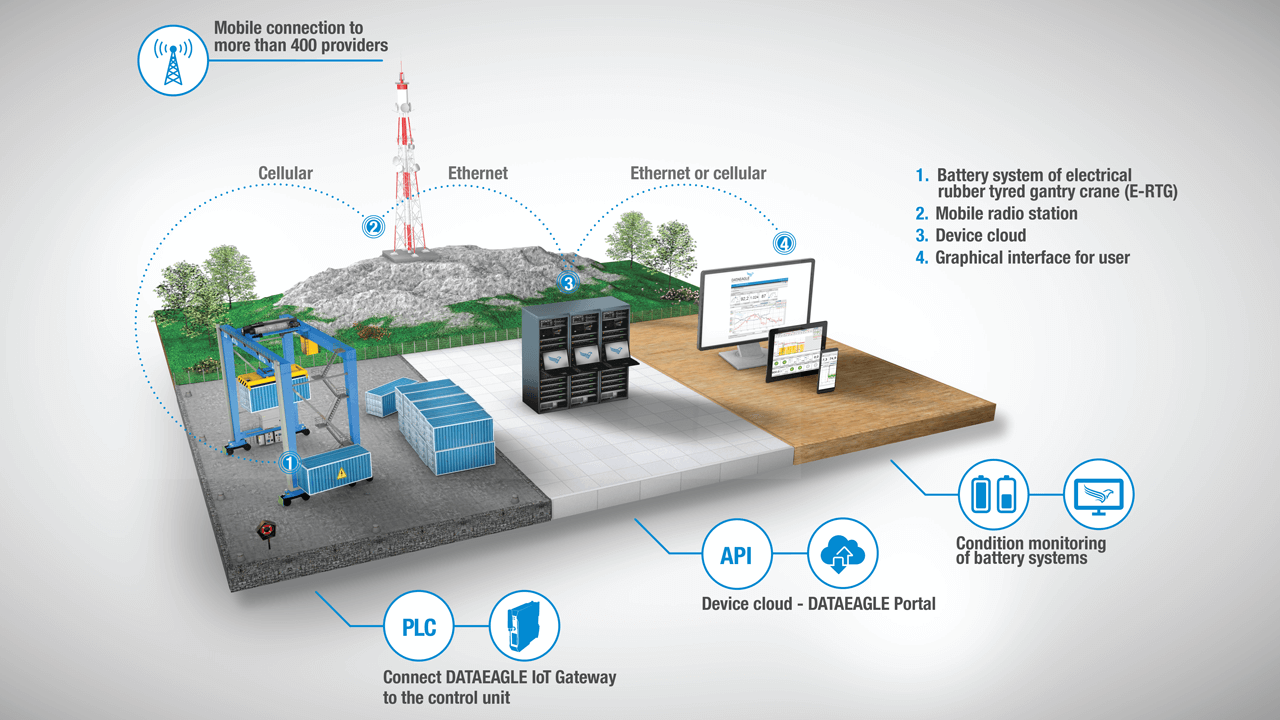 IoT Edge-Gateway enables remote monitoring of the power supply for electric RTG cranes.
Conductix-Wampfler makes ferris wheels turn, cranes move and steel mill conductor systems run. Since 1902 the company has built energy and data transmission systems for any mobile equipment and machinery imaginable, across a wide range of industries.
It requires a strong focus on innovation to stay in business successfully for over a 100 years and on top of that, continuously being a world leader in its field. Now Conductix-Wampfler is pushing the envelope once again, integrating sensor based wireless remote monitoring technologies into its products. To achieve this, Conductix-Wampfler collaborates closely with long-term partner Schildknecht. At the moment the two partners are testing new technology for remote monitoring of batteries powering electric container cranes.
The Electric Rubber Tired Gantry Crane (E-RTG) is a highly sophisticated machine, operating in container terminals around the world. Instead of being restricted to moving on a track the E-RTG crane is able to straddle multiple lanes on its rubber wheels, securing maximum mobility and speed. However, the crane's flexibility has a downside: how do you provide stable power supply? As long as it moves along container corridors the crane can be powered via conductor lines and motorized cable reels. But outside the corridors it has to rely on "onboard" power. So far diesel generators have done the job, but now container terminal operators are looking for more environmentally friendly and cost-effective alternatives.
To meet this demand, Conductix-Wampfler has designed battery containers mounted directly on the crane. These battery containers are sophisticated devices packed with hi-tech components that need to be monitored by sensors to secure flawless operation and maximum uptime.
Sensors transmit voltage, temperature, pressure, and humidity measurements to an industrial cloud for visualization and evaluation. And as the cranes are situated in different locations around the world, it is crucial that data can flow freely all the way from source to destination.
Challenges – metal and distance
Some of the problems to be solved came from the cranes themselves: they are continuously in motion, and on top of that, the gateways in the battery containers are surrounded by metal. Therefore high performance radio communication technology is required to secure dependable and stable data transfer.
Another challenge was posed by the fact that E-RTG cranes powered by Conductix-Wampfler power solutions are scattered in container terminals around the world. So, if you want to roll out your remote monitoring solution on a global scale, you need to design a global connectivity infrastructure, the cranes being on the edge of the network and a web portal in its centre, located with the operator monitoring the equipment.
Solution – tried-and-tested equipment
Building on the long-time collaboration between the two companies, Conductix-Wampfler was able to define the requirements for this demanding remote monitoring solution clearly and quickly. And Schildknecht managed to successfully implement the solution using the DATAEAGLE 7050, a product already tried-and-tested many times in similar settings.
On the input side, this gateway receives up to eight sensor signals via Bluetooth Low Energy interface and additionally via fieldbus such as PROFINET and is connected to the battery management a Siemens S7. On the output side, it connects via mobile radio (2G-4G) to the DATAEAGLE industrial cloud portal.
After a trial period Conductix-Wampfler is deploying a number of DATAEAGLE 7050 gateways with varying configurations in a number of locations worldwide. These gateways collect mission critical application data about voltage, temperature, pressure, humidity, etc. from each battery container. After pre-processing, the gateways send this data via radio communication to the cloud portal for visualization and further analysis.
Result – dependable measurements, intuitive overview
Conductix-Wampfler has equipped a number of E-RTG crane battery containers with remote monitoring technology developed in collaboration with Schildknecht. Evaluating the preliminary test results both partners are confident that they are on the right track. They have succeeded in securing dependable and stable data transfer in a harsh environment. And on top of that the portal presents measurement data in an accessible way, giving monitoring personnel a quick and intuitive overview of the condition of the equipment.
Remote monitoring of sophisticated and expensive, globally deployed machinery has evolved into a promising Industry 4.0 business model. Schildknecht AG is a successful pioneer in this area by linking its powerful DATAEAGLE line of industrial wireless devices with the global connectivity offered by mobile communication networks. Conductix-Wampfler, a world leader in power and data transmission, has recognized this potential, according to Michael Eckle, CTO, Conductix-Wampfler:
"To us this Industry 4.0 solution is a crucial element of our future business development. We have a global presence and our customers expect our systems to be operational 24/7. That is exactly what we want to achieve with this project, and we are confident that with Schildknecht AG we have found a highly capable partner for Industry 4.0 applications."
Author Elena Eberhardt, Business Development Manager, Schildknecht AG