Applications
November 12, 2019
Fiat Chrysler conveyance system boosts production flexibility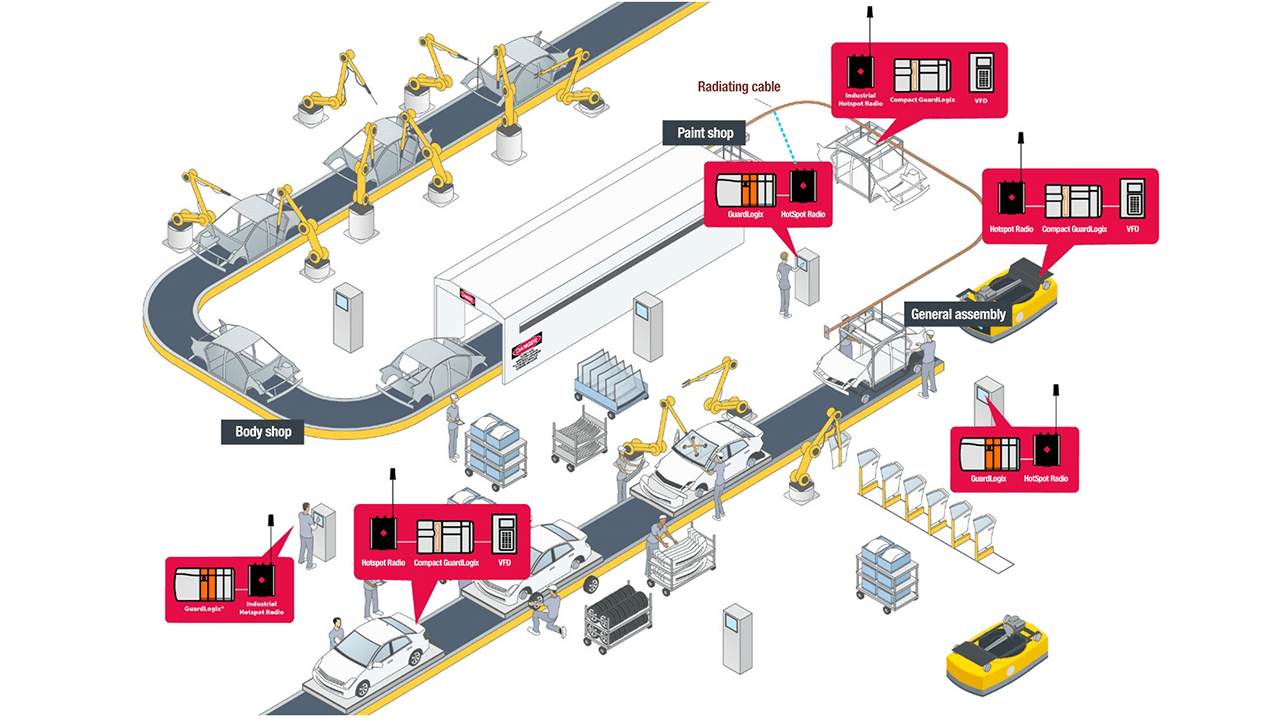 A new conveyance system at Fiat Chrysler Automobiles utilizes a Compact GuardLogix controller, paired with an industrial hotspot radio to facilitates communication. The radios transmit control, safety, and diagnostic data from each carrier back to the traffic cop PLC, to ensure carriers are operating efficiently and effectively.
Key to any company's success is innovation and keeping up with the times. A major vertical that deals with this constantly is the automotive industry. Product needs abound from major sources. Consumers want the latest and greatest improvements to ensure value and safety, and having a great-looking vehicle is important for many people as well. Regulators around the world, meanwhile, can keep manufacturers very busy as they seek increased sustainability.
Multiply that constant innovation by 12 brands, and you get an idea of the lean manufacturing processes that Fiat Chrysler Automobiles (FCA) focuses on to ensure its long-term success. When vehicle models change each year, how do you stay on top of the trends while not losing sight of the bottom line?
In two of FCA's Midwest facilities, conveyance lines for three of the company's vehicles (Wrangler, Gladiator, and Ram) needed an upgrade to take stress off employees and better prepare for new models' requirements. The conveyance shepherding vehicles through the manufacturing process in General Assembly was the company's focus for the application.
"The top priorities in this project have been our employees and ensuring a flexible system as new models are designed," said Chen Subramanian, Facilities & Conveyors Group Manager at FCA. "Our workers were manufacturing at a high rate for long hours, and the movement was constant, including bending and twisting. Changes to our conveyance process previously were very costly and took a lot of time."
Those changes could occur for minor to major changes to FCA vehicle models – so they were frequent, to say the least, to allow the company to maintain its competitive edge.
FCA knew of an alternative conveyance system that would have required the company to cut the Power & Free conveyor track, then change and re-weld it. The process couldn't be done during production, and a common conveyance had to be used for all body styles, which meant the system's mechanical design would have been more complicated.
The manufacturer found a solution, starting with a Rockwell architecture; the pairing of GuardLogix and Compact GuardLogix controllers was a new (and ultimately successful) one for FCA.
Each carrier is outfitted with a Compact GuardLogix, which is paired with a ProSoft Technology Industrial Hotspot radio that facilitates communication between the carrier's processor and the GuardLogix that serves as the system-level PLC. The radios transmit control, safety, and diagnostic data from each carrier back to that traffic cop PLC, helping FCA ensure the carriers are operating efficiently and effectively.
Subramanian said that benefits of using ProSoft's radios included the solution's Ultra-Fast roaming time and its compatibility with the Rockwell equipment. He noted ProSoft's support assistance was a differentiator as well; a site survey and support during and after installation helped ensure the application's smooth performance.
This pairing has helped FCA revamp its conveyor system to be employee and innovation-friendly. From a technical standpoint, Subramanian said, the improvements have brought several benefits:
A flexible conveyance system that is ergonomically friendly for employee operators
The conveyance system can quickly adapt to new model changes, with FCA only paying the upfront cost once
Changes are done in software and can be implemented based on the car model's body style
In addition, he estimates that, assuming changes every model year, adopting this system saves FCA approximately $300,000 to $400,000 per year in capital equipment spending.
In addition, the lower cost of maintenance and training saves the company at least 40 minutes of downtime per day – which adds up at 260 days per year.
Lauren Robeson Menting, Prosoft Technology