Applications
November 30, 2022
Reliable Performance in Grid & Traffic Control Applications
New grid trends and Smart Traffic Control can reduce energy dependence and slow the global greenhouse effect.
Smart grids utilizing energy communication technology, the power transmission from power plants and substations, energy storage systems, and user terminals combined with forecasting capabilities, create scenarios similar to the Internet of Things. Additionally, smart intersections and rail traffic control applications use real-time image analysis and remote sign control to manage the traffic flow of all road transportation, and dynamically avoid unnecessary or excessive vehicle stops. This leads to smarter and more efficient savings of energy and time.
IG5 Rack Quick Features at a Glance
Full Layer 3 managed 1 RU rack mount form factor
Hardened for vibration, shock, surge, and electrical noise immunity.
IEEE 1588v2 PTP hardware time-stamping (w/ power profile and default profile).
DnA Support for monitoring and signaling I/O Alarms.
Double-sided LED panel offers flexible rack cabinet installation.
4 I/O combinations and redundant AC or DC power modules.
Application of intersection and rail traffic control
With NEMA TS2 and EN50121-4 certification, signals installed at road intersections and railway tracks or platforms ensure communication reliability for a variety of traffic signs, control loops, cameras and sensors. All signal and video data collected from the terminal is forwarded to the control center without any omissions. The IG5 Rack is the perfect hub switching solution for this kind of application.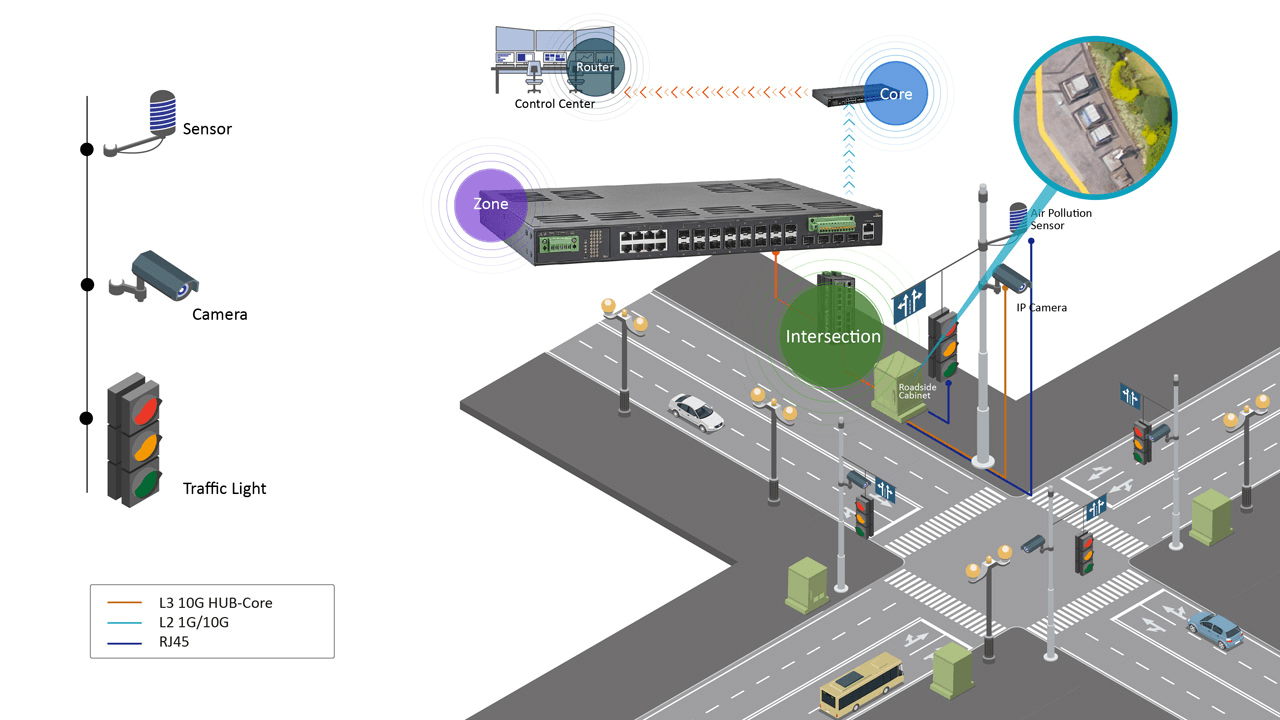 Real-time control of grid information
All ports of the IG5 support hardware timestamp defined by IEEE 1588v2 to ensure time-aligned data transmission for continuous monitoring of the overall power grid. This allows immediate measures to be taken and feedback delivered to the system to isolate problem areas and achieve self-healing. This prevents large-scale circuit interruptions in supply.
EtherWAN is introducing the InfraGreEn IG5 Rack Hardened series of Full-Gigabit Managed 28-port switching platform that combines the advantages of Layer 3 routing protocols with robust management features.
Making our Lives Smarter & Greener
Currently, when issues related to the construction of smart cities are often mentioned, EtherWAN IG5's reliable high environmental stability and low-latency real-time transmission of remote monitoring comes to the forefront. In both energy distribution through smart grids and the implementation of smart transportation systems, The IG5 is an important component of data structures in which all information flows without hindrance, contributing to environmental protection.
Videos
(1) IG5 Rack in Digital Substation
(2) IG5 Rack in Transportation Intersection
EtherWAN – " When Connectivity is Crucial
Click below for more information: