New Products
November 5, 2020
Lean Managed Switches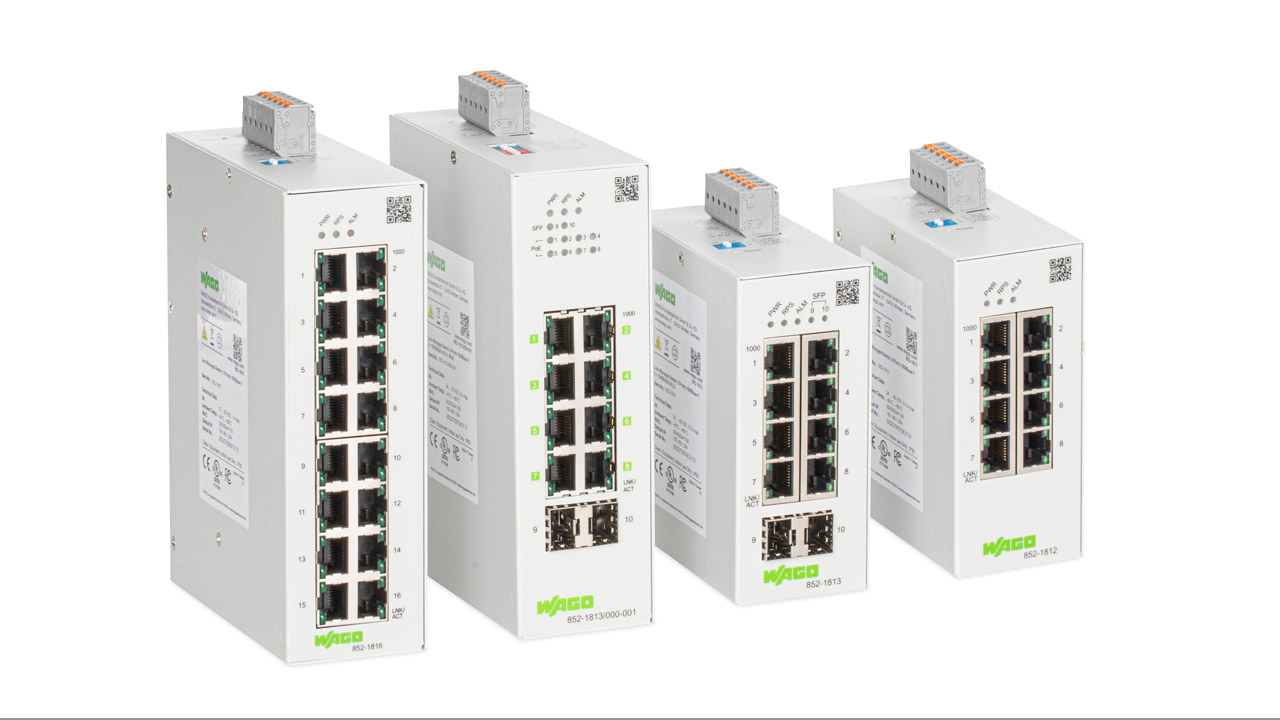 New Lean-Managed Switches are available for secure and robust network installations, as well as for ensuring high availability and security. The new switches complement WAGO's line of network infrastructure solutions with new functions – particularly for network diagnostics.
The switches are available with 8 or 16 copper ports capable of baud rates up to 1000 Mbit/s. Devices with two extra SFP slots (100/1000 Mbit/s) are available as an option for connecting fiber optic cables. A Power over Ethernet version supplies connected PoE devices with 24 VDC, which is common in control cabinets. The power output per PoE port can be up to 30 W.
WAGO has placed a great emphasis on creating an intuitive and easy-to-use interface. The Web-Based Management allows installation, commissioning and diagnostics to be performed without extensive IT knowledge. Users enter the switch's IP address in a standard browser and then directly access the diagnostic dashboard or network view (topology map). The diagnostic pages of the Lean-Managed Switches accelerate system troubleshooting.
The individual connection status is indicated by the familiar concept of green, yellow and red traffic lights. A detailed status overview of individual connections is displayed when the mouse hovers over a connection. In a new window, the user can then see the bandwidth, the load and any transmission errors.
During commissioning, the individual network participants can be easily taught-in. As soon as a physical connection is established at a port, clicking the "Teach-in" button will register participants. Identification is performed via LLDP or the MAC address of the connected devices. If a connector on the switch is disconnected, the port is shown in red on the diagnostic dashboard.
Another easy-to-use function within the diagnostic dashboard is the loose connection feature. A port link down statistics function records all transmission errors for each port to quickly locate and fix any loose connections resulting from defective connectors, for example.
In addition to intuitive operation and diagnostics, WAGO's Lean Managed Switches support numerous features to increase security, availability and robustness within the networks.
Both hardware and WAGO's new switches' operational design readily adapt to all automation and building technology requirements. In addition to their easy-to-use and compact design, these DIN-rail mount switches also feature an extended temperature range from -40 °C to +60 °C. Furthermore, a redundant power supply ensures even more uptime.
All housings are equipped with a 2D barcode containing a link to an operating manual and data sheet. This link also provides one-click access to support services.
WAGO