New Products
August 3, 2021
20-Port Fiber Rich Managed Switches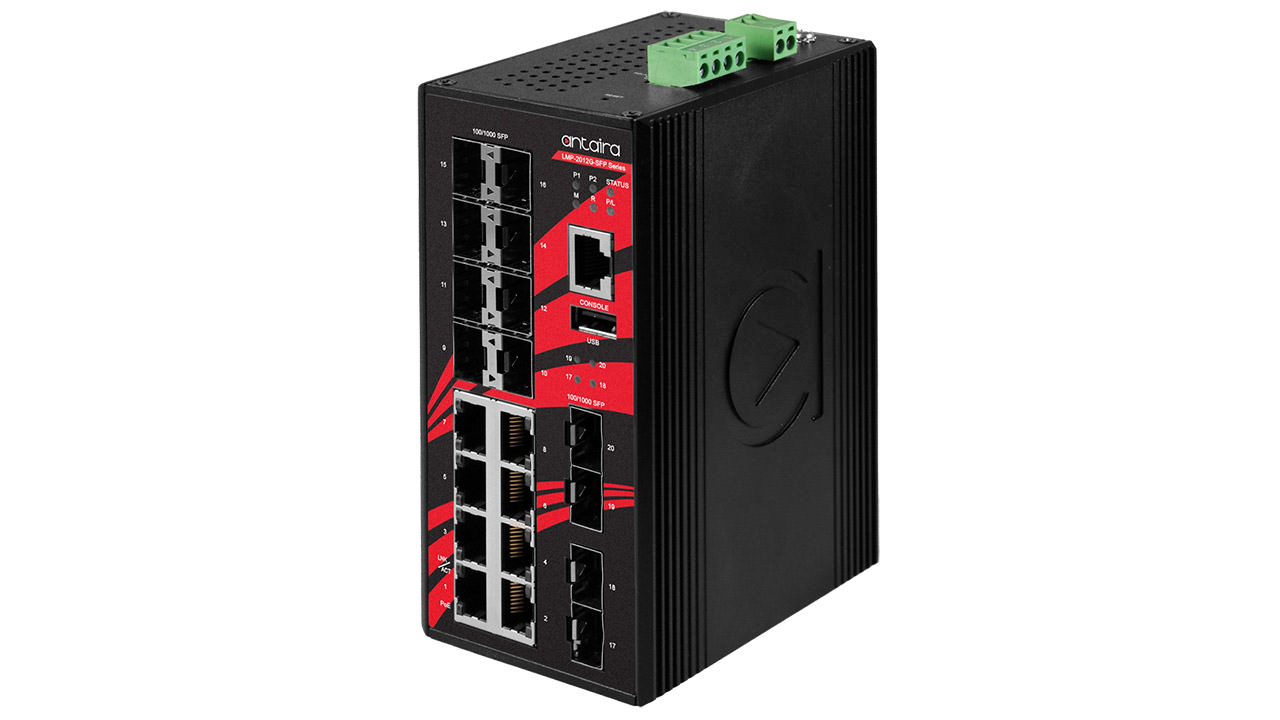 Antaira has launched an update to its 20-port fiber rich managed switches.
Antaira's LMP-2012G-SFP and LMX-2012G-SFP series are industrial-grade equipment that is Ethernet ready to fulfill various markets' edge-level networking applications in harsh and outdoor environments, such as manufacturing automation, security surveillance, power/utility, water wastewater treatment plants, oil/gas/mining-density Ethernet port connectivity, wide bandwidth, long-distance data transmission, and have a superb reliability factor.
Antaira's LMP-2012G-SFP Series industrial PoE switch provides eight PoE ports (30 Watts) for security applications and 12 fiber optic interfaces for long-range connectivity (1 meter to 100 KM), that is, from 3 feet to over 60 miles. The SFP port will allow connectivity beyond the 100 meters/300-foot limitation of copper cable and permits connectivity through areas where electromagnetic interference may cause issues found on factory floors.If you are looking for a switch with the same spec, without PoE functionality, the
LMX-2012G-SFP series will be the ideal choice. This product supports 12~48VDC power input, which is ideal for applications where only low volts of DC power is readily available.
With the enhancement of the Antaira management software and the redesign from the predecessor
(LNX-2012GN-SFP Series), these switches help monitor, react, and troubleshoot applications to reduce the cost of maintenance and downtime. Features such as SNMP Traps, Syslog, and port mirroring can be priceless when maintaining a system and reducing issues causing outages. Additional features that were not included in the predecessor like the ERPS (both LMP and LMX-2012G-SFP Series) and PoE functionality (LMP-2012G-SFP Series only) give this improved high-port count managed Ethernet switches more versatility for your applications.
Antaira