New Products
July 15, 2023
Industrial computer with IEC 62443-4-2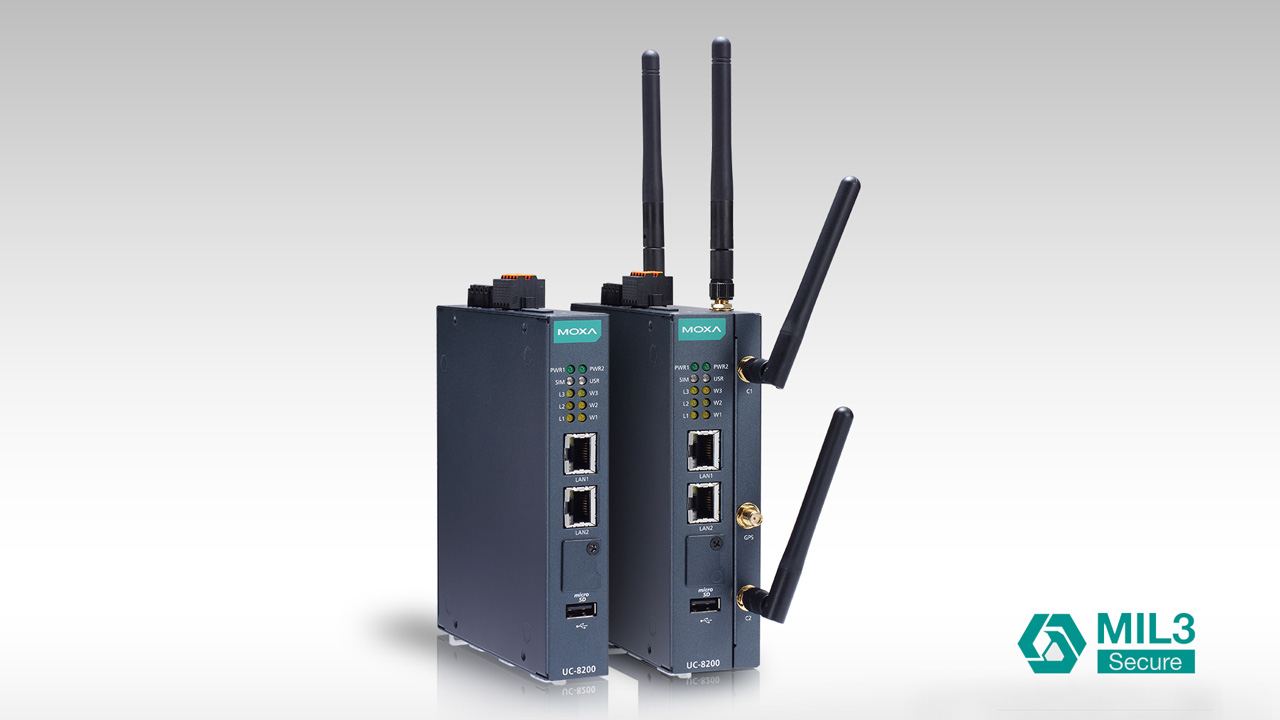 Moxa Launches World's First Industrial Computer With IEC 62443-4-2 Host Device Certification
With the release of the latest Moxa Industrial Linux 3 (MIL3) platform, Moxa delivers what they claim is the world's first IEC 62443-4-2 certified host device—the UC-8200 Series Arm-based computers to the market. IEC 62443-4-2 certification ensures that the 4-cm ultra-thin UC-8200 computers provide a security-enabling Linux platform that integrates a suite of secure-by-design hardware and software features to protect IIoT data and infrastructure against cyberthreats.
"Moxa's UC-8200 Series, running on the MIL3 platform, is the world's first host device to attain ISA/IEC 62442-4-2 certification," said Pascal LeRay, Head of Cybersecurity at Bureau Veritas (BV), the global certification body that issued the ISASecure CSA Security Level 2 certification for the UC-8200 Series industrial computers.
"It is a great honor to assist Moxa to successfully obtain IEC 62443-4-2 certification to empower the company to better grasp the overall security issues and quality of product development through IEC 62443 to enhance its competitiveness. IEC 62443 universal standards for industrial control and information security have become mandatory technical requirements in many countries. Furthermore, as demand for product security increases, the importance of IEC 62443-4-2 has grown significantly, resulting in a growing number of customers requiring proof of security level from manufacturers for their Industrial IoT equipment," Pascal LeRay added.
Security-certified platform for efficient application development
"The IEC 62443-4-2 certified UC-8200 Series computer makes it easier for asset owners and system integrators to integrate IIoT applications by providing a secure platform that has already been tested and validated," said George Y Hsiao, Product Manager of Moxa IPC Business. "Without such a certified platform, asset owners and system integrators would need to spend a significant amount of time testing and validating the security of the computing platform and its components before integrating their applications. This process is necessary to ensure the overall security of the IIoT system, but it can be time-consuming."
The UC-8200 Series computer comes with a security-hardening guide to help maintain the security of the computer throughout its entire lifecycle, from integration and installation to operation, maintenance, and decommissioning. It also includes a security diagnostics utility, which allows customers to confirm that the UC-8200 Series computer remains compliant with IEC 62443-4-2 during the integration stage.
Increasing operational resilience
As OT/IT convergence continues to advance, the need for enhanced network security, endpoint protection, strong reliability, and a long lifecycle becomes critical for the development of next-generation industrial IoT systems that can effectively defend against cyberthreats.
Hardware Root of Trust
The UC-8200 Series computer incorporates a one-time programmable (OTP) fuse and Trusted Platform Module (TPM) 2.0 technology to establish a hardware-based chain of trust that safeguards the Secure Boot process and software updates. This blocks hackers from taking control of the device during boot time and prevents malicious updates from being used for malware exploitation.
Reliable and fast recovery
Device availability is critical in industrial automation and control systems (IACS). That is why Moxa Industrial Linux 3 (MIL3) comes equipped with quick backup and restore utilities, as well as automated system recovery features based on an overlay file system architecture. This helps to reduce downtime in the event of a security breach, process failure, and file corruption, such as a power outage during a critical update.
Robust connectivity and network management
MCM (Moxa Connect Manager) easily optimizes LAN and WAN network availability by automatically switching between Ethernet, Wi-Fi, and LTE connections, which can minimize downtime caused by network unavailability or DOS attacks
UC-8200 Series Highlights
Developed according to IEC 62443-4-1 standard and compliant with IEC 62443-4-2 industrial cybersecurity Security Level 2 standard
IEC 62443-4-2 compliant diagnostic tool and security-hardening guide
Automatic failover between Wi-Fi, cellular, and Ethernet connections for reliability and high availability
Automatic system failover for system recovery and file backup
TPM 2.0 for hardware root of trust authentication to prevent malware takeover or tampering
Host-based Intrusion detection system (HIDS) and network security monitoring
Optional built-in cellular and additional Mini PCI Express (mPCIe) slot for Wi-Fi modules
Moxa Industrial Linux with 10-year support
Moxa