Technology
July 16, 2021
Industrial Edge impact on smart manufacturing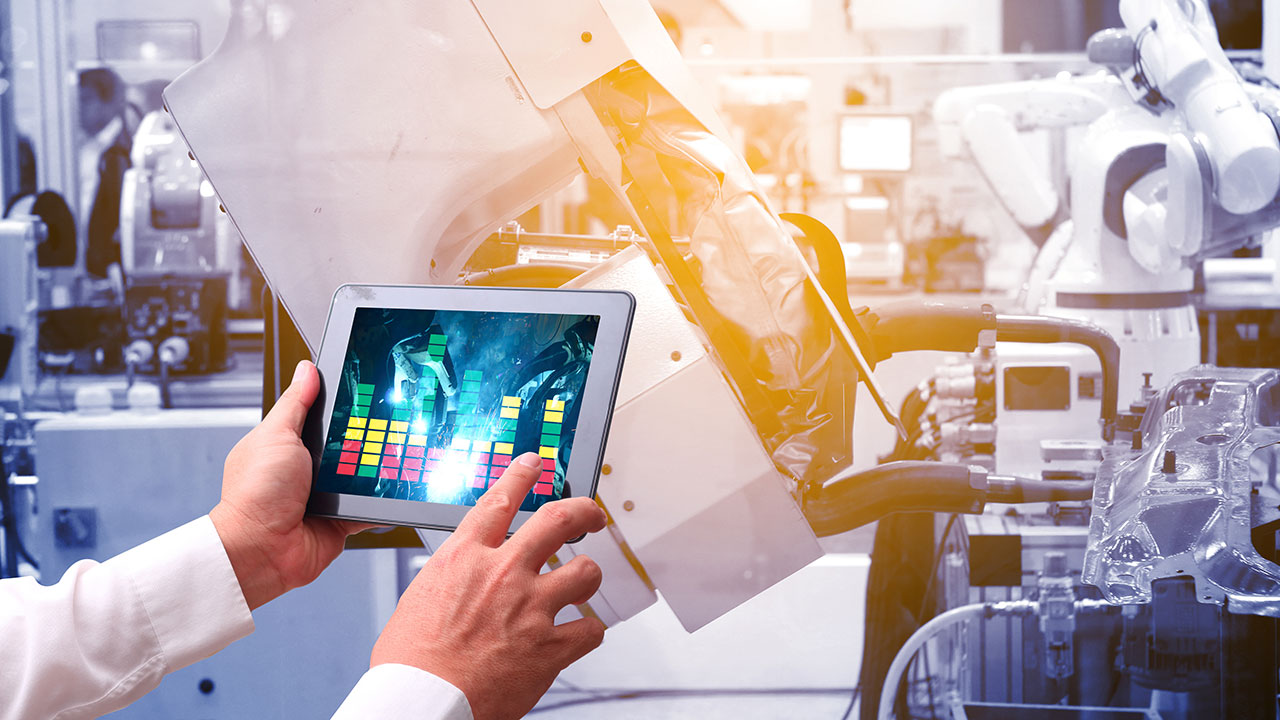 Industrial Edge technologies are making an impact on smart manufacturing. In this special report, industry experts comment on the current evolution of control technology, open source Linux applications, industrial PCs configured as both control computers and edge PCs, and the renaissance of Industrial Ethernet.
Industrial edge technology is enabling comprehensive IIoT solutions that extend from the edge to the cloud, and provide a powerful impetus in the convergence of IT and OT operations.
In this special showcase, the Industrial Ethernet Book looks at how edge technology is making an impact on smart manufacturing. Industry experts weigh in on the leading trends in edge computing, and we present the latest new solutions for manufacturers.
Evolution of control technology
Edge solutions driven by application and networking security standards
Industrial control technology is evolving from traditional formats like RTUs, PLCs, and PACs to edge-oriented options like edge programmable industrial controllers (edge controllers or EPICs) and edge I/O, according to Josh Eastburn, Director of Technical Marketing at Opto 22. These formats provide general-purpose processing, networking, and storage in the field, which create a foundation for embedding other critical technologies.
"At the top of that list, are application and networking security standards like user authentication, firewalls, and SSL/TLS encryption," Eastburn told IEB recently. "The lack of these features in industrial devices has been a showstopper for years in terms of bridging IT and OT systems, but with them in place, edge-to-cloud communication is entirely feasible."
"And if edge-to-cloud or IIoT is the goal, MQTT is another critical enabling technology," Eastburn added. "Designed for the internet of things (IoT), this protocol supports lightweight, secure communication for distributed edge devices. When paired with Sparkplug B payloads, interoperability, state management, and fault tolerance are also boosted."
Technology stack at field level
According to Eastburn, edge controllers and I/O combine traditional automation functions with embedded tools for security, communication, and data processing that previously required many layers of hardware and software.
For example, moving data from a single field device into business applications might require transferring data through PLC, SCADA, MES, and ERP systems. Low-level systems have lacked the protocols to establish secure connections to high-level systems directly or to provide data that was usable by those systems.
"Edge-oriented automation embeds the necessary technology stack at the field device level, allowing for flatter, more scalable architectures. Embedded communication and security tools enable edge devices to secure brownfield devices and bridge disparate automation networks. Edge data processing can be used to filter, sanitize, and transform data into interoperable formats before transmission directly to databases or cloud services," he said.
Embedded MQTT clients in the field can publish data to a shared MQTT server or redundant server group located anywhere the network reaches: on premises, in the cloud, or as part of regional fog computing resources.
Clients publish data only on change rather than cyclically, dramatically reducing bandwidth consumption. And rather than requiring connections to field assets from every interested application, the MQTT server itself distributes these updates to any subscribers of that data. The burden on the network and device increases at a much slower rate than with traditional poll-response protocols found in many of today's automation systems.
Large scale integrated systems
Eastburn said that edge control provides a foundation for large-scale integrated industrial systems that scales more securely, reliably, and affordably than previous technologies. Digital transformation projects have so far been limited to large, well-funded enterprises, but with this foundation, it has become possible for even small organizations to achieve. By processing data at the edge and reducing the complexity of the architecture, engineers save in data transmission and middleware licensing costs, as well as in the labor required to design, install, configure, and maintain data systems.
"Many companies are getting trapped in pilot purgatory with early IIoT designs that are based on the traditional hierarchical architectures. Edge control lets designers break out of that trap and scale smoothly from proof-of-concept to production system," he added.
The challenges that automation engineers face with these advances in edge computing is that each layer of hardware and software adds cost and complexity to large-scale integration projects, both of which inhibit system growth, stability, and security.
"The majority of valuable industrial data is found in brownfield systems, but integrating this data is challenging because of the lack of security or IT-friendly communication protocols and data formats," Eastburn said.
"A common objective for early IIoT projects is to focus the system on transporting data to cloud services for processing and analysis. However, raw data streams are costly to transport, store, and process," he added.
Open source Linux apps
Combined with traditional determinist industrial controls
According to Charles Norz, Automation Product Manager WAGO Corporation, industrial control has been around for decades and has proven itself as technology to increase yields and quality. Linux based systems have also been around for a long time and been used and embraced in IT applications, however they have not been that predominate on the plant floor.
"Edge devices are changing the way systems are architected by combining the proven technologies of industrial control with open source Linux based applications to further increase plant floor performance," Norz told IEB recently.
Norz added that, as the competitive landscape is now on a global scale, manufacturing is taking advantage of IIoT systems that integrate plant floor equipment with cloud based services. Centralized data enables engineers, maintenance, order services, and product line managers to have an enterprise view of manufacturing, equipment health and production. Plant floor operators are now connected workers. They have a clear view of the current operating state of their equipment plus data on upstream and downstream processes enabling them to make informed decisions.
"This is all made possible with edge devices, that is equipment that combines determinism that is needed for real time control on the plant floor with IT based applications that provide valuable analytics to the connected worker as well as aggregated and contextualized information for the enterprise," Norz said.
IT and OT combined
Automation engineers are faced with the need to live in both the OT and IT world. They require tools that can on one hand interface with real time I/O on plant floor equipment, and on the other hand be able to run algorithms for machine learning applications or collect data for historians all while exchanging data with Cloud based applications.
Norz said that edge devices have become this tool, and automation engineers can utilize traditional IEC 61131 based control languages such as Ladder, Structured Text, or Function charts with a real time operating system.
"Within the same device, they are able to use Linux based applications running in Docker Containers for heavy data computation that output analytics for the connected worker and enterprise staff. Edge Devices need to support industrial network protocols such as MODBUS, EtherNet/IP, EtherCAT for interfacing with machinery that operates in real time. They also need to support IIoT Protocols such as MQTT and OPCUA to interface with Cloud Services applications," he said.
"Edge devices are the duality of today's smart connected world. They monitor and control in real time, and they offer systematic computational analysis of data for the plant floor as well as the enterprise."
Customized edge solutions
Leveraging industrial PCs as edge devices
Felix Wildemann, Product Management – Industrial PC at Beckhoff Automation, told IEB that industrial edge applications always prove successful when a customized solution is used for the specific application. This not only requires software and hardware to work in perfect harmony, but also requires the edge device to be seamlessly embedded into the application concept. Beckhoff achieves this harmony not by using dedicated edge devices, but by allowing Industrial PCs to be configured as both control computers and edge PCs.
"The integration of an industrial bus system into the edge device makes it possible to merge the existing control data with additional information directly in the edge device," Wildemann stated.
"An edge solution has to be designed as a retrofit package in a brownfield scenario, or as an IoT solution in brand new plants, to ensure that it does not impair the availability and real-time capability of the controller. That said, it must be possible to collect, process, prepare, and restore relevant process data to facilitate tasks such as making process data reliably available and optimizing the plant on a retroactive basis," he said.
Industrial PCs on the edge
Following this approach, Beckhoff offers a scalable portfolio of extremely compact, modular, and versatile Industrial PCs that can be perfectly adapted to the respective edge scenario.
These ultra-compact Industrial PCs in the C60xx series fit into almost any machine concept and can easily be installed as additional edge components.
Two alternative operating systems that support Beckhoff's own TwinCAT control software are available in the form of Microsoft Windows and TwinCAT/BSD. This allows the edge device to effectively speak the same language as the machine. In this way, data can be acquired on the machine side via the TwinCAT ADS protocol or via OPC UA without the need for a change in the program code for the control computer in TwinCAT.
The same applies to the Beckhoff C7015 IPC with IP 65/67 protection, which is equipped ex factory with an EtherCAT P port. EtherCAT P can be used to query a range of sensor data directly using the edge device in the field.
In addition, an IoT solution from Beckhoff always offers the option of communicating directly from the controller to the cloud, as a complete concept from a single source for control, data acquisition, and secure communication.
Depending on the effort required for pre-processing and preparation of the process and plant data collected in the edge device, the appropriate CPU can be selected from the Beckhoff portfolio. The spectrum ranges from the 1-core processor to the 8-core Intel Core i7.
The C7015 IPC with Intel Atom processor (up to four CPU cores) can be integrated directly into the machine with corresponding I/O box modules and via EtherCAT P. This allows edge computing with additional sensor data to be incorporated into the machine without requiring additional control cabinet space.
Opening up to the outside world
"Classic automation takes a very cautious approach to opening up and networking with the outside world, because the safety and stability of the production plant could be called into question when it is networked with IT," Wildemann added.
"The ability to directly network both worlds is not without its compromises, but edge computing can circumvent many of these compromises by offloading IoT functions from the controlling IPC. This allows IoT functions to be integrated into a production plant without directly impacting the control software while still reaping the benefits."
He added that, nevertheless, an edge solution only works if both hardware and software are optimally scalable to the approaches of IoT and the controller. "Fortunately enough, Beckhoff offers this functionality in abundance, since our Industrial PCs with TwinCAT software can be used as both control computers and edge devices."
Industrial Ethernet renaissance
Rise of Ethernet as the universal fabric for industrial applications
According to Pierfrancesco Zuccato, senior product manager at Eurotech, "Ethernet is the new renaissance for connectivity in industrial applications. Up to now, we've had a multitude of different types of specialised and even proprietary interfaces to work with and Ethernet is increasingly becoming a strong candidate to replace most, if not all, of those interfaces. The introduction of standardised methods to improve the deterministic behavior of Ethernet, such as Time Sensitive Networking (TSN), are great enablers for most industrial applications, even for those that require near-real time control."
"As we move away from a fragmented landscape towards a smaller number of cases, new opportunities open up: for instance, Ethernet makes the bridging of OT and IT way simpler. This can dramatically help the implementation of more open and abstract representation of the physical world, with important benefits for maintenance, vendor independence, and ease of integration," he added.
Ethernet as universal language
Zuccato said that Ethernet is becoming a universal language. There are initiatives, like ITXPT in the transportation market, for example, where Ethernet is the main interface.
Workload consolidation is another example, while it is possible to implement relatively simple examples of workload consolidation that would not require Ethernet, the most important use cases would have Ethernet as one of the key ingredients.
"The rise of Ethernet as the universal fabric for industrial applications blurs the line between the domains of IT and OT, which traditionally have employed very different technologies, and even when the technology was the same, it used to be very rigidly partitioned. Ethernet brings much more than a uniform physical layer," Zuccato added. "It allows the creation of a single software context, eliminating the need for intermediate steps to bridge conversions between devices that belong to different contexts, even within the same factory floor."
He added that workload consolidation is one important trend that has now become affordable thanks to the hardware we have today; it delivers enough computational capability, performance, and capacity to enable virtualisation.
Not only is it now possible to manage embedded workloads using proven methodologies already widely adopted in the data centers, it is also a very convenient way to implement sophisticated schemes, like high availability, workload migration and so on. This brings real benefits in terms of downtime elimination.
With a single machine capable of running different tasks, less hardware is required, which means less running costs and less chances of failure. It's much easier to implement redundancy schemes, because virtual machines allow you to migrate tasks from one physical server to another seamlessly, therefore incrementing the reliability of the overall architecture. This is made possible by a number of technologies and Ethernet has a prominent role.
The pace of change
"One challenge facing automation engineers is the pace of change – it can be hard to keep up with all these new developments and technologies while understanding where and how they can make a difference," Zuccato added.
"It pays to find a partner that understands your unique operations and challenges, and how these technologies can be deployed and adapted to meet your needs. Automation engineers need to manage complex architectures that often contain a mix of legacy and cutting-edge technologies that need to be integrated in a reliable way."
This means that they may have to periodically make a number of complex changes across the various different areas, including software, functional safety, real-time, and hardware. It can be a very complex process, so it can be useful to have a partner with all the required technical expertise on board to support with these challenges.
These advances in edge computing, however, mean that we're moving towards more simplified and efficient ways of managing different parts of software applications and physical interfaces.
Al Presher, Editor, Industrial Ethernet Book