Technology
February 2, 2021
5g on test bench for industry: what's possible in the future?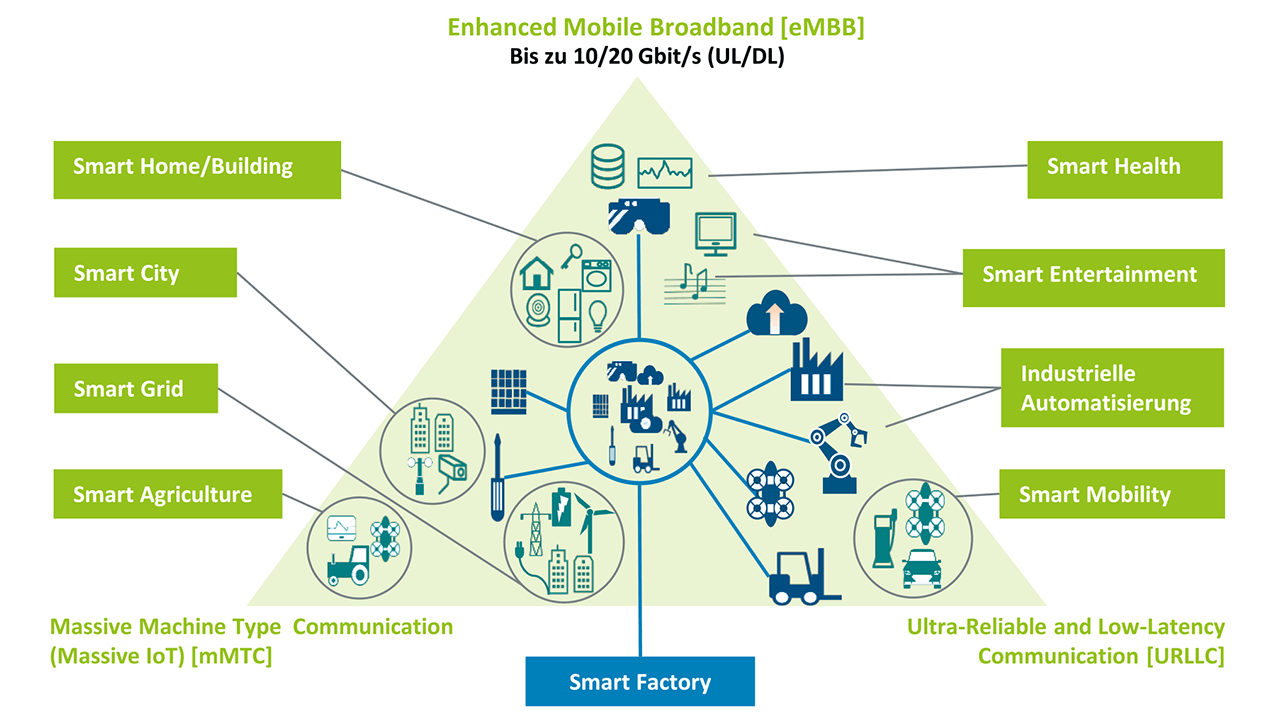 5G and other wireless technologies represent an ideal supplement to wired communication solutions, each with its own specific advantages and disadvantages. 5G will change a lot, but it will not change everything. The mobility of communication subscribers in industrial applications is definitely being advanced.
The German Engineering Industry Association (VDMA) recently published its report "5G in mechanical and plant engineering – Guidelines for integrating 5G into products and production". Connection experts from LAPP were heavily involved in two of the applications.
The aim was to provide mechanical and plant engineers with a practical idea of potential applications and the challenges of introducing 5G in production.
You are undoubtedly already familiar with claims that 5G will revolutionise mobile communications, and not only in terms of public mobile networks. To date, the use of such technologies for wireless communication in industry, and particularly in the automation environment, was inconceivable due to a lack of network coverage, real time capability and guaranteed bandwidth. But 5G is different.
Anticipating 5G impact
It could actually turn out to be an interesting technology for industry. There are several reasons for this. Low latency values of up to 1ms promise real time capability, the basis for automated, fast-moving production processes.
Increased reliability and availability of the network, improved localisation functions, connection of up to 1 million terminal devices per km² with peak data rates of up to 10/20 Gbit in the up/down link and, last but not least, centrally controlled allocation of licensed frequencies for industry.
Therefore, protected and secure networks could be set up on company premises with 5G. Users could efficiently connect Industrial Ethernet, TSN and 5G. This would bring the worlds of OT and IT increasingly close together.
Mobile phone operators would suddenly be sitting around the table with machine manufacturers. 5G is currently still at the beginning of its market launch, with the construction of public networks.
Initial developments for industrial devices have also begun. The functions that will be of interest for real time critical industrial applications are still a way away. It can be expected that improvements in latency will extend the range of applications in the coming years.
New options: wireless in industry
Wireless technology has been used in industry for a long time. Wifi and Bluetooth are already used as standard for applications such as hand-held scanners or driverless transport systems (AGVs).
In specific cases, wireless is also used for real time critical applications for transmission of field buses and control data via wireless connections. The objectives that users hope to achieve through the use of wireless systems are varied. In moving applications in machines, where cables are worn by constant movement, wireless data transmission can reduce this wear. Wireless technology is also a problem solver in mobile applications where cables restrict mobility.
In other applications in the production environment, wireless systems have only achieved a limited foothold to date. This is due largely to the fact that the advantages of wireless are not enough to justify its use to meet the requirements of industry, as industrial production processes depend on control data in real time. However, with existing wireless technologies it has only been possible to reliably transmit real time data for PLC control signals for relatively slow running processes. But 5G is now providing mechanisms designed to increase the reliability of connections and raise the prospect of 5G becoming a wireless technology for more industrial applications.
Potential 5G benefits
The 5G function MMIMO (Massive Multiple In Multiple Out) is a good example. MMIMO means that significantly more antennas are used than previously (UMTS/LTE). This technology also allows what is known as beam forming. Subscriber devices can find the strongest out of several signals. This ensures better coverage and thus greater connection stability.
At the same time, more subscribers are possible with lower energy consumption and, if necessary, higher bandwidth. With 5G we are seeing the introduction of TSN (Time Sensitive Network) as a real time protocol. TSN, which has been discussed for a long time for industrial networks, should give 5G real time capability. The final expansion of 5G will thus see possible communication cycles of <1 millisecond. Compared to wireless technologies today, much more dynamic processes would be controllable wirelessly.
Other important criteria for use in production include simplicity and ease of maintenance. Automation specialists are usually not IT specialists, and reliable operation of a Wifi network already poses some enormous challenges for them. As a rule, it needs to be possible for maintenance to remedy machine communication errors without long production downtimes, for example, during night shifts and without in-depth IT knowledge. Wireless technology has to be as easy as the equivalent cable networks. Currently, a defective cable or switch can be replaced quickly and easily without expert electrical knowledge.
Contributing to VDMA 5G guidelines
For some time, LAPP has been devoting a lot of energy to the issue of 5G and is now very confident that there cannot be wireless without cables. LAPP sees 5G as a supplement to its solutions and not as a threat. This is why the company was happy to support the VDMA in creating its practical guidelines.
In the recent publication, the effective benefits are evaluated from a mechanical and plant engineering perspective by looking at a number of different applications. LAPP had a seat at the table alongside users and manufacturers. The partners were supported by the Fraunhofer IIS, which contributed neutral technological knowledge and methodology, collected applications from the panel and ascertained the relevant capabilities of 5G.
LAPP helped design two applications and sat down with competitors to openly discuss the opportunities presented by 5G. The results indicate that while many applications can be implemented with 5G, it is not essential, as demonstrated by existing solutions from LAPP and other manufacturers in the field of Predictive Maintenance. For other applications, the forthcoming 5G releases 16 and 17 will have to show whether 5G really does offer sufficient real time capability.
5G in mechanical engineering
A total of ten different applications from the industrial environment were described in the VDMA 5G guidelines. Lapp was involved in the "real time capable data paths in applications subject to wear" and "M2M / remote IO with field bus" applications. However, it is the "driverless transport systems (AGV)" application that is of particular interest in terms of using 5G.
Driverless AGVs
The guidelines show that driverless transport systems (AGVs) are one of the most suitable applications for 5G. On one hand, necessary latency figures are in a range that is achievable with 5G. On the other hand, 5G is likely to allow a shorter roaming time than today's Wifi. The roaming time is the time required to transfer a subscriber from one access point to the next. If it is too long, the AGV stops. With Wifi connections, this can take 30-50 ms. The use of 5G cuts these times considerably, as there is no need to log in and out.
Another positive effect: With 5G, considerably shorter latency (delay time for transfer of data packets) is possible than with WiFi. This also ensures fault-free operation of an AGV. Another feature is the 5G localisation function, where the target is 20 metres in Release 15 and just 3 metres in Release 16. It can be assumed that subsequent releases will bring further improvement in accuracy, making use for AGVs increasingly interesting.
Industrial Ethernet applications
Another possible application is in transmission of an Ethernet-based fieldbus, such as PROFINET via 5G. Wireless technology could be integrated directly in a decentralised IO system (= remote IO). This would allow connection and transmission of multiple sensors or actuators. In moving applications where fieldbus cables wear in cable chains or robots, signals could be transmitted wirelessly with zero wear. With Release 15, the possible latency of 5ms would be sufficient for this purpose. But not for fast control of servo drives.
Lapp position on 5G
Whether or not the wireless factory is a utopian ideal will become apparent in the coming decades. LAPP is well aware of the effects of 5G on future networking and data communication and is preparing for it.
LAPP is excited not only by changes in data communication in the automation environment, directly in machines and plants, but also by the necessary expansion of infrastructure in individual countries and in factories, what are known as the backbones. More glass fibres, more copper cables and new antenna masts and access points.
The future infrastructure for 5G in cities and communities will need to be wired. The desired freedom of movement in factories thanks to wireless solutions will be made possible by cables, as the access points in the halls continue to depend on them.
LAPP is convinced 5G and all other wireless technologies that exist represent an ideal supplement to wired communication solutions, each with its own specific advantages and disadvantages. 5G will change a lot, but it will not change everything. The mobility of communication subscribers in industrial applications is definitely being advanced.
Industrial wireless solutions
LAPP is working on industrial wireless solutions that tap into the synergy between wired and wireless networks. One example is the IoTKey® system from LAPP, a system that can transfer completely wireless sensor data to the cloud. IoTKey® consists of 3 core components: LoRa transmitter, GSM gateway and IoTKey Cloud Portal. The key here is to combine multiple wireless technologies and to use respective benefits. LoRa is a particularly energy-saving wireless system for transmitting sensor data.
It allows fully autonomous battery operation for up to several years without replacing the battery. The gateway itself transmits the LoRa sensor data to the GSM mobile network. This makes it possible to use the system at any location with a mobile phone signal. Porting the IoTKey system to 5G could expand the range of future applications.
The combination of TSN with 5G is also exciting. In terms of its ETHERLINE ACCESS Industrial Ethernet switch portfolio, LAPP sees TNS as an important future technology. TSN over 5G would lead to consistent real time communication between wired and wireless networks. But development also continues in the field of cable-based transmission.
Single pair Ethernet is in the starting blocks. This new technology will enable Ethernet to be transmitted via just two copper cores instead of 4 or 8 cores as was previously the case. This further improves cost-effectiveness at the lower field level. And this is what 5G ultimately has to measure up to.
LAPP will keep a close eye on the development of 5G and fully investigate its potential for use in other relevant applications.
Dr. Susanne Krichel, Senior Manager – Business Development IoT and Ralf Moebus, Head of Product Management Automation, LAPP