Technology
January 21, 2023
HARTING supports TRUMPF with connected services for autonomous all-in-one laser centres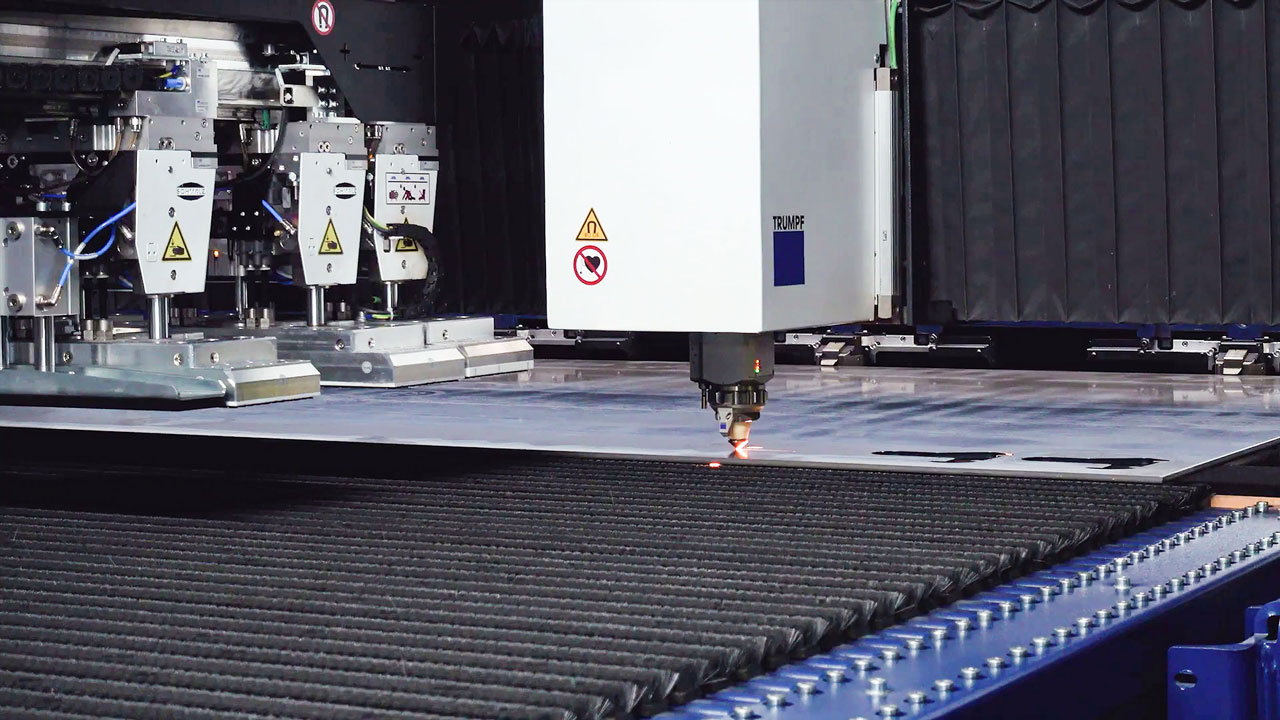 Single Pair Ethernet as backbone for IoT data services.
As one of the world's largest suppliers of machine tools, TRUMPF is focusing on autonomous concepts in the future. The TruLaser Center 7030 model integrates all laser cutting processes in a single machine for the first time. In order for this to work autonomously and also correct errors, it is necessary to combine and evaluate all the necessary data. HARTING and specialized sensor manufacturers support Trumpf with intelligent camera sensors and smart single pair Ethernet infrastructure for connected services.
Customer needs in mechanical engineering are changing: batch size 1 is now the expected standard, flexibility is a top priority. Maximising system availability is just as important as making service support even more predictive and calculable.
The TruLaser Center 7030 from TRUMPF handles the entire process – from the drawing to the sorted part: loading, cutting, removing, sorting, stacking. Ideally, it will do this completely autonomously in the future.
The challenge: machine downtime due to accompanying processes
Even on a completely tested machine, there will be problems sooner or later due to upstream and downstream processes in real operation at the customer. Manufacturers need all sensor, machine, system and camera data in order to find the causes of errors.
The first step towards this form of autonomy is to understand where unknown problems come from in real operation. This requires a lot of cameras to film the machine and detect the fault remotely. This monitoring often does not yet take place to that extent.
The solution: seamless communication between field level and IoT services.
Sensor manufacturers rethink sensor data
In addition to TRUMPF's own sensors, specialized sensor manufacturers supply the appropriate camera technology. The experts are aware that they have to rethink sensor data: no longer in isolated process data, but in systems where the IoT world has to be supplied with high-quality data. The image data must be linked to all machine data for correct evaluation in real time. The infrastructure required for this must be able to withstand the data volumes, even for medium-sized customers.
Cross-manufacturer data transfer in real time must be possible
For real-time data availability, the extension of OPC UA to include Time-Sensitive Networking (TSN) is being developed as part of the OPC Field Level Communication Initiative. TSN takes over the control of priorities of the individual data packets and provides procedures for queue handling. Sensor data thus become available at the required data rates – the field level can be integrated without hurdles.
Single Pair Ethernet
Being able to sell an autonomous machine economically involves sensor technology, infrastructure and also the necessary connectors and cabling.
HARTING, a specialist in connection technology, offers Single Pair Ethernet (SPE) as a cabling solution. SPE is a robust and material-saving Ethernet cabling that is intended to replace the fieldbuses commonly used to date in the long term. The new industrial standard allows a data transmission rate of up to 1GBit/s with only one pair of wires. SPE makes the barrier-free connection of devices up to the field level possible and for the first time allows the cost-effective use of Ethernet in the entire industrial automation. SPE is thus the necessary backbone for continuous networks from the sensor to the cloud.
Industrial Ethernet Week 2 – 21-23 February 2023
Many industrial companies today are facing the transition to the Industrial Internet of Things (IIoT). Design engineers, factory installers and other professionals are facing new challenges in their day-to-day business due to new technologies, new use cases and new business models. They need to keep up to date with trends and solutions to develop ideas and find next steps in the transformation for their own business.
As one of the key players in the global market for Industrial Ethernet connectivity solutions, HARTING aims to support precisely this target group with the INDUSTRIAL ETHERNET WEEK. Participants of the event will learn about ideas and perspectives from pioneers and thought leaders and get an update around technologies, solutions and trends.
Registration
https://www.harting.com/harting-industrial-ethernet-week-2023