Applications
September 21, 2023
Nucor subsidiary POK brings foundry to Industry 4.0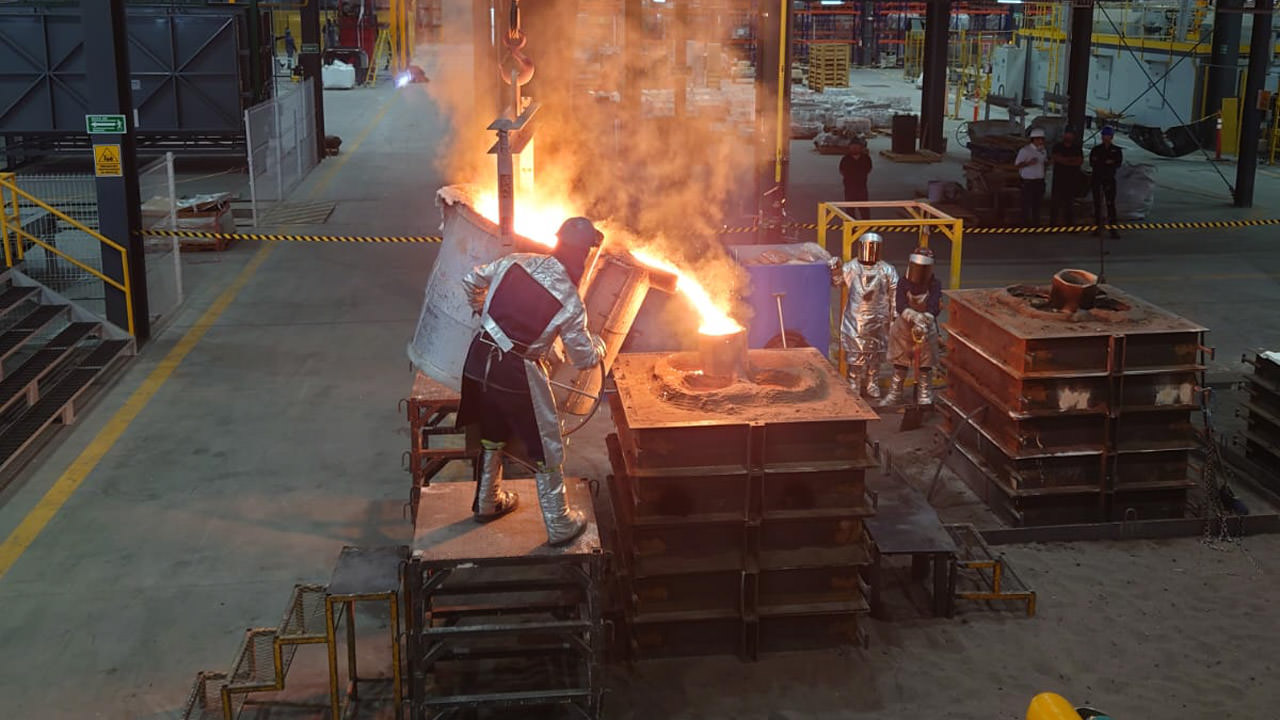 Nucor factory saves initial and recurring costs, improves products with groov EPIC and Ignition solutions. The challenge was how, at a reasonable cost, to aggregate all process information from equipment and PLCs and then successfully exchange that information with corporate SCADA and ERP systems.
Moving to Industry 4.0 takes time and determination, especially for an established company in a heavy industry. Castings Foundry POK in Guadalajara, Jalisco, Mexico, was founded in 1894 and in 2018 became a subsidiary of the Nucor Corporation, the largest steel producer in the United States.
A fully integrated precision castings company, POK has moved toward "POK 4.0" in a series of steps over several years, changing from manual to automated systems and integrating those systems for more available, immediate, and reliable data.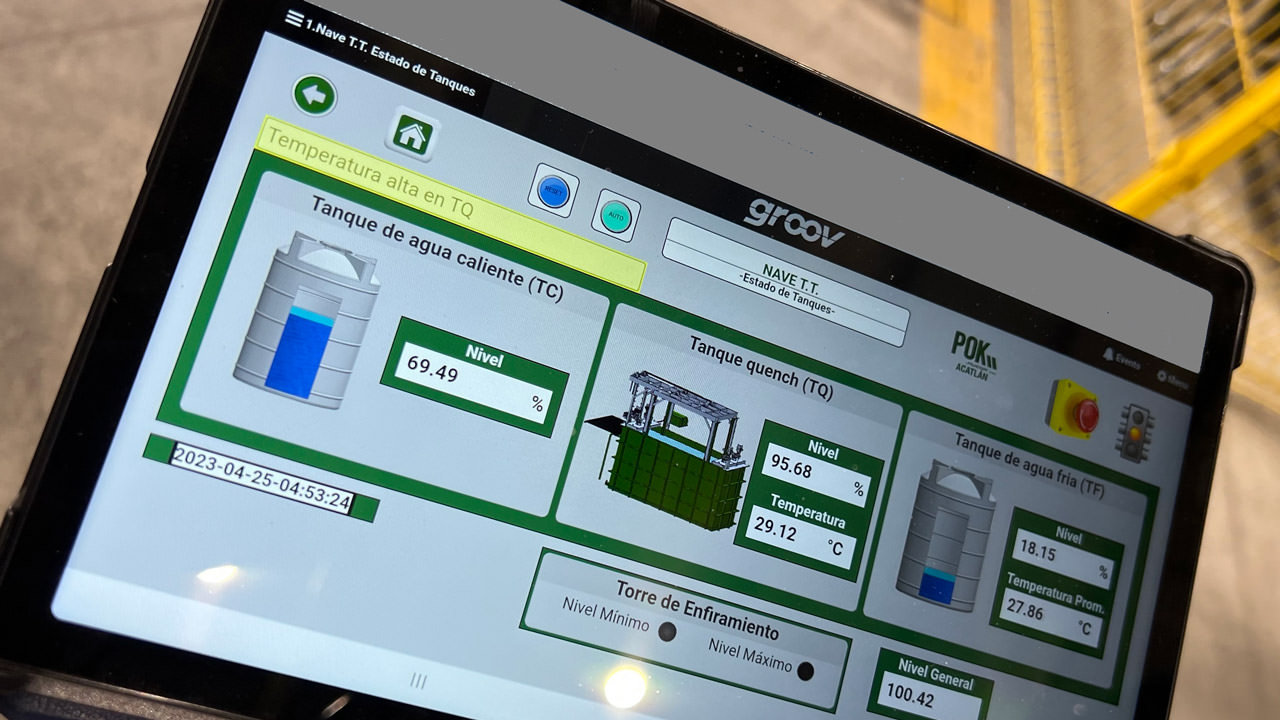 Their goal is a plant that predicts and prevents defects, communicates the whole process of casting and machining in real time, and where equipment self-regulates based on current circumstances. One of their first steps toward this vision was in 2012, when they developed an enterprise resource planning (ERP) system in response to a customer request for individual serial number traceability. When put in place, ERP data input was still manual. But it was a start.
POK casts parts for oil & gas producers, mining, sugar mills, and other industries, making pumps, pipes, valves, rotors, impellers, drill heads and pieces, and industrial components.
The company produces several alloys such as high-strength steel, stainless steel, low-alloy steel, carbon steel, and other specialty alloys such as Inconel. They offer two types of casting:
No-Bake Sand castings, which are generally reserved for larger parts, up to 8,000 lbs.
Investment casting, which uses the traditional lost wax method or their own proprietary "soluble molding" technique, producing pieces from a few ounces up to 1000 pounds.
In addition, POK offers melting, state-of-the-art vacuum induction melting (VIM), heat treating, CNC machining, a conventional machine shop, and a pattern shop for designs in a variety of materials. Information from all these processes and equipment would need to be integrated.
Focus on customers
In business for more than 125 years, POK has long-standing relationships with customers and focuses on maintaining those relationships. They custom design products for clients and work with them to design products that improve their processes or reduce production costs. Clients often ask POK's design team for help in making a product to slightly different specifications, for example, a harder material or a less expensive design that serves the same purpose.
With increasing business, the company decided to build a new facility to double its production capacity. Giorgio Moreno, Special Projects Coordinator, was tapped to design POK Acatlan. Giorgio had worked in POK Santa Anita for more than ten years, where he was part of the ERP development and saw the challenges of getting accurate data from disparate equipment and systems. Giorgio was determined to design the new facility with Industry 4.0 in mind.
The challenge
The question was how to do that at a reasonable cost: how to aggregate all process information from their equipment and PLCs and then exchange that information with corporate SCADA and ERP systems. While these systems were currently on premises, Giorgio wanted to leave open the possibility of cloud-based software and services later on.
But integrating all their processes into a single automation system was a non-starter. POK uses equipment from manufacturers all over the world, which may be supplied with PLCs from Rockwell Automation, Siemens, or several others. For the new foundry, they wanted to use the best equipment and processes for their needs, regardless of where it came from or the controller it used. A closed system from a single supplier would limit their options and increase costs dramatically.
Giorgio obtained quotes from system integrators, but the vendors making proposals for the new plant quoted turnkey systems that he knew were more expensive than what they could create for themselves.
"Every equipment vendor wanted to sell us their systems, with their individual monitoring systems that were not compatible with our other machines," he says. "We wanted to develop the new factory internally to save costs and avoid recurring costs such as licensing. The main challenge was to communicate with all our equipment without voiding any warranties."
Working in POK Santa Anita had introduced Giorgio to Opto 22 SNAP PAC products, which he found to be easy to program, simple to use, and highly reliable. When he saw the IoT capabilities in Opto 22's new groov EPIC (edge programmable industrial controller) and its direct integration with Inductive Automation's Ignition SCADA software, he could see the way forward. EPIC and Ignition could integrate data from all possible equipment and processes they might need to use.
Implementation
The 14 groov EPIC systems POK, led by Giorgio Moreno, installed at the edge of the foundry's network serve multiple purposes: local control, connectivity with PLCs in the separate systems, data acquisition, and secure communications with Ignition.
Each EPIC system consists of an industrial processor and I/O on an 8-module chassis, all UL Hazardous Locations Class 1 Div 2 approved and ATEX compliant. The sturdy stainless-steel construction of the system and its wide -20 to 70 ºC operating temperature range fit right into the foundry's needs.
EPIC processors can be programmed with either Opto 22's flowchart-based PAC Control or with any IEC 61131-3 compliant language using the CODESYS Development System. For this implementation, Giorgio chose CODESYS for programming.
"The digital inputs indicate position switches of the equipment and its moving parts; the digital outputs are for driving solenoids and for lamps to indicate system status to the operator. The thermocouples are for temperature, the 4-20 mA inputs for temperature and pressure sensors, and the 4-20 outputs for some control loops, especially to regulate temperature," explains Miguel Cuevas, Gerente Comercial at Opto 22's distributor in Mexico, Instrumentación y Control 22 (IC22). IC22 provided both the Opto 22 and Inductive Automation products.
In addition to local control, the EPIC processors are used for supervisory control, for example, to run batch processes. And unlike a standard PLC, they also connect directly to PLCs and other automation equipment: variable speed drives, KUKA robots, induction ovens, compressors, and much more. The EPICs consolidate data from all these and exchange it via Ignition with the ERP and SCADA systems.
A groov EPIC system can run either Ignition EDGE or Ignition FULL on its processor, but in this case, Giorgio chose to run Ignition on a separate server. He uses Ignition Tag Historian, Alarm Notification, Perspective, Sequential Function Charts (SFC), and OPC UA. Postgres, an open-source SQL database, provides the database for Ignition Historian. The flexible ERP is Odoo.
The company uses the Perspective Module's scripting function to directly control some processes in specialized equipment.
They also use Ignition to directly monitor power meters, gas meters, resin meters, and sand level meters, some of their largest recurring production costs.
HMIs
Giorgio has taken full advantage of the opportunities for operator interfaces (HMIs), using both Ignition Perspective and the groov View software built into groov EPIC.
"We now have a mission control in the center of our factory where all pertinent Perspective screens display every active part of our process," says Giorgio.
"Perspective has allowed us to add an HMI to any of our equipment, including those that don't even have a physical HMI. All of our operators, with the appropriate credentials, can view the HMI of any machine using tablets at the machine or even with their mobile device."
At the same time, the groov View HMI gives Giorgio local access to systems.
"We were able to use both groov View's HMI and groov View HMI screens give local access on mobile devices.
Perspective simultaneously, and that allows us to have local HMI control should our network connection to the edge ever fail. This was great for us to find out, as we used these double HMIs for our processes that are of critical importance."
"I have an integrated HMI and I can take advantage of organizing my factory into zones depending on their proximity to a nearby EPIC. I can integrate all independent processes—shelling, inductive furnace, heat treatment, etc.—and have a local HMI that allows me to control it, with no added costs," he says.
In addition, they can freely and easily create and generate new reports and trends in groov View.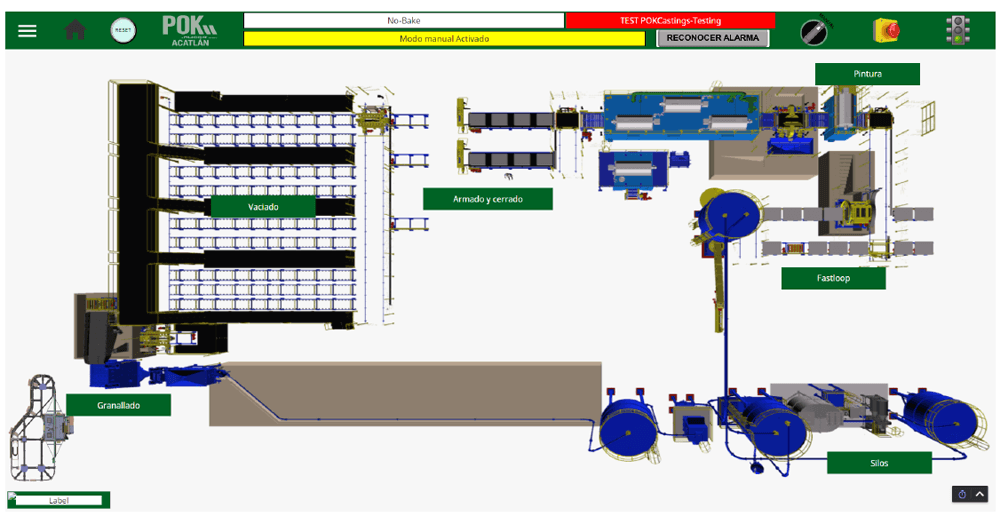 Results
POK is delighted with the results of the work. Manufacturing now is fully automated, from order entry into the ERP system, to manufacturing the product, to updating finished goods in the same ERP.
Operators find that historical reports, process tracking, and tracking production make their jobs easier. Every engineer can monitor any part of the plant from their mobile phone, a local tablet, or from mission control at the center of the plant.
The company estimates it is saving money in many ways: initial outlay, lower recurring costs, improved product quality through tracking, faster new product production with automated orders in the ERP system, and even labor costs.
"We estimate to have saved over 60% of the cost of this had we purchased a turnkey system from our vendors. We don't have to pay any recurring licensing costs for any of our software. We are not limited by users, devices, tags, screens, etc. Ignition allowed us to use the licenses that we had already purchased for our equipment from our first plant into this second plant with ease," says Giorgio.
They look forward to upgrading POK Santa Anita using the same licenses and physical servers used for POK Acatlan. "With EPIC, I can talk to any PLC that I purchase: Rockwell, Siemens, Mueller I/O. We can add new machines, new processes, new operators, new software, new visualizations, and our only cost is the time to make the modifications in Ignition," he notes.
Labor costs are significantly less than with a large closed system, too, Giorgio says. "Because EPIC, CODESYS, and Ignition are so easy to use, we were able to hire recent college graduates to do much of the programming and HMI screens. For example, engineers can transfer skills in any IEC 61131-3 language to CODESYS. You can have two people with experience and everyone else can be less experienced."
Future plans
At this point POK2 Acatlan is 80% operational, and the company is looking forward to applying a similar tech stack with groov EPIC and Ignition in POK Santa Anita.
"We chose Opto for its simplicity in the development and implementation of projects, because there are no recurring license costs, and because the support is free. The cost/benefit ratio is excellent," says Giorgio. "Working with Opto was wonderful, both with local support from the Opto 22 distributor in Mexico and directly from Temecula, California."
As Miguel from IC22 summarizes, "The remarkable thing about this project was that we exploited the capacity of the IIoT concept, because the EPIC took information from field sensors, made control loops and control logic like any ordinary PLC, with the plus that it communicated with Allen-Bradley drivers, with a KUKA robot that speaks EtherNet/IP, and more. In addition to all this, it shares information with the SCADA Ignition and finally with the ERP Oodo."
POK 4.0 has arrived.
Application article by Opto 22