New Products
July 30, 2021
Router Family for Railway Technology Offers New Wireless 5G Gateway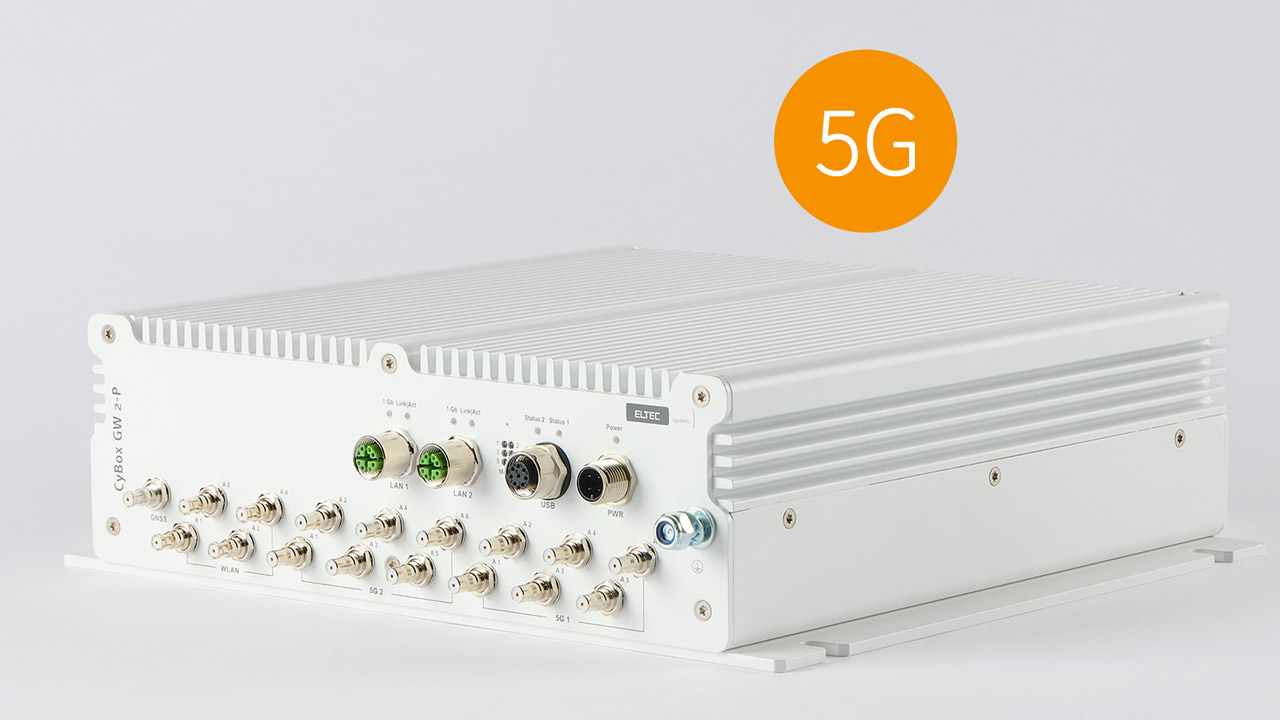 CyBox GW 2-P from Eltec with five slots for various 5G/LTE and Wi-Fi module combinations as well as two Gigabit Ethernet interfaces optimizes connectivity and improves performance.
With the CyBox GW 2-P, ELTEC is now launching its first mobile 5G and Wi-Fi 5 Wave 2 gateway for high-speed communication especially for use in trains. The CyBox GW 2-P was developed in compliance with the (German) railway standard EN 50155 and designed for an operating temperature range from -40 °C to +70 °C. Compared to the LTE version, the new CyBox GW 2-P enables significantly higher transmission rates of up to 2.4 Gbit/s download and 500 Mbit/s upload for each 5G modem. The CyBox GW 2-P offers 5 slots for communication modules, of which up to 3 can be equipped with 5G modems.
Four SIM card slots per modem support the use of different providers and, thus, ensure cost-effective, location-based routing and always the best network coverage. The CyBox GW 2-P is available in different configuration variants with a 4-core CPU (1.4 GHz) or alternatively 8-core CPU (1.8 GHz), with integrated mass storage and two slots for I/O extensions. It can, thus, be flexibly adapted to the respective performance requirements.
Expanded 5G product portfolio
With the Cybox GW 2-P, ELTEC is expanding its successful family of compact and robust 5G wireless routers. It combines the functions of a Wi-Fi access point and a communication server in a compact and maintenance-free system solution and serves as a particularly fast wireless interface to the Internet.
Via the gateway, passengers with mobile Wi-Fi-capable devices in a passenger train as well as in suburban trains or underground trains can communicate extremely quickly and stably via the Internet and access local data such as timetable information, videos, etc. At the same time, the personal data of the individual participants is protected against unauthorized access by a configurable firewall as well as authentication and encryption mechanisms.
Flexibility and performance through slots for different plug-in modules
The Cybox GW 2-P has 5 slots for communication modules, which can be optionally equipped with 5G or Wi-Fi modules (802.11ac or Wave 2). The possibility of using LTE modules instead of 5G modules ensures the system's backwards compatibility. The parallel use of up to three 5G modems enables a theoretical combined data throughput of up to 6.2 Gbps. When using Wave 2 modules (4×4 multi-user MIMO), data can be transmitted to a large number of clients at up to 1733 Mbit/s per module. For local communication, the Cybox GW 2-P offers two Gigabit Ethernet interfaces with X-coded M12 connectors.
An optional internal SSD memory supports the storage of extensive local data and passenger infotainment applications such as for streaming videos. Furthermore, the gateway offers high functional flexibility with slots for additional extensions, for example for CAN, MVB or interfaces for the 2.5 Gbit Ethernet, and can, thus, be optimally used in many applications.
The integrated railway-compliant wide-range power supply for input voltages from 24 to 110 V dc and its compact and maintenance-free design (it measures only 251 mm x 76 mm x 246 mm and is IP40 protected) makes the CyBox GW 2-P gateway suitable for applications in rail vehicles – from trams to ICE trains.
Transparent operating system thanks to OpenSource
The CyBox GW 2-P uses the powerful OpenSource operating system OpenWRT and offers highest transparency and traceability of the complete software packages as well as fast security updates. The system can be easily configured and comfortably managed via a web-based, clear user interface. Access point and router configurations as well as firmware management can be performed remotely via a login window. This applies to both the global setup parameters and the configuration of the wireless interfaces including provider information as well as the stateful firewall. This considerably simplifies integration, commissioning, and adaptation to specific requirements.
Secure and stable data transmission throughout the train
Countless algorithms in OpenWRT maximally reduce latency and increase network throughput. Reliable protection for all Wi-Fi participants on the train is provided not only by the firewall but also by cross-device client isolation. Unlike usual, the CyBox GW 2-P not only prevents unauthorized access from mobile devices that are dialed into the same access point; access from end devices at different ELTEC access points (AP) is also prevented, i. e. the security concept now extends across the entire train. Due to this AP isolation, each device operates as an independent unit. This prevents mobile devices from communicating with each other. Thus, potentially harmful network traffic is reliably prevented, and network security is increased.
In addition, the CyBox GW 2-P includes a hardware-accelerated encryption engine and ensures secure data transmission using SNMPv3, WPA3 and OWE, among many other features. To increase data throughput and improve connectivity through redundancy, multiple transmission channels can be interconnected in the cellular and Wi-Fi networks thanks to multipath TCP (MPTCP) support. This results in high-performance, uninterrupted data transmission on the train. Mobile device users benefit from this when, for example, they start an online video on the Wi-Fi network, which continues seamlessly and without noticeable interruption on the cellular network when they leave the network's range. Users can, thus, switch from network to network conveniently and transparently, and save money in the process.
Eltec