Technology
September 7, 2020
Single Pair Ethernet, RJ45 and clarifying the mating interfaces
Previously, there has been a classic break in communication systems between Ethernet and fieldbus systems. But now, modern components can now bring fast Ethernet (up to 1 GBit/s) to the smallest application using just one twisted wire pair, and SPE is enabling consistent usage of the TCP/IP protocol for the first time.
Single Pair Ethernet (SPE) was developed for one reason only. It was meant to close the last big gap in a TCP/IP oriented network world – the gap between classic IT and sensor technology which is becoming more and more important.
Thus SPE is not a replacement technology for existing cable-bound Ethernet networks as are found almost everywhere in IT. Therefore it is not a matter of replacing four-pair cabling; instead it is a matter of accessibly docking sensor/actuator networks to our IT networks. For this reason, SPE is also referred to as an "enabler" for IoT and IIoT.
This article intends to shed light on what this means and what this development will look like. At the same time, it will also clear up several entrenched "hypotheses" that only cause confusion but do not contribute anything to the development of SPE and future markets.
SPE technology
Single Pair Ethernet (SPE) is no product of coincidence. It is the simple answer to the question of what future automation solutions have to look like so that they can be implemented successfully on the market. This question stirred up three sectors in particular: the automotive industry, industrial automation, and building automation.
All three areas of application require unimpeded access to sensor/actuator networks for the next step in their respective automation solutions. Only in this way can autonomous driving be implemented in a car, a continuous manufacturing process in industry be implemented in accordance with Industry 4.0, or an intelligent building be achieved in building automation.
These considerations drive the development of SPE – and nothing else. The fact that cabling is becoming simpler and plug-in connectors are getting smaller is an additional positive effect; however it is not the cause for the SPE innovation.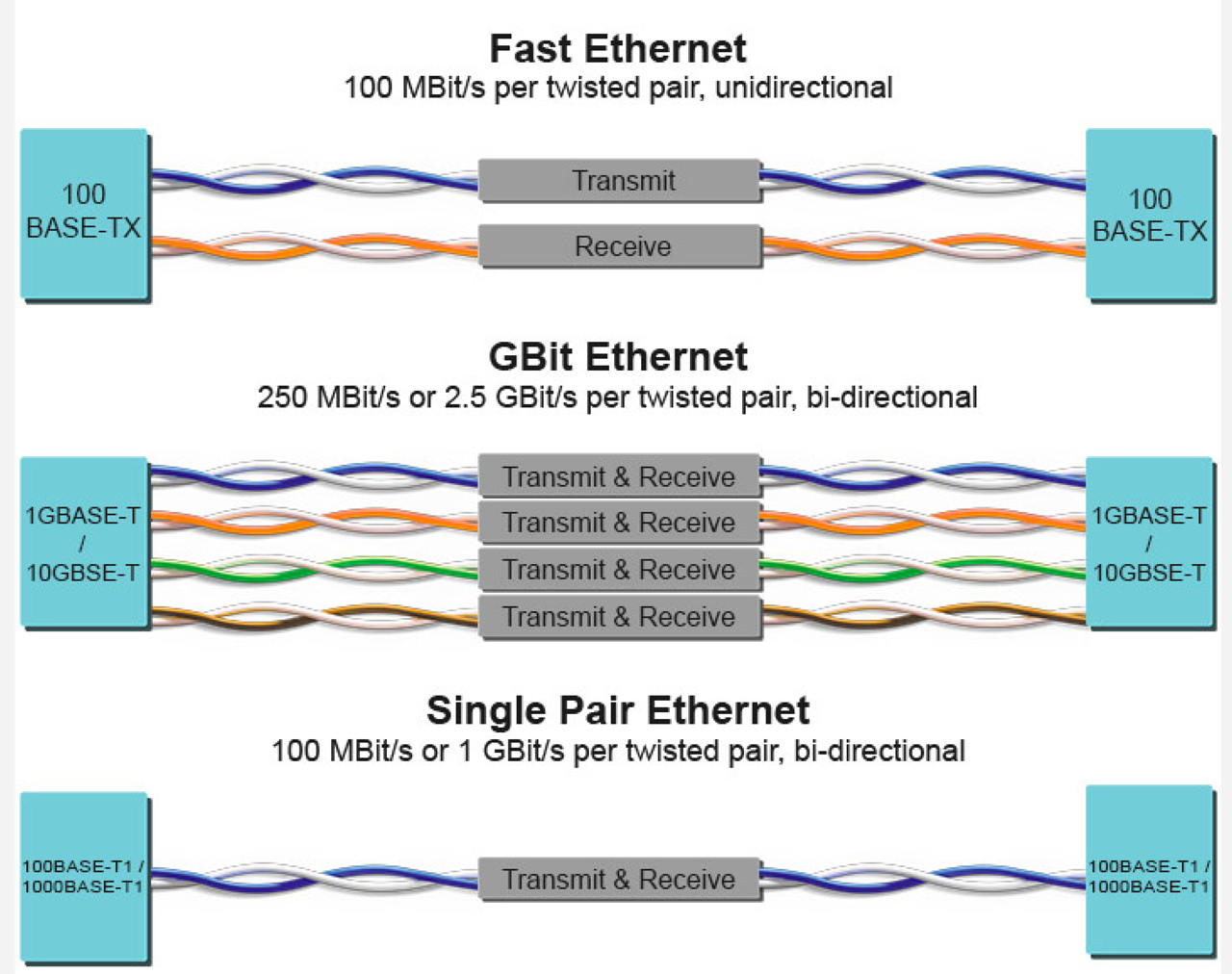 After these initial observations we can move on to the next questions. What will the applications, or more precisely the implementations of SPE, look like in the three largest fields of application and what does it signify for cabling?
In a car, SPE must be implemented in a simple, fast yet stable way, partially under extreme operating conditions. For the car manufacturer this means: simple control of all relevant components via SPE. The cabling for this purpose is generally done unshielded with own developed connection technology. This connection technology is always characterised by simple design, which combines the advantages of plug connectors and terminal blocks, and can be bundled in blocks in a very space-saving way. The first model series are already being delivered with SPE. In 10 years, this technology will become standard and today's CAN bus or comparable solutions will have been completely replaced.
It is basically quite similar in industrial automation as well. Extreme conditions such as large temperature ranges that need to be covered, shock and vibration as well as IPx protection against dust and wetness also play an important role in the design of connection technology. However, shielded cables are primarily used in industry in order to guarantee higher interference immunity in the area of EMC.
The design for plug connectors for SPE in industrial automation are thereby oriented on robust, shielded IP20 connectors through to IP65/67 protected versions in the widespread M12 and M8 housing designs.
What does SPE do in building automation? The most exciting story awaits us in this area. This is because building automation systems have solutions such as KNX, LON, EchoNet, TRON and others that must strategically decide how and in what scope they will use SPE in the future. However, they will not be able to bypass SPE technology with the innovative pressure of SPE in sensor technology.
It remains to be seen whether they will also use this technology change in further-reaching changes, such as systems that are completely Ethernet-based. When it comes to cabling, both unshielded and shielded solutions are used that are generally installed indoors and therefore do not need to exhibit the robustness that is, for instance, required in industry. If anything, RJ45 played a role as the service and test interface. Otherwise special terminal blocks with screw or terminal technology is used as the connection technology.
SPE connection technology
In all three areas – car, industry, and building automation – the RJ45 plays no role whatsoever in the introduction of SPE. In all three areas there is also no history (installed RJ45 basis) that had to be taken into account during the introduction of SPE. Thus considerations regarding the backward compatibility of SPE connection technology to RJ45 cabling is of course permissible but not really practical. The applications simply are not there.
Hypothesis number 1
An SPE mating face must be RJ45 backward compatible – is thereby debunked. However, the brief clarification of SPE application areas reveals as well that each one has its own history and above all else, each one has its own special requirement profile.
This also leads to special designs in SPE connection technology (in SPE mating faces). Thus there will not be THE ONE solution that is always in demand from different sides. Or to be quite clear: there will not be one universal SPE-plug. Instead, what is becoming apparent is that there will be three solutions for SPE mating faces:
One for cars (or multiple ones, depending on the manufacturer)
One for industry
And one for building installation
Let us leave out the topic of cars for now and take a closer look at industry and building installation in order to get to the bottom of the question of why "the plug manufacturers" cannot "agree" on a uniform mating face.
Again for the sake of comprehension: these "plug manufacturers" are not a homogeneous entity, they are competitors on a market that has the final say in deciding which product is enjoyed and used a lot, and which one flops. And this is a good thing, especially for the user, who thereby gets a lot of products to choose from and can decide him or herself which ones he or she prefers. The demand for an "agreement" can also be interpreted in terms of who takes on the technology leadership here.
This question is justified. And this question is also answered. Two technology leaders in industry and building installation have taken initiative in their respective area at the top of SPE. Both of these fields of application have met – at least with regard to cabling, or more precisely, with regard to the connection of new SPE cabling and structured building cabling – in the ISO/IEC 11801 series of standards.
With ISO/IEC 11801-3 there is an industrial part and with ISO/IEC 11801-6 there is a part for building service/building automation. This fact prompted the IEEE802.3 (Ethernet standardisation) to ask ISO/IEC JTC 1/SC 25/WG 3 (cabling standardisation that also develops the 11801 papers) for a recommendation for an SPE mating face, which led to a selection process within SC 25/WG 3 at the start of 2018.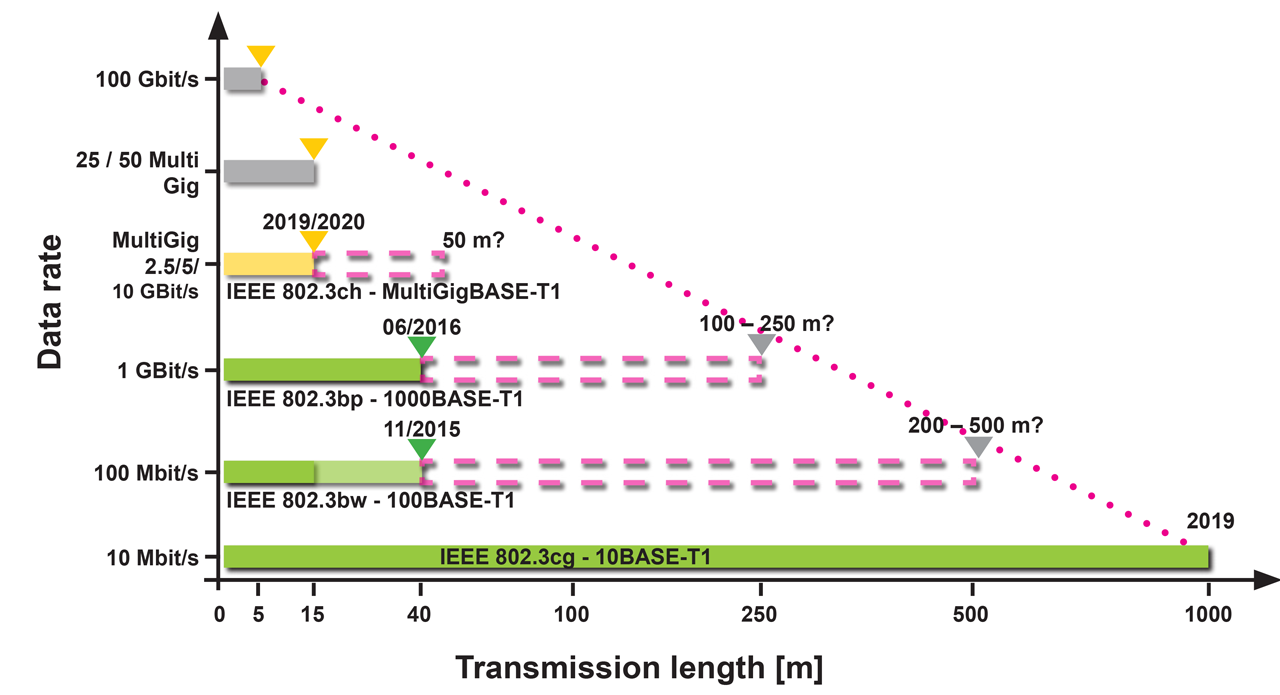 A requirement profile for SPE mating faces was created by SC 25/WG 3 as a basis for this selection process. Part of this requirement was the assurance of all manufacturers/applicants, that in the event of success a submitted mating face would also apply to standards in order to guarantee plug-in compatibility and freedom from patents.
Various manufacturers participated in this selection process, all of which are active in international standardisation, some of which presented their concepts and added their know-how to the discussion. At the end of this process, all SPE mating face concepts were voted on. This vote, international ballot, was performed in accordance with the rules of ISO/IEC and 25 countries participated through their NCs – National Committees. Every country only has one vote.
Result in June 2018: There was an absolute majority for the SPE industry mating face as per IEC 63171-6 (HARTING concept), as well as for the mating face as per IEC 63171-1 (CommScope concept) for building installation.
Hypothesis number 2
Plug connector manufacturers cannot agree on an SPE mating face – also is not true. An agreement of this kind already took place mid 2018 through international standardisation of ISO/IEC. With the ISO/EIC defining ONE SPE mating face for industry (IEC 63171-6) and ONE mating face for building installation (IEC 63171-1) the work on further cabling standards is continuing gradually. Decisions about the SPE mating face are consistently being integrated into the corresponding papers of ISO/IEC, TIA and IEEE.
The good news for all users: the standardised SPE mating face for industry as per IEC63171-6 will be adopted into all relevant cabling standards and become a mandatory provision.
In detail this pertains to:
ISO/IEC 11801-3 AMD-1: Information technology — Generic cabling for customer premises (structured cabling) Part 3: Industry, AMD-1: SPE
ANSI/TIA-1005-B Telecommunications Infrastructure Standard for Industrial Premises – SPE cabling
IEC 61918 Ed 4.0 AMD-1: Industrial communication networks – Installation of communication networks in industrial premises, AMD-1 SPE
SPE in process automation
Then there is the discussion about process automation (PA) and the meaning of SPE for pending innovations in this area. After the first two arguments against SPE and a standardised mating face have missed their target, let's look at the PA argument and that everything is completely different in that area.
It is correct that PA has a somewhat special position within the broad spectrum of industry automation solutions. PA does have a specific requirements profile in its areas of application in the oil and gas industry, the chemical and pharmaceutical industry, as well as in mining, water management, cement and glass production, the food industry etc.
This requirements profile is also characterised by large distances, therefore also the 1000m in IEEE802.3cg. This, on the other hand, has effects on the cross section of copper cable AWG16, AWG 18 and in addition to classic plug connections for SPE also favours connection blocks.
Furthermore, the subject of ex-protection as per IEC/EN 60079-0 and IEC/EN 60079-7 also plays an important role. Thus the connection technology must satisfy the provisions for intrinsic safety in certain application cases, which in turn entails a special design.
Solutions for remote powering are also affected by it. Networking concepts with SPE in PA, for instance, provide for the operation of SPE switches in ex-protected areas. This in turn means higher performance requirements that cannot be satisfied by PoDL, or only partially. This means that providers of PA solutions also fall back on their own remote powering concepts.
Now the question is what market relevance does process automation have for the development of IIoT and SPE? And here one must bluntly say: the relevance is very low.
In the concert of solutions for industry automation, process automation represents a one-figure percentile. The special case of ex-protection represents a mere fraction. In the end, the hypothesis basically dissolves into thin air – that process automation determines the development of SPE.
Process automation is one and only one application for SPE in industry. Due to the specific requirements of PA the adjustment of SPE components are partially required. Hence PA is not the pacemaker for SPE; it is the other way around. SPE gives PA the opportunity to implement the innovation in the development of TCP/IP networks.
There have been long discussions about it and unfortunately many hypotheses have been proposed that create uncertainty. It is time to clear up these hypotheses.
SPE and SPE mating faces have nothing to do with RJ45.
In the standardisation, from the various manufacturer concepts one mating face was selected for SPE in industry – IEC 63171-6.
Process automation does not determine the development of SPE – it is the other way around.
The end of these hypotheses also means the beginning of a new, real world. SPE is paving the way for IoT/IIoT.
Rainer Schmidt, Business Development Manager, Cable Systems, HARTING Electronics.