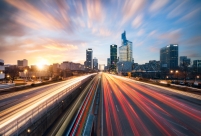 Wi-SUN Alliance continues to grow
Wi-SUN Alliance is a global ecosystem of member companies seeking to accelerate the implementation of open standards-based Field Area Networks (FAN) and the Internet of Things. The organisation announces that global membership, which includes service providers, product vendors, utilities, municipalities, local government, academia and other enterprises, has grown with 50 new members joining in the past 12 months, taking total membership to 227. Rethink Technology Research estimates that companies in the Wi-SUN ecosystem will see compound annual growth of 20 per cent, as mesh network technology reaches into new verticals, including telecoms, and different business models emerge.
Wi-SUN Alliance has also seen its influence grow, with more than 91 million Wi-SUN capable devices (Navigant Research) awarded globally as service providers and city developers deploy new IoT applications and services for smart cities and utilities. Cities including the City of London, Copenhagen, Glasgow, Paris and Miami use a Wi-SUN compatible network, with Wi-SUN regarded as the communications infrastructure of choice for very large-scale rollouts. It is increasingly specified by utilities and city developers to enable interoperable, multi-service and secure wireless networks.
Phil Beecher, President and CEO of Wi-SUN Alliance, said: "We have been quietly going about our business for many years, but this past 12 months has seen much of this work come to fruition. With higher IoT adoption rates, particularly with smart city and utilities increasingly rolling out applications such as advanced metering infrastructure, distribution automation, and smart home automation, Wi-SUN Alliance members are seeing growing demand for their products."