Cellular module and chipset
Ublox: A new 5G-ready cellular module and chipset is available for low power wide area IoT applications. The module offers wireless technology integration with end-to-end device and data security, making it a choice for mission-critical or long life cycle IoT applications.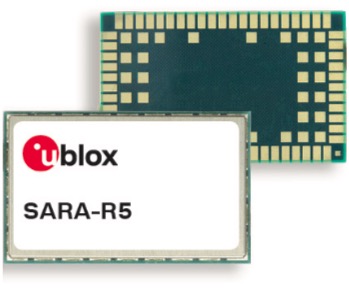 The SARA-R5 series of LTE-M and NB-IoT modules for low power wide area (LPWA) IoT applications, is the company′s most advanced, secure and highly integrated cellular product. The module, built on the u-blox UBX-R5 cellular chipset and the u-blox M8 GNSS receiver chip, offers end-to-end security and long product availability, making it an option for IoT applications with long-term device deployments.
The module also features a lightweight and low power pre-shared key (PSK) management system that is tailored to the needs of IoT applications, along with a comprehensive set of security features.
With mobile network operators announcing their plans to roll out 5G networks, 5G readiness is becoming a key factor in selecting cellular communication modules. LTE-M and NB-IoT are forward-compatible with 5G networks and, by implementing key LTE-M and NB-IoT features from 3GPP Release 14, SARA-R5 offers customers a smooth transition towards 5G via software upgrades to already deployed devices.