Has technology design become too slick and stylish?
The work of Apple designer Sir Jonathan Ive has dramatically changed the look of electronic devices. Computers, television sets, stereo systems and even watches have become stylish glass and metal slabs. Some feel that the contemporary look is a bit too slick and stylish, and are looking for alternatives.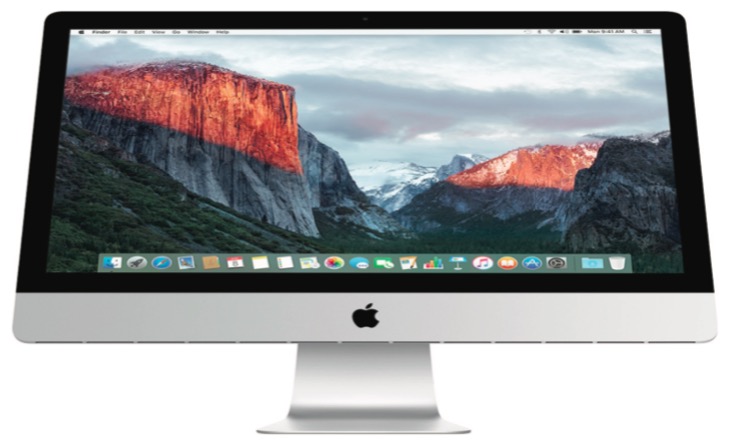 ONE CAN HARDLY OVERESTIMATE, the influence that Sir Jonathan Ive has had on design in the 21st century.
Until the beginning of our millennium, electronic devices proudly displayed their technical nature. They came equipped with colorful status lamps, switches, dials, slide controls, knobs - the more, the better. With the Mac PCs, Ive did away with all that, reducing the computer to a smooth, elegant structure. He later applied the same design principles to mp3 players, cell phones, watches and more.
Soon enough, other companies followed. Today we are used to electronic devices being thin slabs of glass and metal, that blend almost invisibly into our living rooms.
But don′t we wish sometimes that our electronic home equipment would display its technical nature in a more self-confident way?
High tech audio systems
Home stereo systems are a good example. A premium music streaming platform like the Naim Mu-so delivers crystal clear sound out of a very compact package. At first glance, one wouldn′t even recognize the small, brushed aluminum box as an all-in-one audio system. What HiFi? magazine was impressed that the Mu-so "drives all songs with a sure-footed sense of rhythm, rich detail and lashings of deep, rumbling bass".
By comparison, the McIntosh MA352 Integrated Amplifier is quite a different animal. Its design proudly shows all the advanced technology that it contains. Its preamplifier section is powered by two pairs of 12AX7A and 12AT7 vacuum tubes. The output stage is a direct coupled solid state amplifier. As one can guess by the prominent heat sinks on the sides, it delivers serious power. Up to 320 Watts per channel should be enough to properly drive virtually any set of loudspeakers.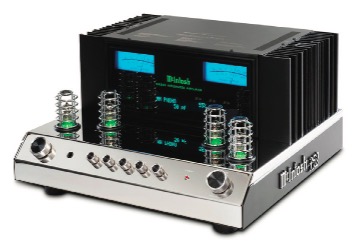 If that is still not enough, a stereo preamplifier output is available for connecting even higher-powered amplifiers, e.g. a pair of McIntosh′s MC1.25KW 1,200 Watt single channel models. The stainless steel chassis with mirror-like finish is complemented by blue output meters, control knobs, an illuminated logo, and a black glass front panel with LED backlighting.
The McIntosh amplifier would go very well with a pair of speakers that are the exact opposite of unobtrusive design. The Bowers & Wilkins Nautilus look like something straight out of Captain Nemo′s submarine. These speakers were revolutionary when they were launched almost a quarter century ago, and they still look so today. The manufacturer insists that the form strictly follows function, as only the long, tapered damping tubes allow the drive units to work optimally by gently absorbing stray energy.
If you want your pair of Nautilus speakers to really stand out, Bowers & Wilkins can paint them any color you specify - for a small surcharge on the US$ 60,000 list price.
The invisible TV
Following the "less is more" design principle, Sony has come up with a TV that does away with distinct elements like speakers or a bezel. The One Slate concept uses new sound technology that generates sound through vibrations in the display itself. The whole structure is kept with just a primary display slate and a support slate on the back. A design approach that aims to make the TV disappear as much as possible.
What a contrast to the classic Brionvega Algol. This portable television was designed in 1964 by Marco Zanuso and Richard Sapper. The Algol became an instant classic and sold very well throughout the 60s and 70s.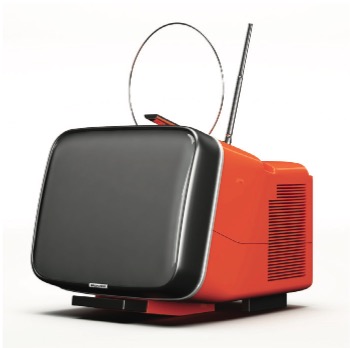 After quite a few ups and downs over the next two decades, Brionvega went out of business in 1997. Fortunately, the company was resurrected ten years later and today continues to produce its iconic products, including the Algol.
It doesn′t have a 4k Ultra HD OLED display, integrated subwoofers or Smart TV functionality, but doesn′t it look cute? Just like designer Marco Zanuso described it: "A little dog looking up at his master."
Wearable electronics
The trend towards minimalistic design has meanwhile also extended to smart watches and other wearables.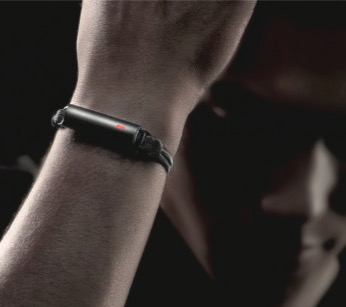 One example of this trend is the Misfit Ray fitness tracker. Paired with the Misfit app, it provides fitness and sleep tracking, including steps taken, distance traveled, calories burned, activity tagging, and sleep duration and quality. It also features vibration alerts for alarms, calls, texts, and movement reminders.
Yet all this functionality is hidden in a tubular, rose gold anodized aluminum body. On the outside it looks just like a fashionable bracelet.
While the Misfit Ray certainly appeals to users who appreciate its minimalistic aesthetic, other people want to have the high tech on their wrists clearly visible. Mechanical wrist-watches always have been and still are a preferred choice for this.
One man who has taken this idea to the extreme, is Maximilian Büsser. In 2005 he started his company MB&F to produce not just watches, but horological machines, as he calls them. These wearable machines reinterpret traditional, high-quality watchmaking into three-dimensional kinetic sculptures.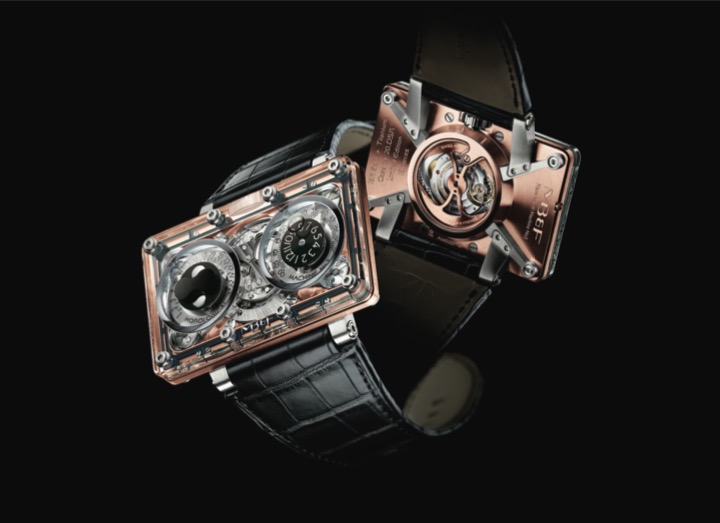 Their Horological Machine No2 revolutionized the world of Haute Horlogerie with its twin dials and the 349-component movement.
The horological engine was developed by award-winning watchmaker Jean-Marc Wiederrecht. It uses his patented asymmetrical-tooth gear wheels for the highly energy-efficient jump hour/retrograde mechanism. The watch is unique in that it combines instantaneous jump hour, concentric retrograde minutes, retrograde date, bi-hemisphere moon phase and automatic winding.
This masterpiece of mechanical engineering is not hidden within a metal housing, but sits in a crystal-clear sapphire case.
Synthetic sapphire watchcases are extremely difficult to machine. The complex, three-dimensional form of the Horological Machine No2, with its bevels, mounting holes and porthole cut-outs requires 55 hours of milling, drilling and polishing.
The clearly visible mechanics and the retro-futuristic appearance make the Horological Machine No2 the exact opposite of the minimalistic design pioneered by Sir Jonathan Ive.
Leopold Ploner